Last Updated on 25 March 2023 by Alisea Mae
As you will know from my previous guide on stainless steel cookware, I am a big fan of this material. So, today I want to talk more specifically about the best stainless steel frying pans. As with the previous guide, there are some great Tefal Jamie Oliver pans, and one is my top pick for being an all-rounder. However, there are many more brands and styles that you should consider.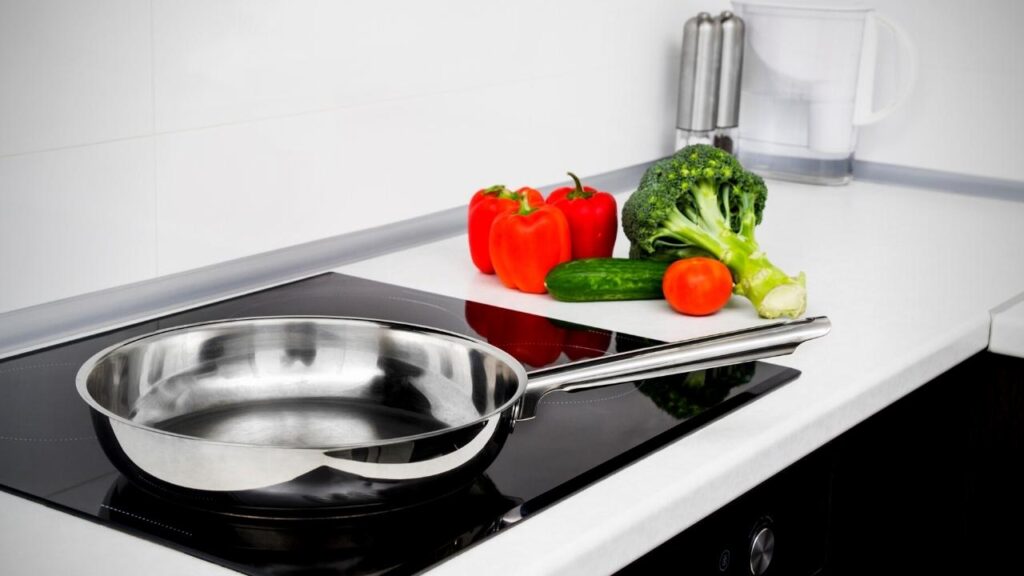 I carefully research and consider each product before choosing the best and most useful ones. If you click on a link and buy something, I may receive a commission at no additional cost to you. This does not influence my choices in any way.
I always strive to recommend the very best quality products and interesting pieces over a range of styles. That is no different with these stainless steel frying pans. I spent a long time carefully researching models to find brands with great features and a great cooking experience. Some are for general use with a focus on size or weight, while others have more specialist applications, such as saute pans and woks.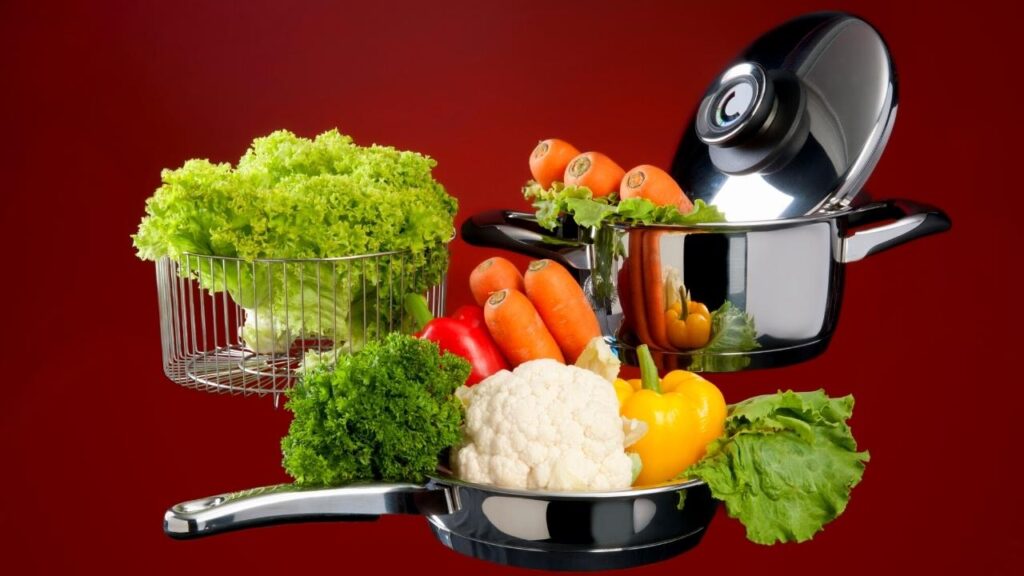 Best all-rounder: Tefal Jamie Oliver Stainless Steel Frying Pan
Best nonstick/Best For Eggs: Tefal Comfort Max Induction Frying Pan
Best 5-ply pan: Misen Stainless Steel Frying Pan Set
Best professional: Hexclad Hybrid Stainless Steel Frying Pan
Best saute pan with lid: Tefal Jamie Oliver Stainless Steel Premium
Best large pan: Procook Professional Stainless Steel Frying Pan
Best deep saute pan with lid: Hexclad Hybrid Stainless Steel Deep Saute Pan Fryer
Best budget wok: Craft Wok Hand Hammered Carbon Steel Pow Wok
Best stir fry pan: Hexclad 30cm Hybrid Stainless Steel Wok Pan
Best roasting pan: Proware Stainless Steel Tri-Ply Roasting Pan
Best splatter screen: Grease Splatter Screen For Frying Pan
Hopefully, you will see that it is possible to create a collection of top stainless steel pans that are user-friendly and high-quality. The best place to start that collection is a good all-rounder. So, let's begin with my top pick.
---
First up, we have my top pick. I see this as a great all-rounder due to its user-friendly features. Also, if you saw my other article recommending cookware, you will know that the Tefal Jamie Oliver collaboration took the spot for Best Stainless Steel Frying Pan Set there. This one is a good size at 24cm, with just enough space for a good meal and not too much to become too hard to handle. Although, having said that, some find it heavier than expected. It is also 10mm deeper than average to make it even more convenient.
You get lots of great safety features and helpful cooking tools, and you can use it in multiple ways on different cooktops. It really is a great box ticker that I'm sure a lot of you will love. Other options are more "professional" or interesting. But this is a great starting point.
Pros
Oven safe and suitable for induction hobs for increased versatility
A nice heatproof handle to make it much safer to work with.
Cons
A little heavier than some had expected, which can affect the balance.
---
Finding the best non-stick pan can be difficult because even though some have a decent coating for most applications, they struggle when it comes to eggs. We need something a little more robust here, or we can use the tips for cooking eggs that you will see below. This one is interesting because of the quality of the Power Resist coating. It claims to have stricter controls than standard regulation, which means no lead or cadmium. This adds to the peace of mind of anyone looking for the ideal model for their family.
The result is something user-safe that seems to work pretty reliably. There are few complaints about it sticking, although there are bound to be one or two. The biggest drawback seems to be longevity. Some found the handle doesn't hold up after a year or so.
Pros
The pan is just as easy to use as other models with its induction-friendly design.
You can get it in larger and smaller sizes to suit your needs.
Cons
Reports of the handle coming loose after a while.
---
Those that want something a little tougher and long-lasting may want to go for a 5-ply option. I will talk more about ply ratings later, but 5-ply is the thicker option that many people prefer where they can afford it. This Misen pan is a great choice because of the strong layers of high-grade steel and aluminium. It seems to be able to hold up to regular use without any signs of damage, although there are discolouration issues.
The company also claims to offer roughly 19% more surface area for cooking than other "premium" companies on the market. This should allow for an efficient pan that is easy to use. The extra thermal mass that comes from the 5-ply system should help too. This sort of cookware isn't necessary for everyone and there are cheaper and more interesting 3-ply options. But, you do still get value in this set and it should meet most expectations.
Pros
Plenty of positive reviews about the quality.
Easy to use with standard features.
Cons
Quite a few comments about the pans discolouring too easily.
---
This is the first of a few Hexclad pans that I want to highlight today. I have chosen this one as the best professional option for those that want to emulate their culinary heroes and try and improve their dishes at home. A simple reason for this is that the brand states it is "trusted in Gordon Ramsay's Kitchen". There is a short promotional video of him using it, so it seems to be legitimate. This, along with the 3-ply construction and the non-stick surface creates something that could elevate your cooking beyond the more general use Jamie Oliver sets.
One thing to be aware of with these pans, which isn't uncommon, is the need for regular care and seasoning. This requires some forward thinking but it is worth the effort to keep these professional pans in prime condition. Complaints about poor performance over time may be linked to a lack of seasoning.
Pros
Safe to use with various cooktops, stoves, and ovens.
An interesting surface that I will discuss further below.
Cons
Warnings from the company to season the pans regularly for the best cooking experience.
---
Having just recommended something from Gordon Ramsey's kitchen, I want to go back and talk about another Jamie Oliver option. There is a premium series in this collaboration with Tefal which includes a nice saute pan with a lid. There isn't anything as fancy as a hexagon surface, but you do still get that signature Tefal thermo-spot tech to tell you when the pan is the ideal temperature.
This 24cm pan is a great size for cooking family meals without getting too heavy and is compatible with induction cooktops for ease of use. There are also riveted handles and a supposedly "ultra-durable" non-stick coating, although some users refute that. Either way, the use of titanium particles is a nice touch.
Pros
Ergonomic handles for ease of use.
The same great tech as their frying pans.
Cons
Some durability issues with the coating and handles that weren't expected in a Premium Series model.
---
Sometimes a standard 24cm frying pan isn't enough to handle the needs of your family and you need something bigger. That is where a 28cm model like this can help. This is a little smaller than the larger woks but has the same shape and functionality as the best frying pans. For transparency's sake, I need to point out that this is the one that I use, so I know that it is a reliable piece of cookware. Still, I have read that users have had issues with the non-stick coating, so it isn't for everyone.
What I can say for sure is that this has all the basic user-friendly features you want, just in a larger pan. There is a nice PFOA-free coating and CoolTouch handles for added safety, the pan is well-made with its 18/10 stainless steel construction and 7mm impact bonded base, and you can use it in the oven or on an induction hob.
Pros
Easy to use despite the larger size.
Suitable for cleaning in a dishwasher.
Cons
Some incidents of faults with the non-stick coating.
---
Heading back to Hexclad for a moment, I want to talk more about that interesting cooking surface. The name comes from the hexagon design on the steel. This is created using a smart laser etching process and creates a combination of stainless steel and a non-stick surface. This dual surface aims to create a durable piece of cookware that requires less oil or butter when searing meat.
This large saute pan provides us with an oven-safe design able to withstand 500 degrees. The deep capacity makes it great for large portions, the handles make it easy to carry, and there is a lid as part of the package. I believe it is a great tool to pair with that professional frying pan.
Pros
Scratch resistant enough that it should be safe to use metal scourers or utensils.
Just as safe and easy to use as the frying pan.
Cons
There are reports from those that had problems taking care of it, such as pans warping when cleaning them.
---
Often when reading negative reviews for cookware like this, you see people complaining that something was made in China. Well, here we have something where Chinese craftsmanship is a big selling point. If you want a professional wok, it is best to go for a heavy-duty steel wok with the right shape and size for quality dishes. This one uses commercial grade 14 Inch 15 gauge carbon steel and looks and feels great. There is also a wooden handle for added ease of use.
An important note here is that this version has a flat bottom to make it suitable for use on flat electric or induction stoves. The alternative round bottom one may look more authentic but it isn't as practical. Also, these require a lot of TLC to keep them in prime condition.
Pros
Hand hammered by Chinese artisans in Guangzhou
A great cooking surface that many users appreciate for improving Chinese dishes.
Cons
Professional grade model that requires care and attention.
---
There's not a lot more to say about the quality of these Hexclad pans that I haven't mentioned before. The strength and the great hexagon design continue in this stainless steel wok. Again you have something that is a nice accompaniment to the other pans in the series if you want to build a bigger set.
This one may also be more suitable for less-experienced cooks than the professional carbon steel wok. It should be easier to take care of while still providing that great surface area and extra features needed for stir fry and Chinese cooking. Still, there is something appealing about the look and value of that hand-hammered carbon steel model. One of these woks is sure to help, you just need to figure out which is best based on your needs, kitchen setup, and budget.
Pros
A good size at 30cm for a great surface area without getting too difficult to use.
Dishwasher safe for easier cleaning.
Cons
Not as professional as other models if you want something more authentic.
---
While we are talking about some alternative pieces of stainless steel cookware for the hob, how about a tough induction-safe roasting pan? The idea here is that you can set this pan up on an induction cooktop and use it in the oven for a more versatile way to roast your vegetables. The pan is large enough for good portions at 35cm and nice and sturdy with its strong steel and heavy-duty handles.
There isn't anything especially clever or fancy here compared to other pans. The company didn't think about extra features for a better user experience, and this is clear from the lack of any CoolTouch ergonomic handles. It isn't amazing, but it is a nice extra tool in your arsenal for when you need it.
Pros
The brushed stainless steel is said to be more hygienic than other options.
The pan is dishwasher safe so less scrubbing after cooking a roast.
Cons
The handles get hot so make sure you have oven gloves.
---
Finally, I want to talk about an extra product that might be of use when working with your new stainless steel pans. One concern when frying food in these pans is that hot oil will spit and present a health and safety hazard. But, sometimes you need the oil to be that hot for the best results. So, a good option is to get some splatter screens. This sits over the top of the pan to provide a protective guard.
Here, you have a set of three to cover pans of 20 cm, 25 cm, and 33 cm diameters. These are made from an extra-fine mesh to keep them lightweight and easy to use. There is a comment that the medium size works fine on all three and there are concerns that they might not keep their shape for long. So, be careful when washing and storing them.
Pros
Made from high-grade stainless steel for the best protection and rust-proofing.
Dishwasher safe to make them easier to clean.
Cons
Some found them to be too lightweight and flimsy.
---
Frying Pan Buying Guide
There are some factors and terms in this guide that may be new to you if you haven't bought pans before, such as the different coating and ply ratings. So, let's look at some important considerations when choosing the best pans.
What will you be using it for?
One way to pick the ideal pan is to think about what you want to use it for. For example, if you mostly plan to use it to make breakfast, with plenty of fried eggs, you need a pan with a coating suitable for cooking eggs without them sticking. If you plan on working with Asian cuisine, you might be better off going straight for a wok.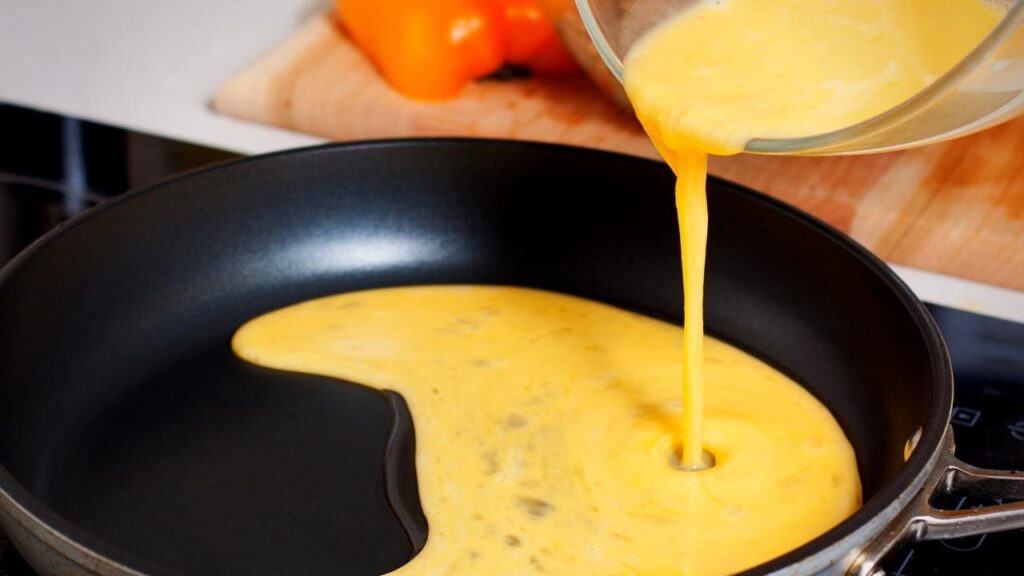 Another consideration is whether you want a shallow flat-bottomed pan for frying and searing food, a deeper flat-bottomed pan for sauteing food, or a round-bottomed wok. Just remember that round-bottomed pans don't work on all cooker tops. But, if you have no specific plan, it is better to go for a non-stick pan that is a good all-rounder.
What size will suit you best?
There are lots of different sizes of pans out there, and it is worth checking out the range for specific pans because there may be smaller or larger versions as needed. Many of the pans in this guide are 24 inches which are more than enough for most meals. You can go much smaller, with some preferring small 8-10 inch ones for solo cooking. However, you can go as high as 28 inches for larger portions and there are woks at 30 inches and roasting pans around 35 inches. Don't go too big and heavy unless you need it and don't go so small that you struggle to cook enough.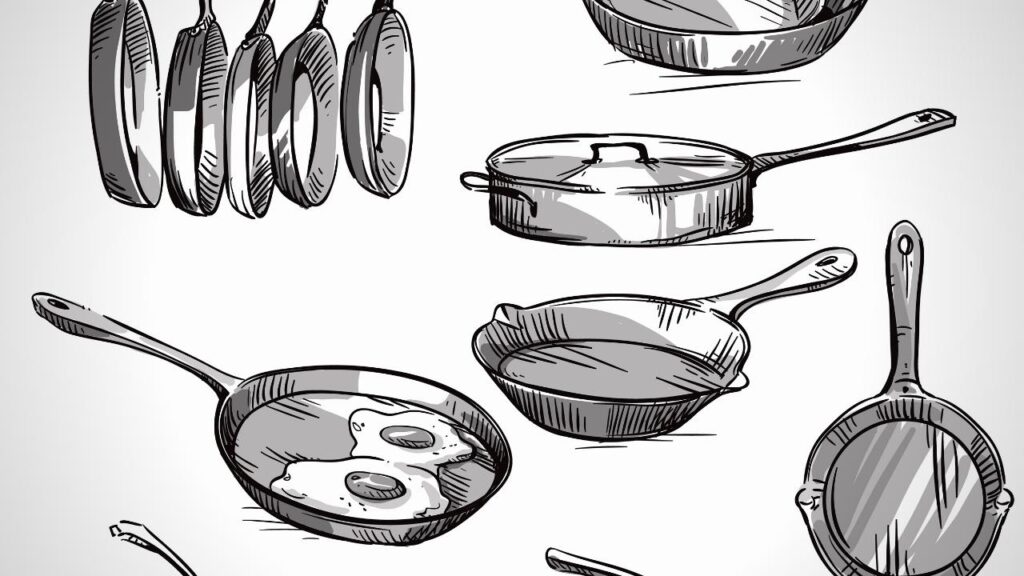 What is the weight and why is this important?
Some pans are a lot heavier than others. The 5-ply models will be a lot heavier due to their composition. Carbon steel pans and those with larger diameters are also going to be heavier. Some pans deliberately have heavier and thicker bases to help with even temperature distribution and better cooking experiences. The problem with this is that they take longer to heat up and are harder to handle.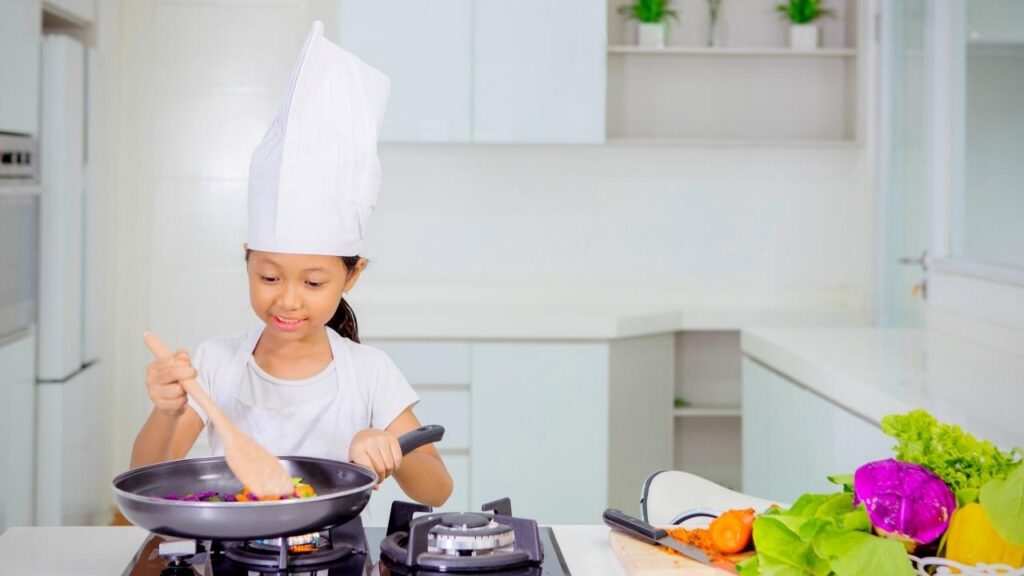 One problem I have seen when looking at the best stainless steel pans above is people finding the pans to be heavier than expected. This could be a problem when cooking for older parents or teaching kids. You also want to be sure that the handle has a good length and balance to counter the weight. At the same time, it needs to be ergonomic and heatproof.
What is the ply rating?
It is important to pay attention to the ply rating because the best stainless steel pans aren't stainless steel alone. The materials aren't a good enough heat conductor for use alone. Pans with layers of metals can combine properties to make the pan better. The more layers, the better the likelihood of even heat distribution. Typically, you will find 3-ply and 5-ply models in stainless steel frying pans. Other pans are available in 4-ply, and this isn't uncommon if you look for copper pans.
Many people will go with a tri-ply or 3-ply model for an effective pan that isn't too heavy. They are easier to use if you don't have too much wrist strength. A 5-ply model takes this further with a more durable and better heat-conducting model. But, there is the issue of the weight and the cost. I have included a 5-ply set in this guide, but there are other 3-ply models that are effective and offer better value for money.
Should you get a non-stick or uncoated frying pan?
There is an instinct to go for a non-stick frying pan to stop food from sticking to your pans and make cleaning a lot easier. However, they aren't always the best option. There are some great non-stick pans with Teflon coatings that are perfectly non-toxic and effective. You can handle different dishes with ease as long as you use the right temperature and care for them properly. The problem is that excessive heat can lead to damage. There are reports from buyers of some of the pans above that didn't realise this and found the coating flaking off.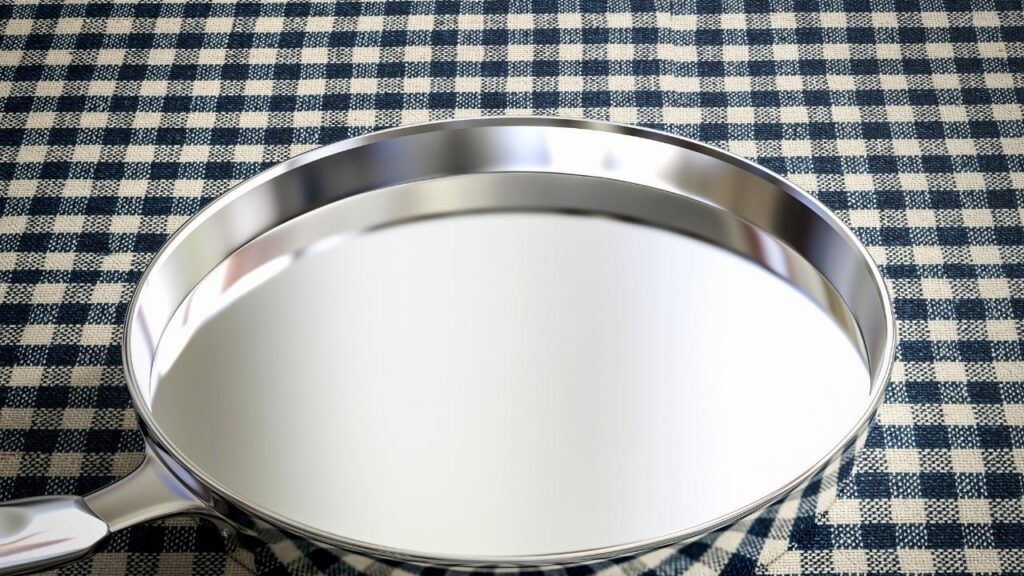 Uncoated pans don't have this problem. The quality of the cooking surface is enough alone to help users cook and sear meat at higher heat. They are also popular in professional kitchens. This is why my top pick in professional pans is a Hexclad model.
---
Stainless steel frying pan FAQs
1) How do you fry eggs in a stainless steel pan without sticking?
There are a few things you can do to avoid this without getting a specialist pan. Remember that eggs often burn and stick if a pan is simply too hot. You can also reduce the risk by using enough oil at the right temperature. Some go further with this and suggest adding some water to the pan and waiting for a crackle to make sure it is the ideal temperature.
Another tip that is interesting, but perhaps too wasteful, involves lining the pan with parchment. Put a square over the pan's surface, then add you're butter or oil when hot for a nice coating. Cook the eggs on the paper and peel them off with no harm done to the pan.
2) What is the difference between a saute pan and a frying pan?
Saute pans are similar to frying pans but are different in shape. They usually have straight sides and a greater depth to accommodate the dishes more easily. They are great for creating stews and casseroles on a hob, rather than frying meat. Still, the best pans are just as compatible with various cooktop solutions and are easy to use. The best models should also have handles on the sides for convenience and come with a lid.
3) What is the difference between stainless steel and carbon steel?
The difference basically comes down to the composition of the metal. Carbon steel, as the name suggests, has more carbon than stainless steel and must have below 10.5% alloy content to qualify. Some feel this makes it the superior metal. Stainless steel is different as there must be as least 10.5% chromium. The chromium should help minimise corrosion. However, carbon steel should be more durable for long-term use.
The Bottom Line
While I have picked the Tefal Jamie Oliver frying pan as my all-rounder and appreciate a lot of their models, there are lots of options out there. The Hexclad products offer a little extra professionalism if you want to go down that route, and there are some nice specialist pieces like the wok. Start with a good basic all-rounder and build your collection from there. Don't forget to think about the construction, size, and coating of your pan, and take care of it when cooking, seasoning, and washing up. There is a lot to think about, but it is worth it to find the ideal stainless steel frying pan for regular use.