Last Updated on 8 April 2022 by Alisea Mae
This post contains affiliate links meaning I may receive a commission if you decide to make a purchase through one of these links, at no extra cost to you. This helps me to maintain this website and generate a small income for myself.
Stainless steel cookware is a great choice for any kitchen because you can find all kinds of products across the market and know you are getting a quality item you can rely on. Stellar saucepans are a first-class brand and my top pick because of their quality and history, but they are far from alone in the industry. So, what is the best stainless steel cookware in the UK?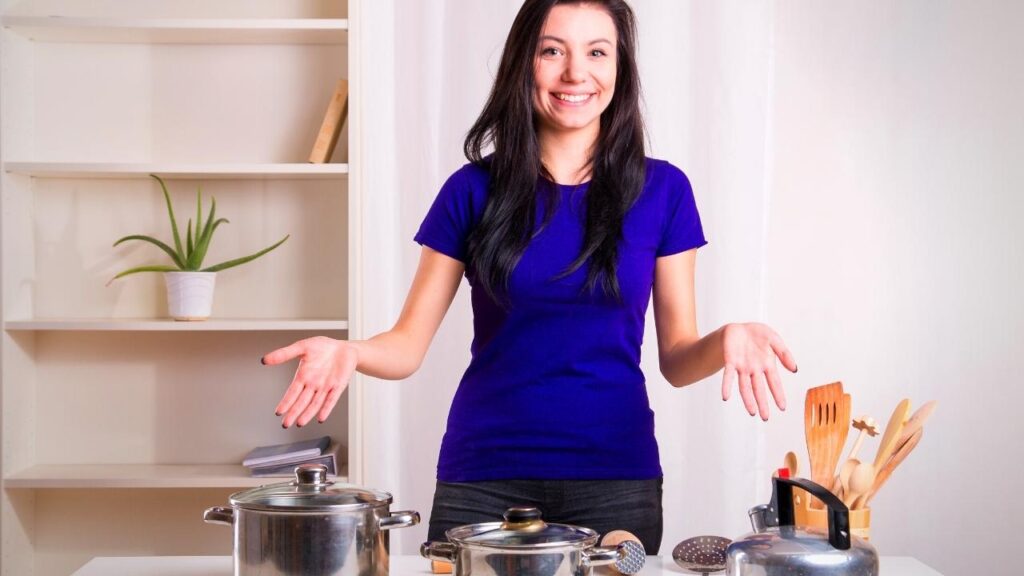 Finding the best stainless steel cookware
Stainless steel cookware is something I knew a little about because of my own experiences using it, but it soon became apparent that there are lots of different styles of pans and pots out there for different needs. You can find something in all styles and price points, and while this is great for a more diverse market, it can also be overwhelming when looking for the best option. On top of that, each brand insists they are the best and can bombard us with specs and details about their brand.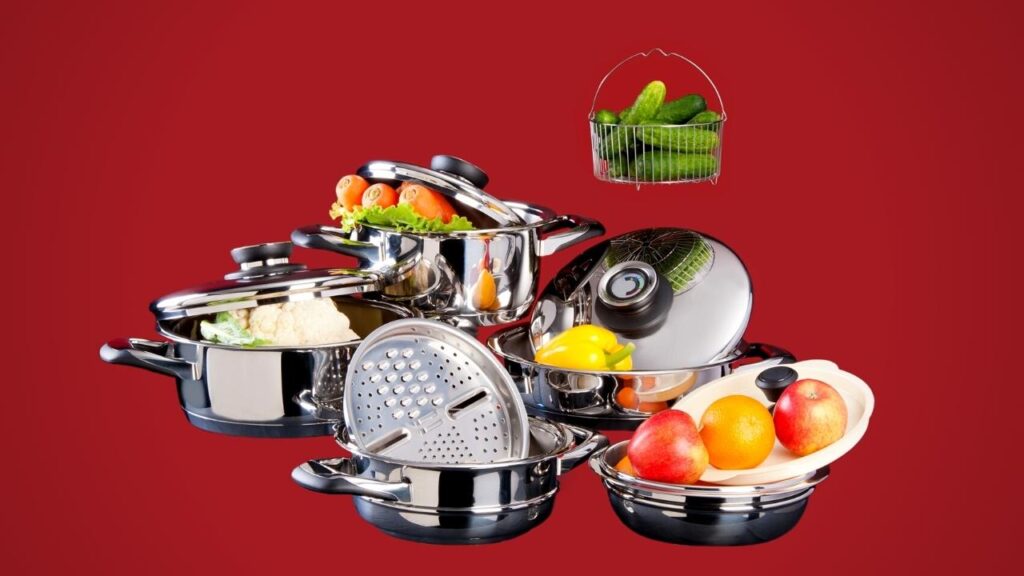 Because of this, I took the time to research pans and pan sets by brand but also by customer review. I wanted to make sure that what I was promoting here was a quality product that did the job promised and was recommended by real users and not just the companies themselves. This led to around 11 hours of research of company websites and other retailers, but it was worth it to find the gems out there.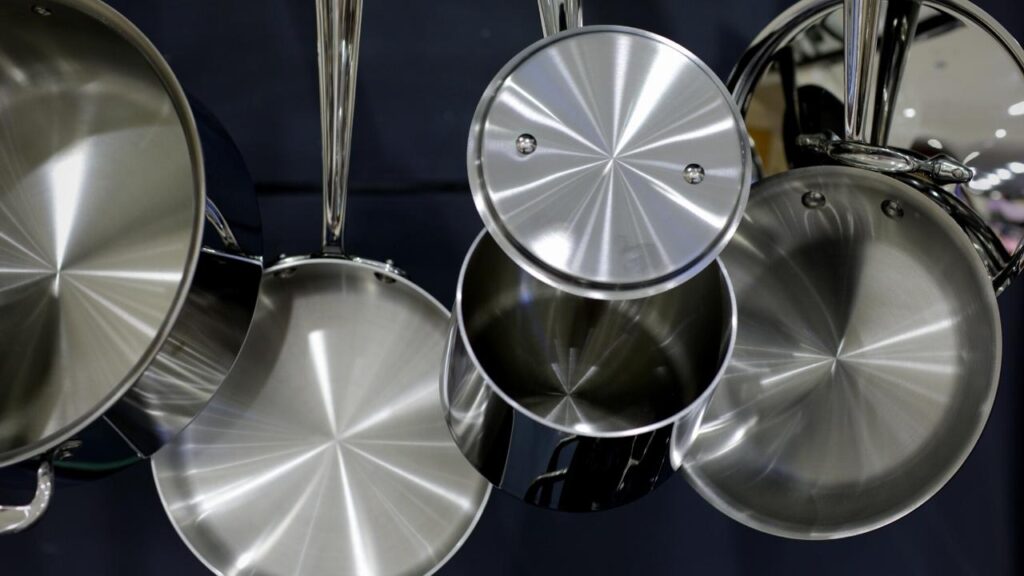 The best brands of stainless steel pots and pans
Before we look at the different products I have selected for this guide, I want to highlight a couple of brands that stand out to me. I thought it was important to be transparent about the fact that the Procook set is in here because I have it at home and I like it enough to recommend it to other people. I am not sponsored by them in any way and will not benefit financially if you choose that set via my recommendation.
The Stellar brand which I chose as the top one is there because I simply want to shine a spotlight on them as a recommendable choice and not because I will benefit more from choosing them over the others. I feel that Stellar products have a lot of potential for a wide range of users because of the various sets and individual items available. I found that they are a good mid-range brand too, not too cheap and basic for budget needs or too expensive for all families, just nicely in the middle.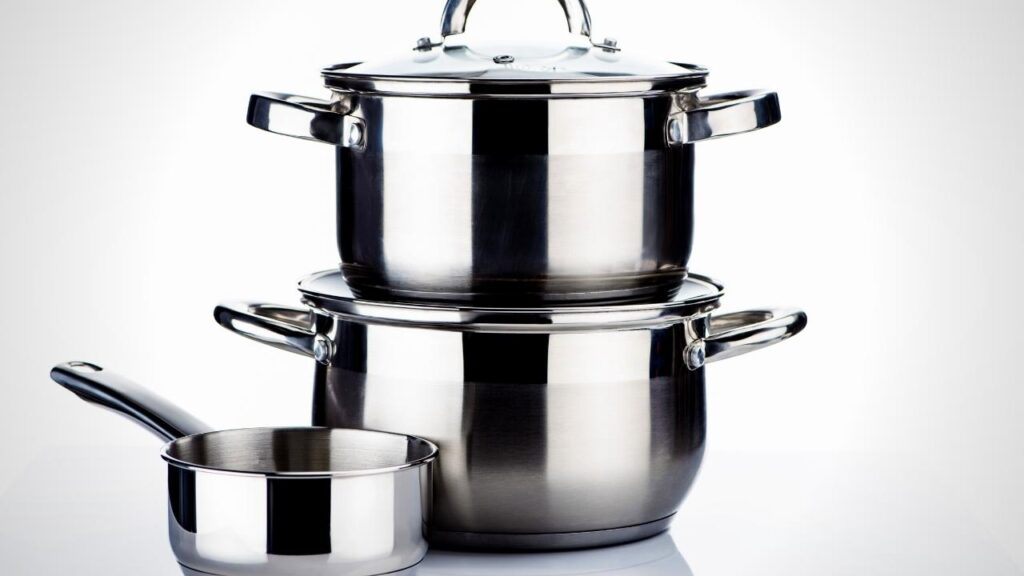 Finding the best stainless steel cookware for your needs
Because cookware comes in such an array of forms and purposes, I have made a point of offering my top pick in a range of key areas. The pieces are mostly categorised by purpose, with examples of the best stockpot, wok, and steamer. But there are also examples of great products with non-stick surfaces, induction models and sets. You will also find a budget and premium model depending on your current financial limitations. Luckily, there are options for all needs and budgets out there. Each product has its pros and cons and will work great for some people and not others.
With all that said, let's take a closer look at what you can get in the world of top stainless steel cookware and see which is the best choice for your needs.
When choosing the best stockpot, you want to be sure that you have a large pot with the capacity to handle large enough portions of soup, stew, and anything else you want to make for the whole family. In this instance, you have a sturdy pot that is 28cm with a 15lt capacity. This might be a little on the hefty side for all users, but you also get some strong handles on the side to make it easier to handle. Added benefits here are the strong glass lid with a handle so you can see inside with ease and the healthier nickel-free material.
The pan is well-loved by users because of its quality, durability, and impact on the dishes made. However, there is a warning that the metal can stain. This may be down to ingredients used or if something stuck to the pan for too long. Either way, you should be able to make plenty of meals with ease on a range of cooker-tops.
The first thing that stands out with this product is the ability to adapt the structure and create a three-tier system. This means that you can set up different food items over the pan of water for a more efficient setup. One user talks about handling fish and veg at once and limited cleaning afterwards.
The stainless is effective and strong, allowing for quality pans and the vented base for the steam. You also get a vented glass lid for better control over the steam and temperature. However, there is a minority that finds that the pieces don't always offer a snug fit for the most effective set-up. Even so, the clever design and the helpful induction-ready base and heat-proof handles give this affordable option greater value.
I want to continue with Tower for a moment and look at an alternative set of products for general use. There is a similar sense of value here because you get five pieces for around the £100 mark. This includes saucepans measuring 16, 18, and 20cm, as well as a deep 24cm frying pan, and an always-helpful milk pan.
These pans have the same great glass lids and cool-touch silicone handles for a better user-friendly experience. But, the selling point here is the non-stick coating. The idea here is that you could get away with not using oil for healthier meals. Most are impressed with this feature as well as the ease of cleaning, lightweight, and overall quality. You can cook on any hob and then put this in a dishwasher if you wanted to.
If you need something a little cheaper to start you off, I recommend going with Morphy Richards pans. This is a company that always puts out great products across their kitchen range without charging a lot. Here you get a similar set of three saucepans with the same dimensions as the Tower ones, but no milk or frying pan. You also get the same style of glass lid with vents and cool-touch handles for safety. Another interesting feature is the Themocore tech for better heat distribution.
It is important to remember, however, that cheaper products can discolour, dent, let water into the lids, or incur damage. All are reported with these pans, but none are guaranteed. I think it is worthwhile dealing with the discolouration and periodically removing the water to enjoy this good deal.
This is another three-pan set with pans the same size as those above. There is a nice clean look across the 16, 18, and 20cm pan with the polished metal and the same effect on the lids and handles. You also get pot handles on the side for a different way of handling them and can use them on different stovetops.
I have my reservations about this product because there are limitations to what is a very expensive set. You don't get the cool-touch silicone or the glass to see inside the pan. But, you do get a quality 3-ply metal and aluminium core for even temperatures and a great result. This is one for those with the money to spend but won't have the value that many are after.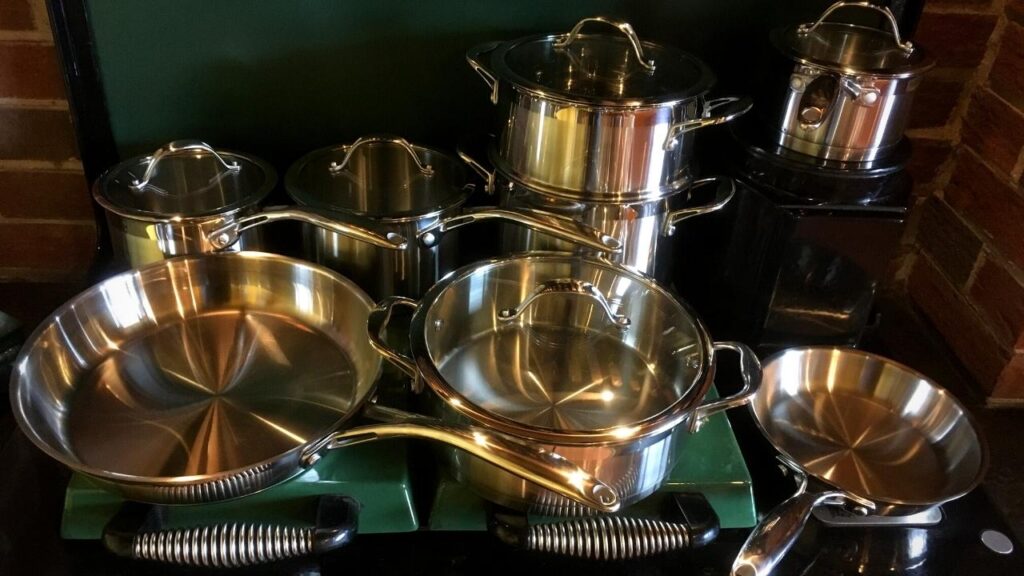 This is the Procook set I mentioned before as the one that I have myself. I like this brand because of the range of individual items and sets. I was able to get a lot of helpful items in this 8-piece set, but will also be able to get replacements if needed. You really do get a bit of everything here to suit different needs and allow for a broader menu at home. The pans are a little smaller than average at 14, 16, and 18cm, but you then get the tall 20cm stockpot/steamer, 24cm shallow casserole dish, and frying pans at 20 and 28cm.
I appreciate the fact that you can use this on all hob types and that you get the cool-touch handles and strong glass lids. There isn't much to dislike about this 18/10 grade set and while it isn't cheap, you get a lot for your money.
While some people may be drawn to this product because of the name Jamie Oliver, the standout feature is actually the handle. There is a clever design here that means that the Bakelite handle detaches as needed. You can then transform the frying pans into oven-safe dishes and also leave the pan on a suitable surface to serve from at the table. This is a smart problem solver that most find easy to use.
There are occasional comments about the non-stick surface coming off. But, the quality here is generally pretty good. Also, remember that the handle is considered a third piece of this three-piece set and you only actually get two pans. Still, those pans are large, reliable, and stackable.
There are many reasons why I picked this as my top stainless steel pan set out of these products. For a start, you have no problem using these on an induction stovetop and getting even heat from the quality material. This quality is then enhanced by the three-layer non-stick coating on the pans while you also get a user-friendly experience from the glass lids, the lips on the pans, and colder wishbone handles.
The best thing about this set, for me, is the range of pieces for the price paid. You aren't paying a fortune for this set but still get good-sized pans at 16, 18, and 20cm, all the necessary lids, a sturdy milk pan, and a non-stick 26cm frying pan.
Woks are a bit more of a specialist item. But, if you want to make better Asian food at home, it is worthwhile getting a quality stainless steel wok. This Tefal option is all about the non-stick coating for healthier cooking of stir-fries and other meals. The deep pan also has a Thermospot indicator and works on a range of stovetops. There are some complaints about the heat distribution, although most are happy enough with the results and it is a best seller on Amazon at the time of writing this.
On first impressions, this is quite a basic single stainless steel pan offering 1.5qt. The quality is there, with the 18/10 food-grade material and the even heat distribution, but you also get the user-friendly glass lid and cooler handles.
An added selling point here for those interested in the companies behind the pans is that this is a women-owned cookware brand looking to use personal experiences to bring practical items to the market. There are certainly some interesting details to this pan, such as the strainer holes in the glass lid and measurements on the inside. This makes it great for simple pasta and rice meals where you don't have time to mess with a strainer. Consumers are impressed with the company range generally, so you may find more than just this single pan for your kitchen.
The pros and cons of stainless steel cookware
Pros: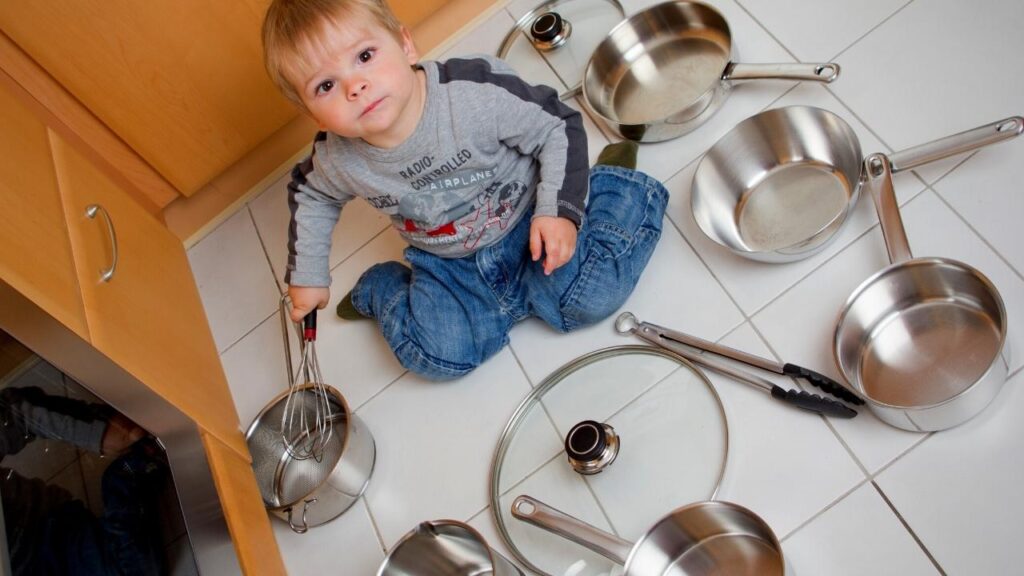 1) Generally suitable for a wide range of stovetops for added convenience.
2) Pretty good at holding an even heat.
3) A great material for different types of pans, leading to lots of great sets.
4) A safer option for the family and pretty eco-friendly.
5) The best pans should last and be easy enough to clean.
6) They look great with their polished surfaces.
Cons:
1) Some pans can leach metals if they aren't high-quality food-grade items.
2) The potential for discolouration.
3) Prices can vary greatly between brands and are higher than cheaper materials.
4) Pans without non-stick surfaces can be hard to clean.
You should also ask the following questions when comparing models of stainless steel pots and pans
1) Is the stainless steel of a high enough grade? Ideally, you want something that is 18/10 food grade aluminium for strength and safety.
2) Do you get a lid and what material is it? Metal or glass? Cheap glass can shatter, but you do get to see inside the pan without lifting the lid and letting heat and steam out.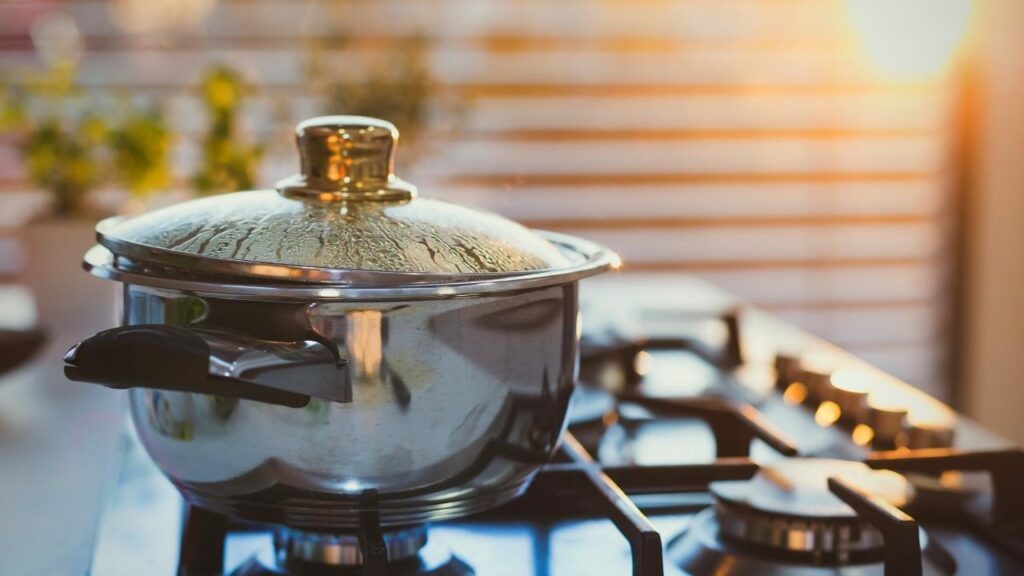 3) What material is the core? Aluminium or copper? Aluminium is cheap, light, and effective. But, copper can be worth the money for its faster reaction to temperature changes.
4) Are the handles safe and comfortable to use? Wishbone shapes are cooler for metal handles but cool-touch silicone is even safer.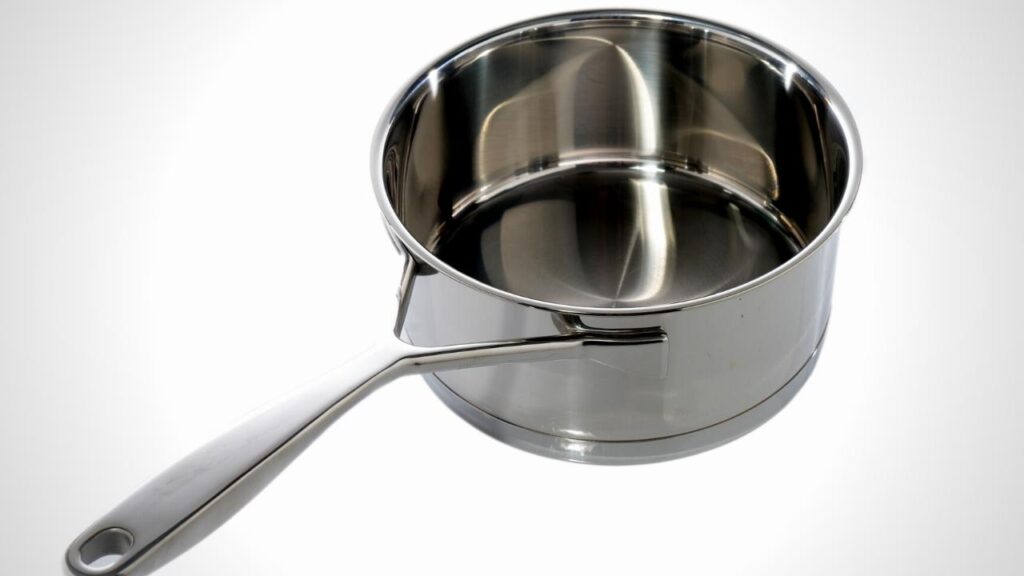 5) Can you put the pan in the oven to finish dishes off? Look out for oven-safe models that can allow for a different process without ruining food or damaging the pan.
FAQS
1) Can stainless steel pans be used on induction hobs? Induction-ready pans should have a coil symbol or text on the bottom. If not, place a magnet on them. A strong response indicates they should be fine on an induction stove.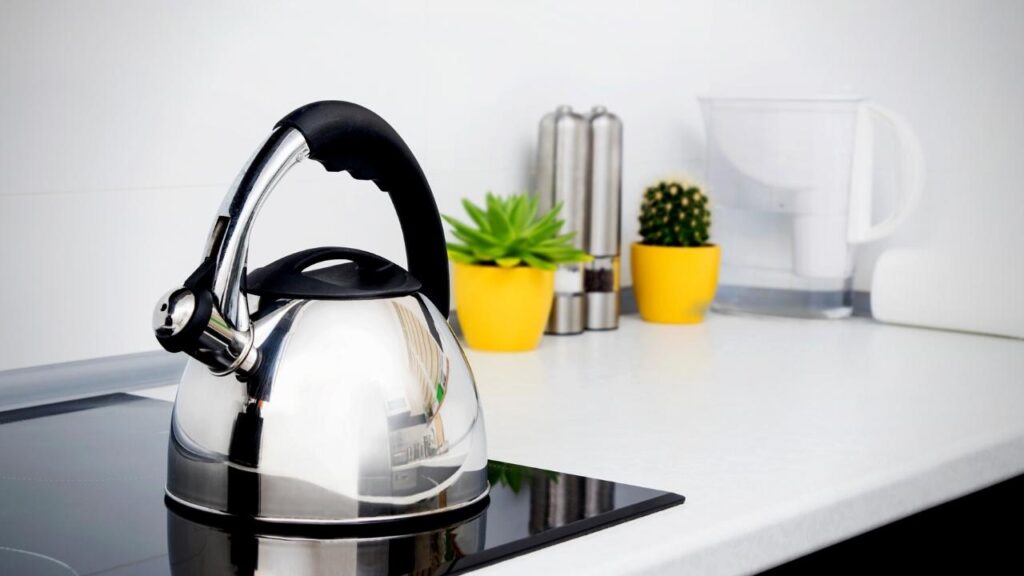 2) Can stainless steel go in the dishwasher? Yes, but this may depend on any coatings used and the materials on the handle. It is also probably better to clean the lids by hand. Check manufacturer instructions first.
3) Are stainless steel pans eco-friendly? Most pans are greener because of limited energy use or byproducts in the production process. Some brands may have additional pledges to sway consumers.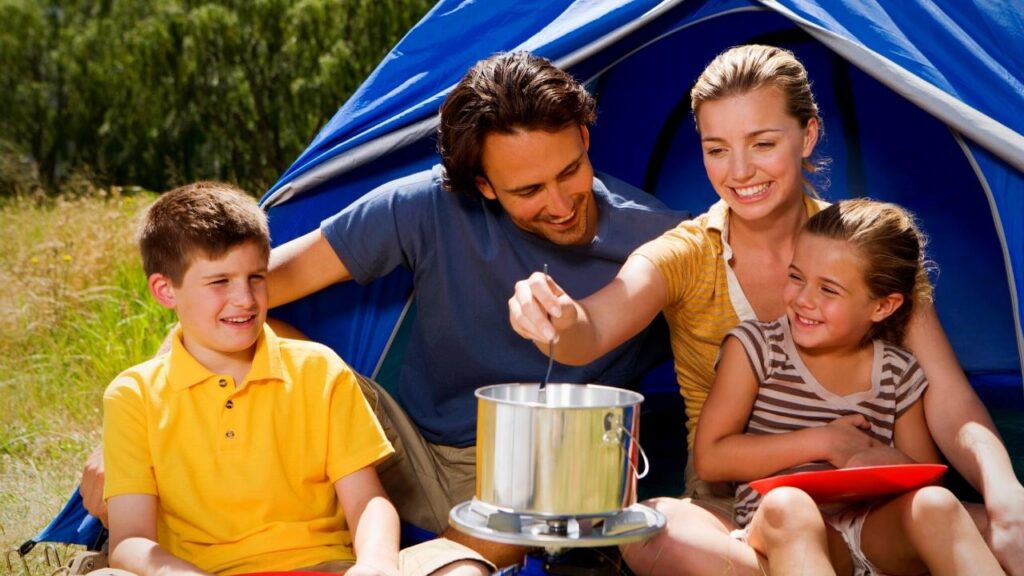 4) Are stainless steel pans non-toxic? Most high-quality stainless steel pans are non-toxic, but it helps to look out for food-grade products that promise to be free from nickel and other elements that may leach into food.
The Best Stainless Steel Cookware Could Transform Your Kitchen Experience
The benefits of a well-made stainless steel pot or pan do outweigh the potential drawbacks. When you find one that suits your set-up and cooking style, you should find that cooking is less of a hassle and you have a tool you can depend on. The Stellar induction pan set is hard to beat for those with this sort of stovetop thanks to its quality and the range of pieces on offer. But, there are also plenty of other styles of pans that can prove to be helpful.