Last Updated on 2 February 2022 by Alisea Mae
This post contains affiliate links meaning I may receive a commission if you decide to make a purchase through one of these links, at no extra cost to you. This helps me to maintain this website and generate a small income for myself.
Your bedroom is an important part of a comfortable home; it's where you sleep, recharge and rest so it's essential to consider the quality of your surroundings for a happy, natural feel to this space. Scandinavian bedroom themes are always going to be a good choice because of the way that they find a balance between a cosy, comfortable room and a clean, uncluttered decor. You can relax here and unwind in the throws and cushions and still enjoy a clean, practical space. Ikea might spring to mind when you think of Scandinavian decor with all its minimalist and space-saving furniture and useful home gadgets- after all, it's the clean, minimal feel of the Scandi decor that the popular franchise gets its inspiration from. Read on to find out how you can create your own miniature Scandinavian haven without having to uproot to the wintery North.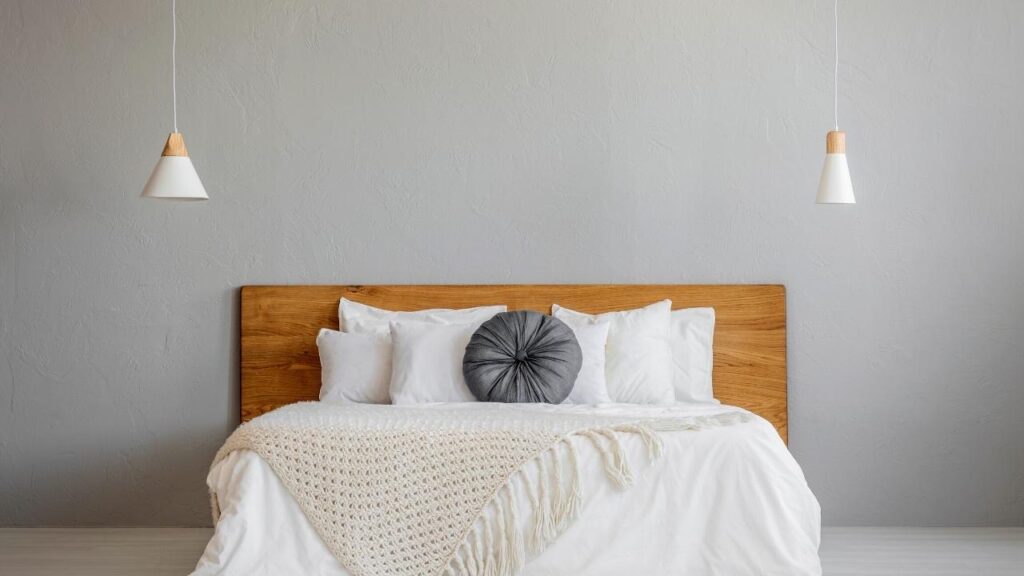 1) Keep the colour scheme nice and fresh
The first thing to consider when creating a Scandinavian inspired interior is the freshness of the colour scheme. Typically, you won't find much in the way of colour here as there is a trend towards minimalist palettes. You can go one of two ways here. Either you go for a few soft natural tones, with a nod towards a blue, yellow or a green, or for a monochrome effect. Blue, yellow and green accents can soften a room if you aren't ready to go for something quite so stark.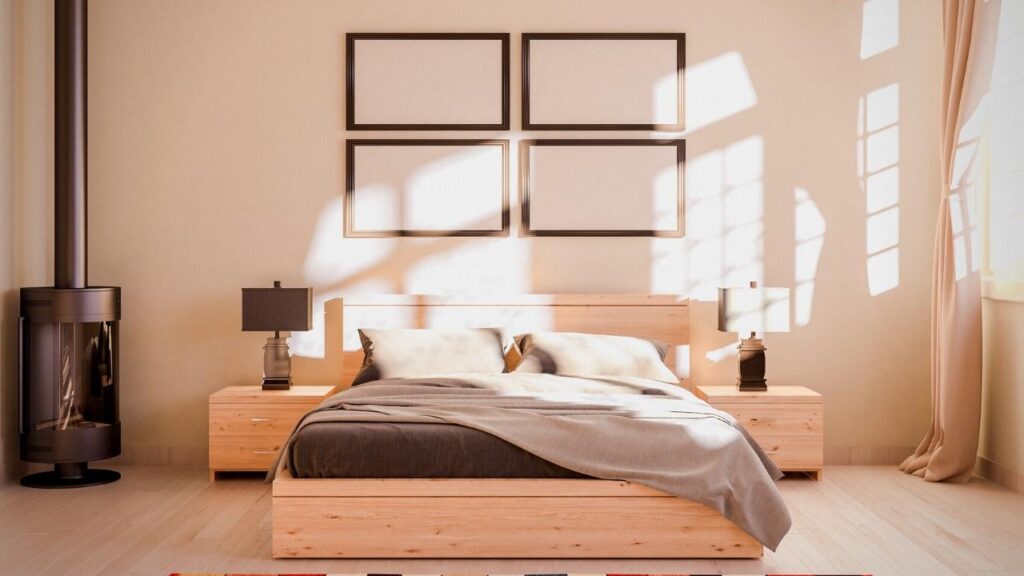 2) Embrace monochrome ideas where you can
If you are willing to be bolder with the blacks and greys, consider bringing in one feature wall in a darker tone. You can adorn this with some of the art mentioned below or use it as a backdrop to a lighter headboard on your bed. If you are confident in your use of greys, you can create something with the right amount of warmth and some interesting tones.
3) The right wallpaper can soften an accent wall
One concern here with all this white and grey is that the room could feel a little stark and sterile. An accent wall in an appropriate wallpaper could soften things up. You could find a geometric monochrome pattern, something in one of those accent colours or even use a textured material.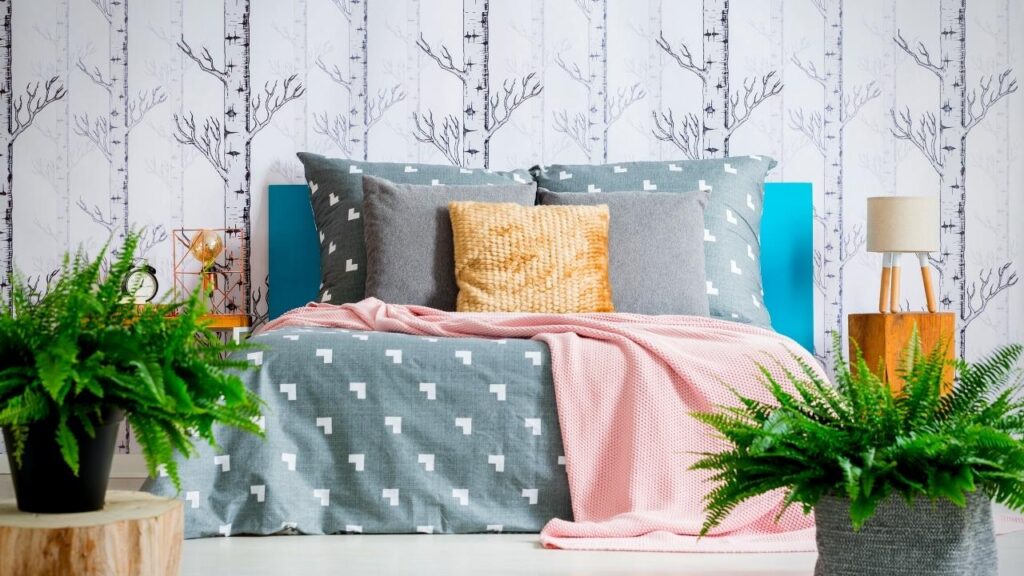 4) Bring in plenty of cosy textiles
The materials used through these Scandinavian bedrooms are essential. One approach is to bring in simple layers of linens and weaved blankets to find that balance between those fresh Scandinavian days and the cosier nights. This is a great way to bring in one of those accent colours with a soft green or blue.
5) Fake furs can be effective when used appropriately
Alternatively, you might decide to bring in some fake furs. You can do this either as a rug, a throw for the bed or in the cushions on your chairs. Fake skins on the floor will give a more authentic look where you could be in a cabin in a Norwegian forest. Reindeer style throws or fake wolf skins could offer that extra texture and warmth. But, it is understandable if this is a bit too far for some people.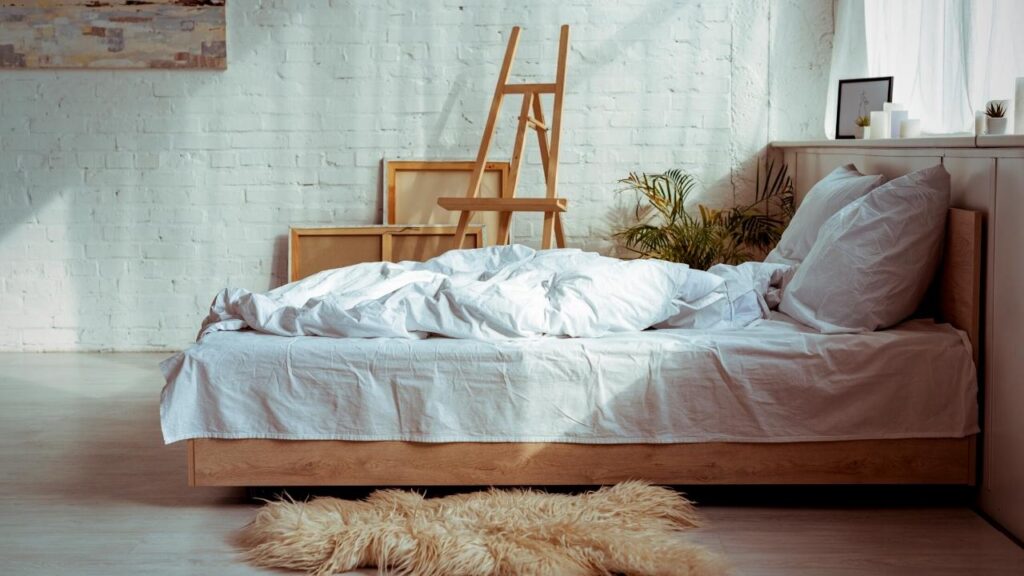 6) Wood is an essential material in these bedrooms
Fur isn't the only natural element to consider when bringing in a touch of Scandinavia to your bedroom. Wood is one of the most important materials to use, especially in softer tones. Your bed frame, dresser and wardrobe won't look quite so stark in this natural material. You can find pieces that mimic Scandinavian designs from local retailers or look for designers that make bespoke pieces. It all depends on your tastes and budget. Distressed wood and natural cuts can bring a feel of the forest into the room. Wood panelling on the walls can also make the room feel warm and cosy. Another way to use wood is with the floor. If you have the budget to, strip the carpets and create a simple natural wooden floor.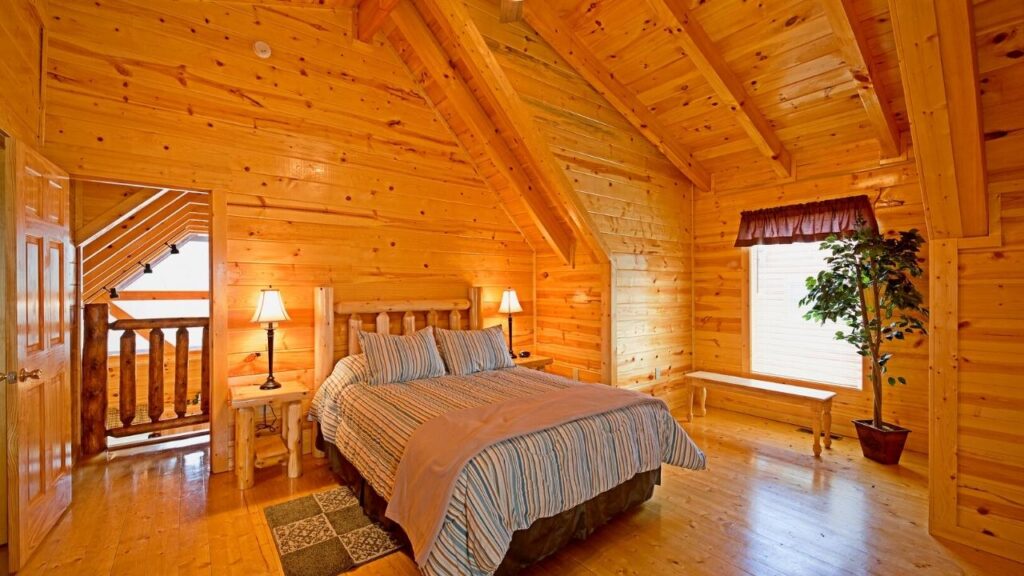 7) Be careful with the furniture you use
Just remember that less is more when it comes to that furniture. You don't want to cram lots of pieces into the room when Scandinavian design relies so much on open spaces and an uncluttered look. Choose a couple of practical items and look for a bed frame low to the ground.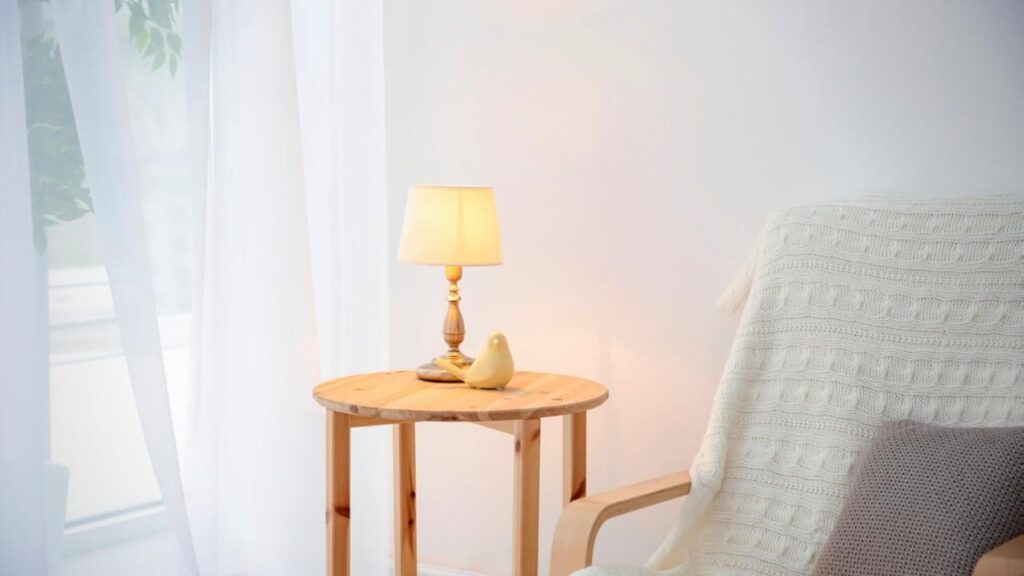 8) Bring in some houseplants
Another way to bring a bit of Scandinavia into your home is with some fresh flowers or potted plants. A good healthy houseplant can bring in those natural tones that complement the textiles and accents in the room. A striking piece of foliage in the right vase acts as a nice natural focal point in the room while also purifying the air. You can choose any plant that brings you joy and that will handle the climate of the room. But, there is no harm in seeing if there is anything that would also be at home in a Scandinavian home.
9) Dress the room with artwork or photographs
Another way to enhance the aesthetic appeal of the room is to bring in some artwork. The minimalist, understated vibe of the Scandinavian approach means that you aren't going to find many bold prints or traditional paintings that will work with this scheme. Instead, you may need to focus on wall art that complements the colours and textures of the room without jumping out too much. If you struggle to find anything suitable in stores, you could get some canvases and make your own. Use offcuts of linen as a textured surface and leftover paint to create abstract shapes.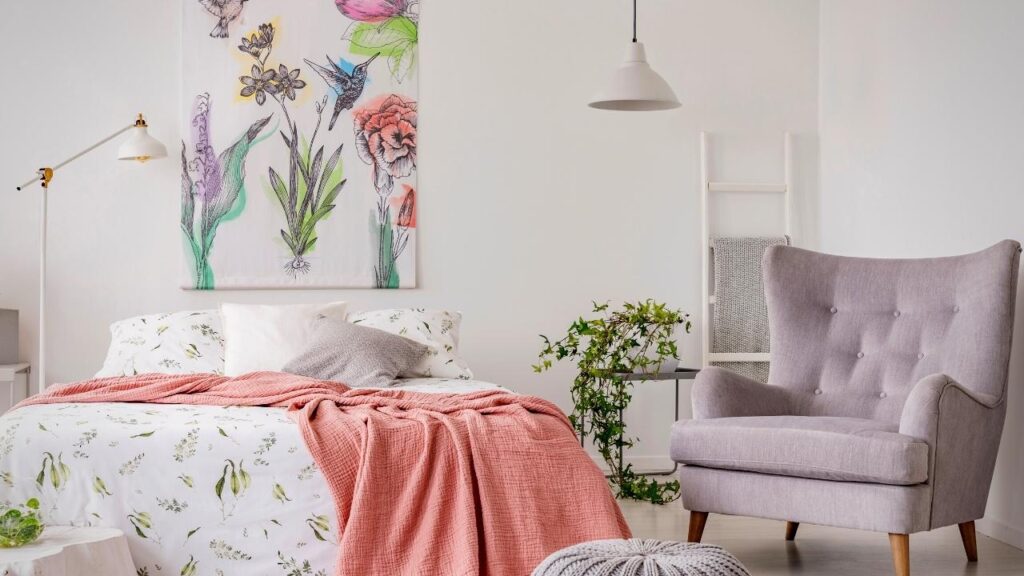 An alternative approach with the artwork in the interior is to bring in some black and white photographs. This is perfect because it brings in that feeling of a cosy family home and joyful memories but does so in a way that matches that minimalist aesthetic. It isn't too hard to alter digital photos into greyscale and create large prints to frame up in the room.
10) Use pendant lighting to finish the look
Finally, don't forget about the lighting in the room. While you will want to bring in as much natural lighting as possible, you will also need the right lamps at night. Choosing light fixtures and lamps which radiate a soothing pool of light, rather than a harsh glare, creates a cosier atmosphere. Pendant lamps can be the ideal choice because of the simple shapes that drop from the ceiling. You don't have to go for a bare light if you want to soften the feel. Linen or paper shades can look great. A rustic bedside lamp in your accent colour won't hurt either. Candles could play a part in this, also serving to bring one of nature's elements, fire, and its soothing properties into the room. Keep the air as clean as possible by choosing candles made of natural products, without toxins.
Hygge
This slightly confusing to pronounce word has sprung up all over the place in recent years. The closest translation from Danish to English is "cosy", or "cosiness" and it's a concept that's central to Danish culture. There are many ways that this can be achieved, from bringing the family together to creating a warm, nurturing environment, indeed there are whole books on the subject.
The link below is my affiliate link and will take you directly to the product on the Amazon website:
To find out more about the Danish Art of Hygge
have a read of the bestselling and inspirational 'Little Book of Hygge' which is available from Amazon with free delivery. Overall, creating a sense of wellbeing in your home will give it that Hygge feel and focusing on simplicity and nature when it comes to your bedroom decor is the most satisfying way to achieve this.
Conclusion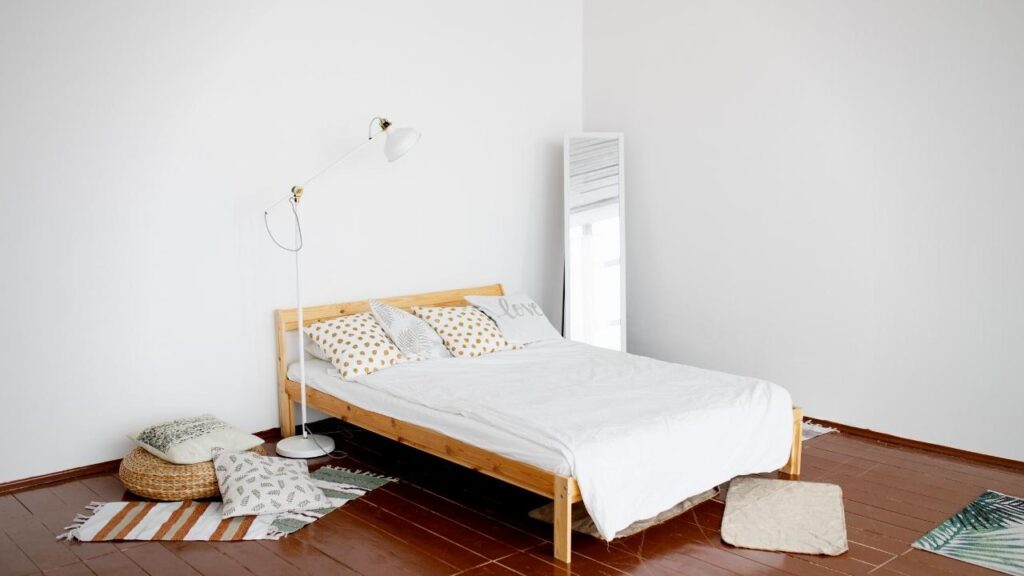 Scandinavian decor as we can see, is all about minimalist style, with lots of space to move around. This means less clutter and better use of space. There are some fantastic health benefits to this, as we already mentioned in the article on how to have a healthy sleep haven and makes for a clutter-free mind. Take some time to map out the space you have to make the best use of it, giving you plenty of room to move around with ease no matter how small your space is. For instance, if your room gets cramped easily then get creative: consider where you could place shelves, have a clear out to get rid of that useless junk that we all tend to accumulate over time and you'll be amazed at how light you'll feel afterwards.