Last Updated on 7 October 2023 by Alisea Mae
As we enter the last few months of 2023 and embrace the imminent arrival of winter, thoughts naturally turn to Christmas. Today, I want to talk to you about different options for an eco-friendly alternative to plastic artificial trees.
For the past few years, we have bought a real fir tree from local suppliers for our home. You can learn more about the benefits of this below. We keep it well-watered through the holidays and then use it as fuel when it's all over. This is something I highly recommend to all who can do so. However, I also appreciate this may not be practical for you. This is why I have been researching alternative Christmas trees. You can still get beautiful, environmentally-conscious decorations in different forms and sizes to suit all homes.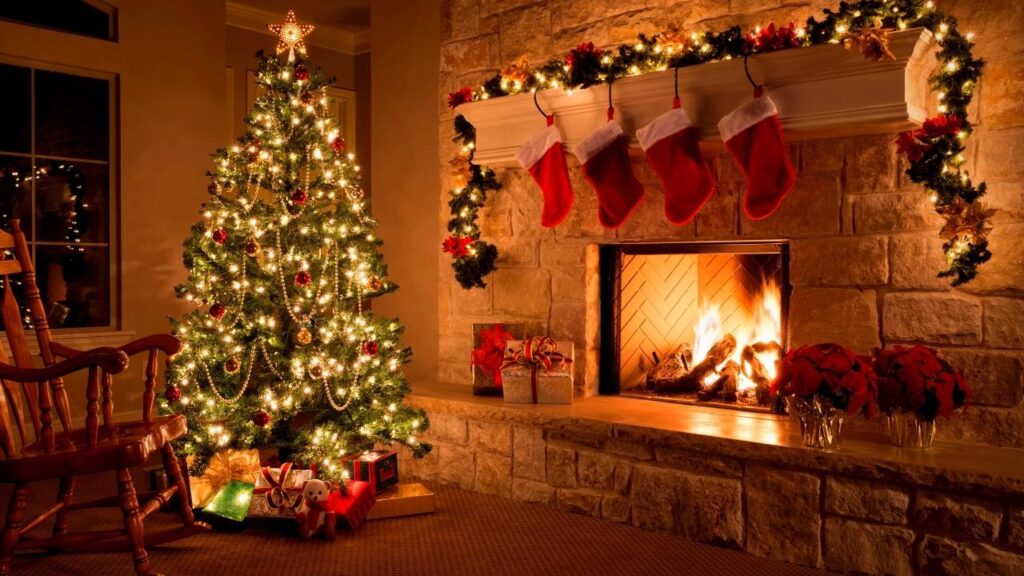 This post contains affiliate links and I may earn a small commission if you buy something after clicking on one.
So, let's dive on in. We'll start with some of the smaller alternative decorations before looking at bigger artificial trees and real trees. First, we have some cute stand-alone tabletop products in a range of materials and themes.
Tabletop Trees
One of the best ways to bring natural materials inside via alternative Christmas decorations is with a tabletop tree. This could be a miniature version of a traditional tree that sits in the middle of the table during family meals. It could be something more contemporary as a talking point on a coffee table. Or, it could be something beautiful to sit out on a side table or dresser somewhere else. Here are some of the best versions around for the holidays this year.
Christmas is a time for toys, and we can all get behind 100% wooden alternatives to plastic. This one is 100% high-quality wood with non-toxic paint. This 24cm tree is very pretty and comes with a step for the top and 18 mini ornaments. It's a lot of fun to put together, and kids can rearrange the pieces as they please. The old-fashioned charm will delight guests throughout the holiday.
---
Twig trees are a wonderful way to embrace the stark beauty of bare trees in winter. They are a nice alternative to green fir trees, especially this one with the silver birch bark. The 24 LED lights enhance the shape perfectly. These trees are also great blank canvases for any season. I use trees like this as Easter decorations for spring too. They are a brilliant way to celebrate nature and the festive season more widely and not just Christmas.
---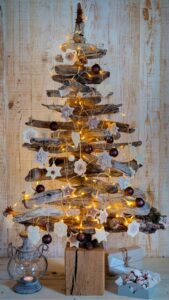 In the past, I have written about coastal and beach décor for natural interior design. That got me thinking about Christmas trees for this theme. A driftwood tree is the perfect way solution as it ties in the beach with a structure that is easy to decorate with shells, lights, and more. It shouldn't be too hard to find one that is just the right height from a creator such as those on Etsy. Still, there is the DIY alternative for those living near the coast.
---
This is something a little more unusual for those who want a real-looking tree with a convenient delivery process. Letterbox products are perfect for those in apartments with bad intercom systems, so why not get an artificial pop-up tree in your postbox? Bloom and Wild have some gorgeous products that would look great on a desk or TV table in a small room. I particularly love the Woodland Friends one with the little animal decorations and pom-pom snowball garland.
---
Like the twig and driftwood trees, there is the potential for all-year joy from this tree. The structure is adaptable to allow for a range of themes throughout the year. In fact, if you are quick, you could make this a spooky Halloween tree before transforming it for winter. The wrought iron is expertly shaped into pretty branches and is perfect for holding many baubles and other decorations. At 84 inches, it is also a great statement piece.
---
I feel like we can attach the word adorable to a lot of these trees and decorations, but it is especially true here. This one is simple but effective. The crocheted yarn forms a soft and tactile little tree that looks great as a tiny addition to a bedside table, bookshelf, or other little space. Each one is handmade and unique. It is a great way to support a small scale artist. However, don't be afraid to look into crochet patterns of your own if you are into that craft.
---
As a lover of candles and recycled products, this company really stood out. Their candles, in the shape of Christmas trees, with bright green 100% recycled wax are simple and effective. They are also unscented, so aren't going to get in the way of any other festive scents you might have in the room. There are two sizes and there is also a red version if this fits your theme better.
---
Hanging Trees
Another option to consider when using smaller trees as Christmas decorations is to get a hanging tree. These trees don't take up as much space in smaller homes and apartments, which is helpful when you need as much tabletop space as possible for your Christmas dinner. They offer an alternative way to bring beautiful decorations into any room and you can still find a range of eco-friendly products. Here are some that I found that I think you will love.
This is one of the most minimalist approaches you can get when it comes to natural Christmas tree decorations. This is perfect if you want to bring in a little light and colour without going overboard. This takes a decorative ladder and adapts the shape to resemble a tree. From there, it is completely up to you what you choose to do with the decorations and lighting. At 133cm, it is a good size without dominating the room too much.
---
In the tabletop section, I showed you a tiny 3D wooden tree with cute decorations. Well, this is the larger, flat, wall-hanging option. The vibe is the same with all the childish festive imagery and bright colours. There are detachable individual decorations to place in any arrangement you choose. They all stick on a 4ft flat green base in the simple shape of a tree. The little ribbon then makes it easy to hang from any hook on the wall. This is one that kids can have a lot of fun with. Maybe this would work for them in the living room while you set up a smaller twig tree in your bedroom.
---
In complete contrast to the child-friendly themes and colours of the felt tree, there is this subtle, natural hanging tree. This one is perfect for the solstice because of the way it brings greenery into the home to celebrate nature. In addition to the real birchwood sticks on each level and natural twine, there are artificial berries and eucalyptus leaves. It is understated but can have a calming effect in an entranceway when coming in from the cold.
---
Full size alternative trees
If these smaller decorative trees aren't bold enough for your home this season, there are options for bigger, full-sized trees if you need them. This is the perfect way to have that large focal point in the room that you can still decorate to your liking, with lights and other features, and leave presents beneath. The options are more limited because of the scale involved. Yet, I recommend checking out these options for a grander eco-friendly Christmas tree project.
Eco Christmas Tree is an Etsy store that offers handmade tree kits that are a lot of fun for the family. Basically, you get a kit with all the wooden twig branches, stump base and supports to build a natural 3D tree at home. What makes this even better is that there are mini 2ft trees and massive 6ft trees. Once assembled, they are sturdy and easy to decorate.
---
2) Building a pallet Christmas tree
So far, I have highlighted lots of amazing companies and designers with pre-made trees and decorations. However, there is always the option of building something yourself. A DIY pallet tree is adaptable to suit the space in your room and easy to personalize with paint, lights, decorations, and more.
---
Full-size real trees
This final option is the ultimate choice for a lot of people who love the romance and sensory experience of a real tree. However, many shy away from real trees because of a range of worries. You may be concerned about the cost, the space required, the green credentials, or the hassle of dealing with the tree before and after the holiday. However, there are plenty of options out there that you may not have considered and that could sway you.
1) Buying a tree from a local plantation
The first option is to go to a local plantation and get a tree out of the lot. Ideally, you will be supporting a local team that understands sustainability and arboreal care and will replant trees often. It is a wonderful way to celebrate nature in your area, especially around the time of the solstice. This link will help you find a local plantation that offers a great ecosystem year-round and stunning trees for the holiday.
---
2) Buying a tree online
That first option is easier said than done for anyone living in an urban area. So, it may be better to look into companies with reliable delivery options. Gardening Express can help you find quality trees, and you can also go to reliable growers like Thompson & Morgan. Shop around to find a good deal but don't compromise the health of the tree in the process.
---
3) Getting a potted tree
Another solution that I recommend to anyone interested in plant care and gardening is to get a potted tree. Find one that's the right size, bring it in, decorate the tree and pot, and then put it out in the garden after the holidays are over. With the right care, such as potting on as needed, it could flourish into something even more magnificent next year.
---
4) Growing your own Christmas tree at home
Following that, you could make an even bigger commitment to grow your own tree at home. Christmas trees are just conifers, and you can find a variety that will thrive in your garden over the years. Eventually, it could get big enough to pot up and bring inside. However, it could also be a beautiful way to enjoy outdoor lights and eco-friendly decorations. Again, reliable companies like Trees Online can help by offering established plug plants. Alternatively, you could try this Grow Your Own Kit.
---
5) Rent a tree
This last one is a little more unusual but could appeal to a lot of people. If you don't like the idea of a tree dying each year just for a Christmas decoration, but don't have the means to care for one, you could rent one instead. Check out Good Elf to learn more. They work with UK trees that are grown for harvest and can even offer decoration packages in traditional red, shiny gold, and seasonal ice white/silver.
---
Celebrate Christmas the eco way with these stunning green trees
There really are lots of different ways you can embrace environmentally friendly products and decorations this holiday season. The idea of bringing in a real tree, either locally grown or potted in your garden is great if you have the space and commitment to them. However, there is a lot of joy in those alternative decorations for an alternative approach.
Look into those companies that offer alternative full-sized trees, try out contemporary materials, or maybe work on one of those imaginative DIY projects. I also recommend checking out my woodland Christmas theme guide for extra inspiration. Whatever route you take, you can create a beautiful and memorable Christmas.