Last Updated on 5 February 2022 by Alisea Mae
Are you wondering how you can create a nautical theme in your garden? Here are some ways to decorate your outdoor space with a coastal feel.
Having a home that overlooks the ocean inspired me to include the nautical theme in my garden plan. I spent four hours reading articles on various websites about nautical garden decor. I also got some interesting tips from YouTube.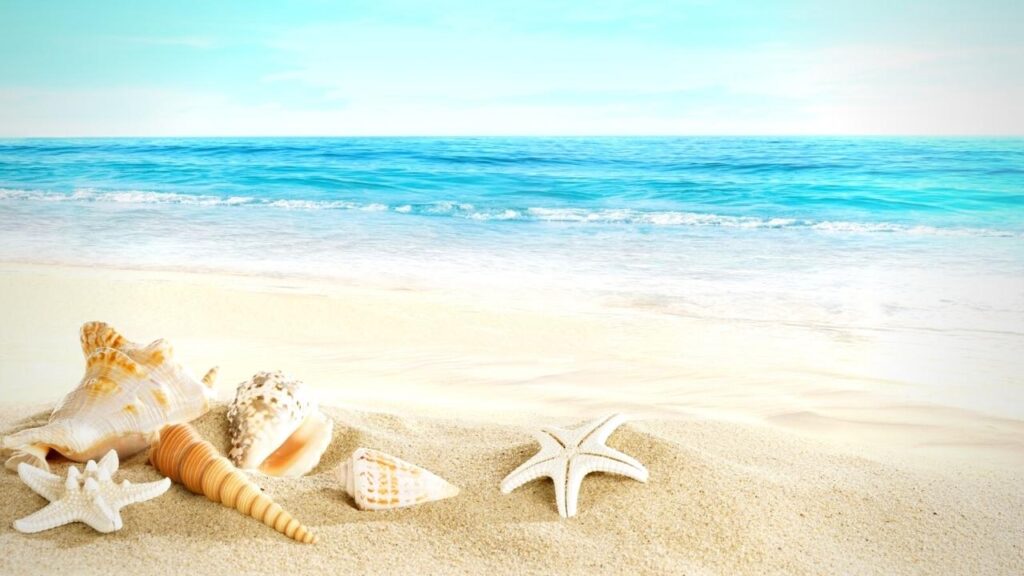 Gardens are a great way for green-fingered individuals to unleash some creativity. A little careful planning and consideration with the planting can lead to some impressive themed gardens. Themes can express different things. Some will allow gardeners to play around with different ideas, plants, colours and styles. Others help them to create a little bit of a treasured holiday destination outside their front door. There are lots of international and design based themes that gardeners can work with. This guide is the second in a series covering those different motifs.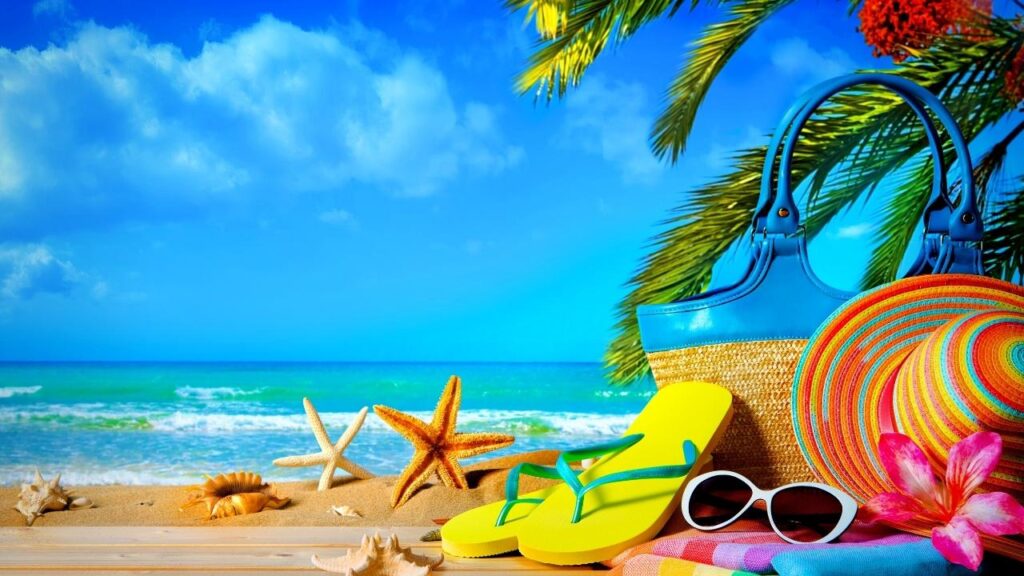 Creating a nautical garden isn't too difficult with a good budget, careful planting and the confidence to play with the landscaping. We don't have to live by the sea to have a nautical, seaside-inspired garden. We can take the colours, plants and textures of the coast, and seaside holidays, and bring them into our own gardens. Some will choose to transform the entire garden with this coastal effect throughout. Others will prefer to create a small corner within the garden that pays tribute to a favourite seaside spot.
The following 12 ideas should help gardeners in need of some inspiration.
1) Planting with grasses
Grasses are a brilliant plant to bring into the garden when creating a nautical theme. They are versatile and appealing, and a must-have element for a seaside approach. Small spaces can use tall grasses as a focal point. Marram grass and cordylines are perfect. Those cordylines provide height and texture, but also darker colours. Larger spaces may benefit from grass screening.
The Cordyline Australis, also known as the Torbay Palm is not an actual palm but has an exotic look about it. The plant is tolerant to salt and wind so quite suitable for coastal gardens. Grow in full sun or partial shade.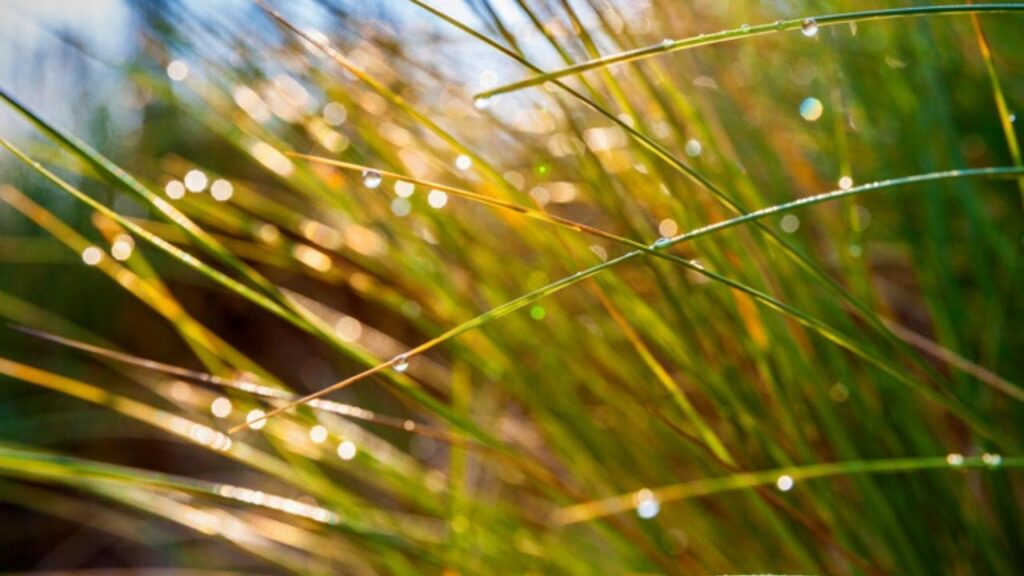 2) Other planting ideas
There are lots of natural, British plants that we can grow in our gardens. Many can recreate the look of the coast and seaside even in more urban settings. Plants like thrift and sea holly are a great place to start. Sea holly also has the added benefit of being suitable for moths in a night-scented garden. Just avoid the Hottentot fig! While pretty over cliffs, it is an invasive species.
The eryngium planum, blue sea holly is ideal for your beach theme garden.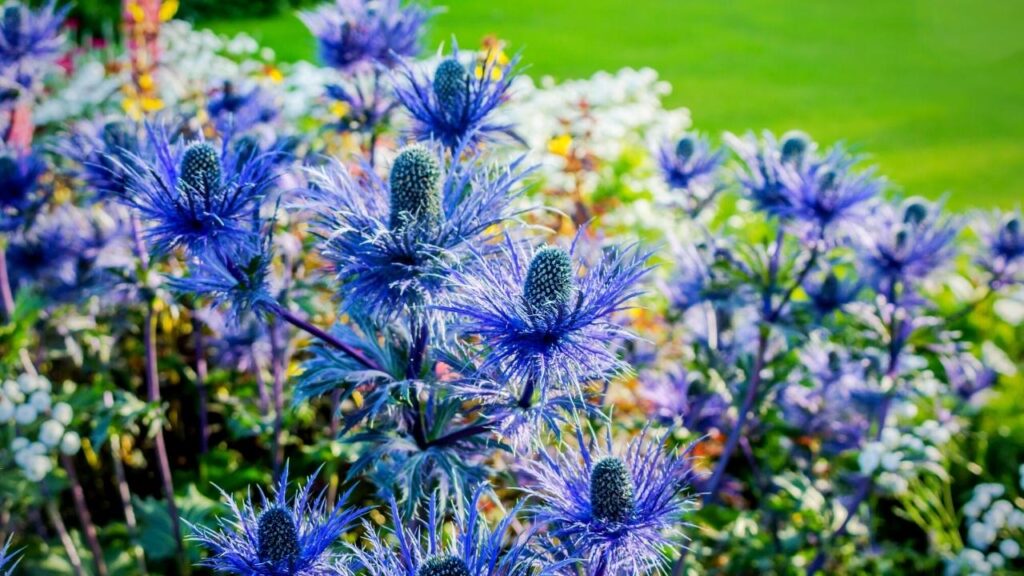 3) Other forms of screening
Those that want to create a nautical area in a larger garden will appreciate some appropriate screening for privacy and a clear border. There are different approaches other than those grasses. Some people will like a simple wooden fence, perhaps painted in weathered whites and sea greens. Others may try and recreate the old look of a windbreaker, although this isn't particularly natural.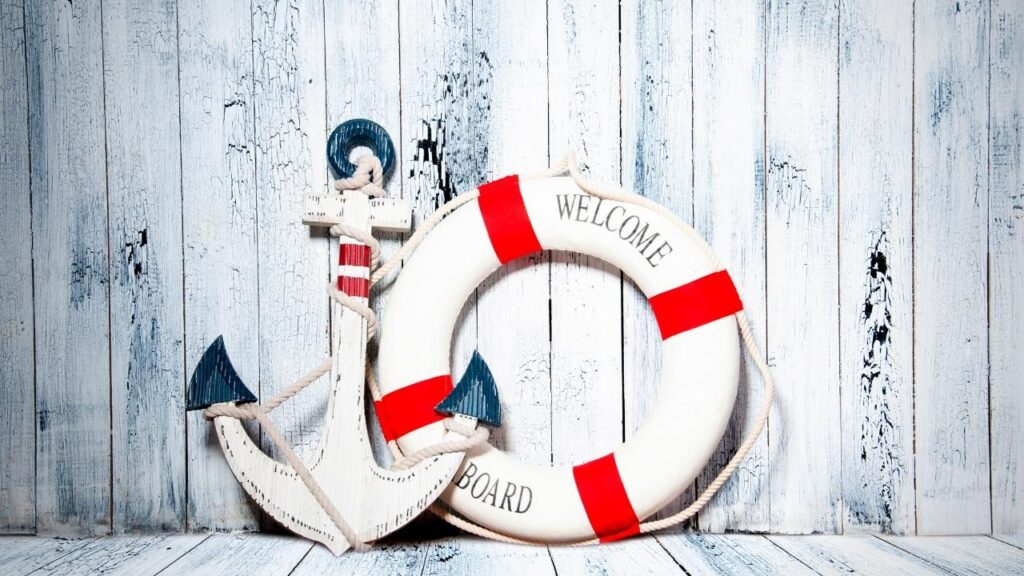 You might find that a big white fence is too stark and distracting so you could break up the backdrop with decorative items. You could hang sea-themed items of interest like nets, lobster pots, buoys, and more. Another way to break up a boundary is an access point. A classic gate with a ship's wheel adds some charm. If you plan to make the entire garden nautical then maybe do this with the main gate and bring in a fish or creel themed mailbox too. This brings instant appeal as soon as people get to the property.
4) Landscaping with driftwood
The smooth surfaces and interesting lines of driftwood make for tactile, beautiful features in this nautical garden. These pieces can be used in different ways, from sculpture to more practical elements. One option is to try driftwood effects on raised beds. This is the perfect substitute for more traditional timber.
Those raised timber beds then become the ideal accessible place to grow vegetables and herbs for your kitchen. Perhaps some dill for your fish dishes?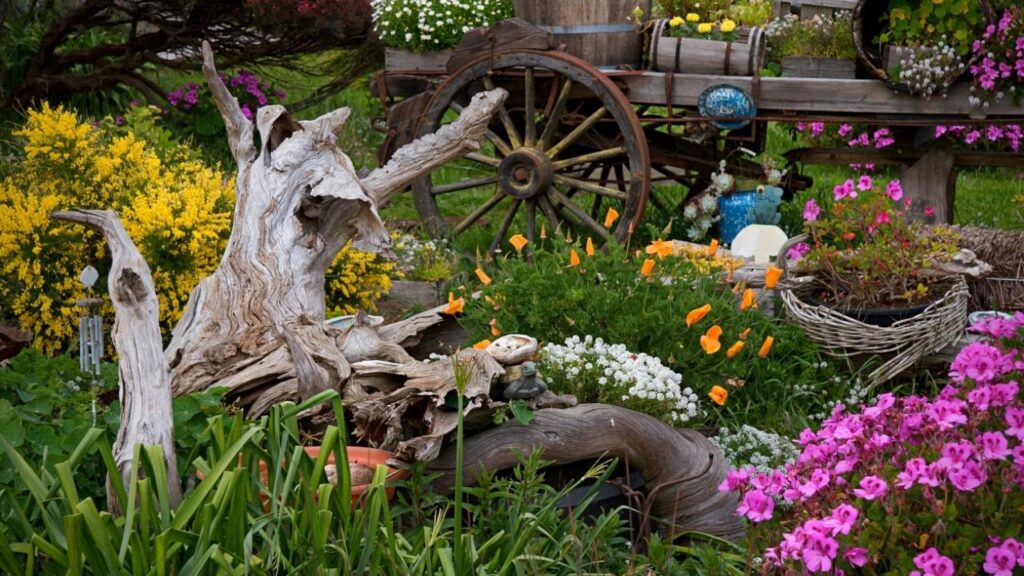 5) Adding more texture
A great way to improve the nautical feel of this area is with those seaside textures. Many designers will use sand and shingle around planting, or between the stepping stones on the path. The crunch underfoot and colours immediately transport visitors to another location. Check with local suppliers to see where they source their materials. Gardeners with small children may also decide to add an old-fashioned sandpit in the corner.
If you don't want standard shingle you could try and source some crushed cockle shells instead. It is a great way to reuse a by-product and looks great.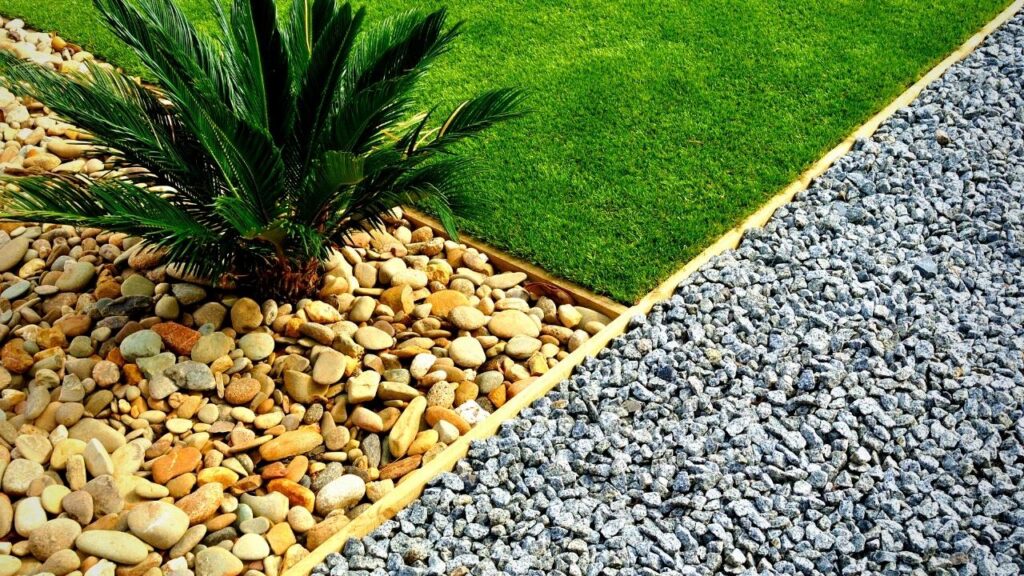 6) Bringing in colour
The classic approach in decor is to go for a dark blue and white theme. You can certainly make good use of white painted wood across different areas. You may also want to consider other natural colours that evoke green tones of the ocean or some sandy hues. Alternatively, you could pick accent colours of marine plants like thrift.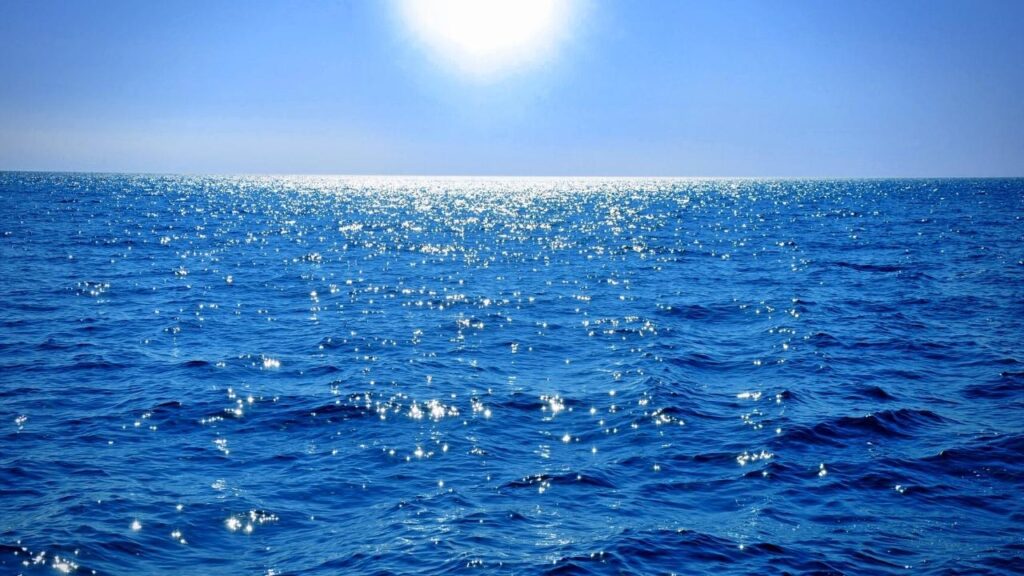 7) Adding a water feature
A true seaside look and nautical feel mean that the garden needs some water somewhere. Those that want a nautical approach to the whole garden can get away with a large pond and shore area. Instead of having a neat, deep pond, leave a shallow shore with pebbles and other seaside items. This pebbled shoreline is also possible on smaller ponds. Just make sure to create a water feature proportional to the section of the garden.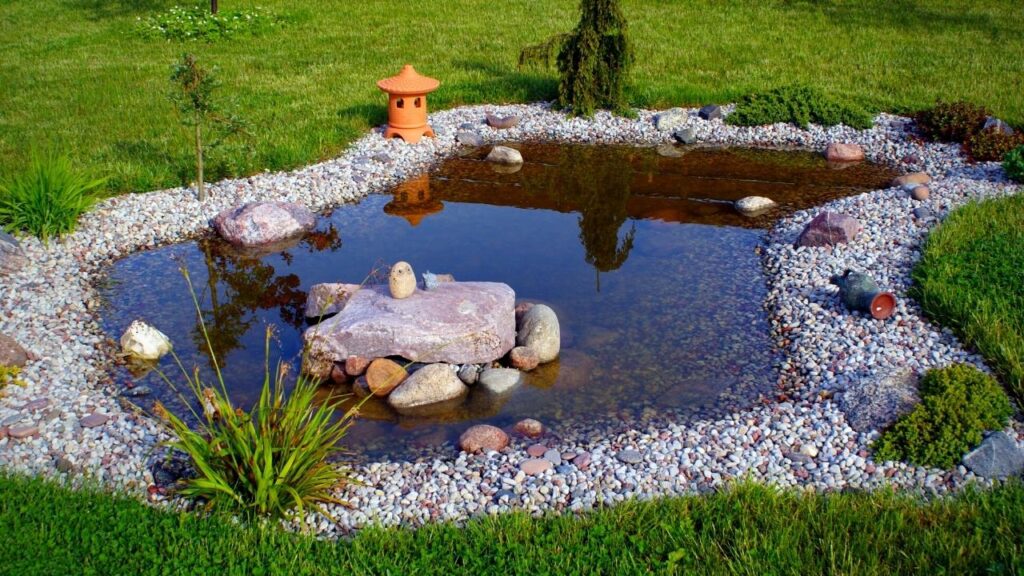 8) Why not add a boat too!
This will depend on the size of the garden and the design of the area. Those with a large area of water and that shoreline may decide to add a small boat as a focal point. Others like to use the bows and other elements as planters. These boats can be painted up to match the garden, or by children with fun designs.
Of course, if you get really into the construction side of making a boat planter and you have ample space, you could always build a little jetty for it. This piece of raised decking, maybe with a rope fence, is a lot of fun and could become a great place to sit with a morning coffee.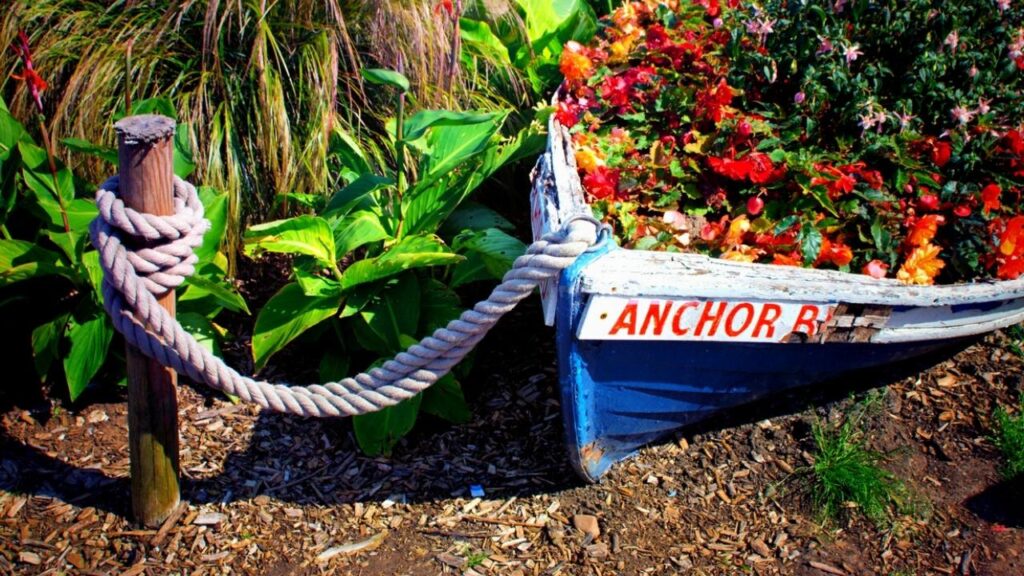 9) String up a hammock
Hammocks don't just belong between two palm trees on a tropical island. There is no reason why you can't set one up in a suitable shady spot at home and create a tranquil resting place. You could choose something colourful or go for a softer macrame style.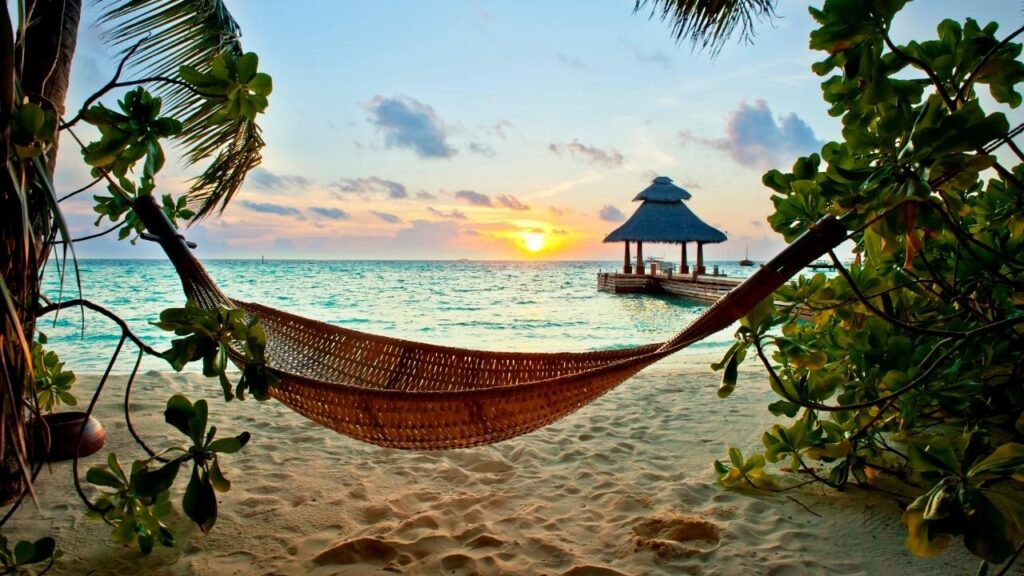 10) Use old nautical items as planters and decorations
There are lots of antique markets and online retailers that will sell old pieces of fishing equipment and other nautical items. Again, this depends on the size and look of the area. You can bring in items like old lobster pots or buoys to plant in or around. With time, they can blend into the planting, while still adding a splash of colour or some much-needed structure.
You can really get creative across the whole property with salvaged nautical items, not just in the flowerbed and seating areas. Glass floats make beautiful decorative items because of the way the colours catch the sunlight. Many people also use oars as a flat "plaque" above the front door.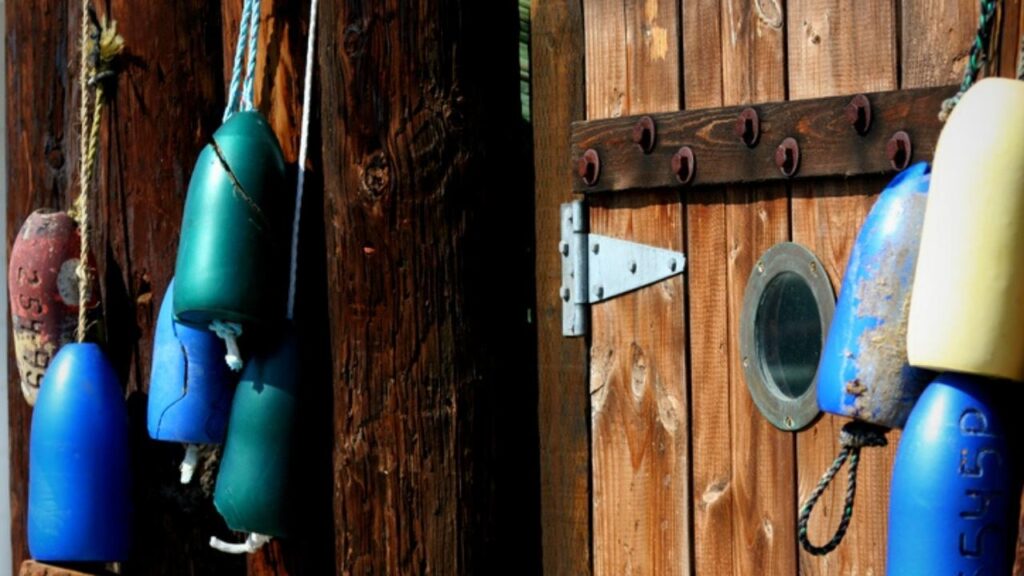 11) Nautical themed sculpture and art
If you don't want to go too overboard with the decorative items – either through a lack of budget or lack of space – you can stick to a smaller piece of art. There are different options here. Abstract driftwood sculptures offer a natural look and subtle approach. You may find sculptures with mermaids, dolphins or other marine creatures. Some may work as fountains in those water features too.
Or, if you want a more dramatic focal point in a nautical garden, you could try and source some old metal boat parts, such as a propeller. Whether sanded and painted or left with barnacles and rust, it will catch the eye.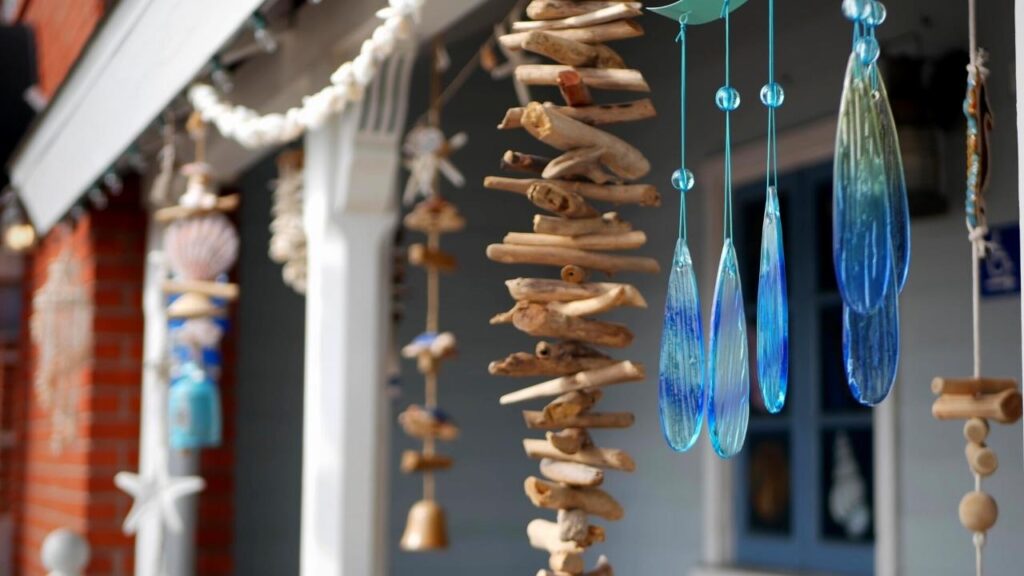 12) A seating area
Finally, you can finish off this nautical garden with somewhere appropriate to sit and admire all the plants and features. A more substantial structure would be a wooden arbour or summerhouse with a beach hut theme. You can add an old fashioned deckchair in or outside these structures for more comfort.
Alternatively, if you want a more formal set of a table and chairs, you could build or decorate a round table with a nautical feel. A ship's compass is a great theme, especially if you can line it up correctly.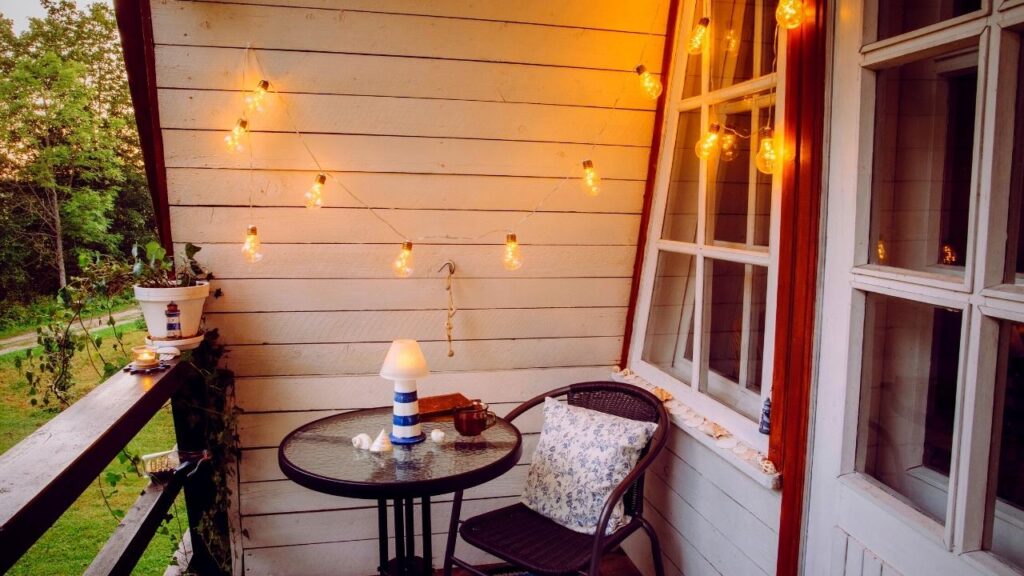 The bottom line
The great thing about all these nautical ideas is that they are so broad and easy to apply across the garden and into the home. If you don't want the theme to stop when you get inside then there are lots of options for home interiors such as decorating your bedroom with a beach theme.