Last Updated on 27 January 2022 by Alisea Mae
This post contains affiliate links meaning I may receive a commission if you decide to make a purchase through one of these links, at no extra cost to you. This helps me to maintain this website and generate a small income for myself.
Willow is a wonder material and it makes a lot of sense to turn this supple tree into so much more. This adaptable natural material is so much more tactile and appealing than any artificial one. You can start by growing willow whips, manipulating them into woven structures, and then take cuttings to start over again with fun new designs and features for the garden. While many gardeners will use dry willow which is a strong, flexible and durable option, there is also great appeal in living willow. Let's take a closer look at some of the practical solutions, fun creations, and artistic projects made with willow.
Here are 9 brilliant ways to create willow structures in your garden:
1) Start off with a willow fedge as a boundary
A fedge is a great structure that you can use as a boundary, either between your garden and a neighbour or different areas of the property. Willow is a brilliant choice for this sort of boundary because you get a natural screen that provides shelter from the wind and a home for nature. We use the word fedge because it isn't really a fence, because of its growth and density. But, it isn't exactly a hedge either because of the construction involved. So, it is a hybrid fedge.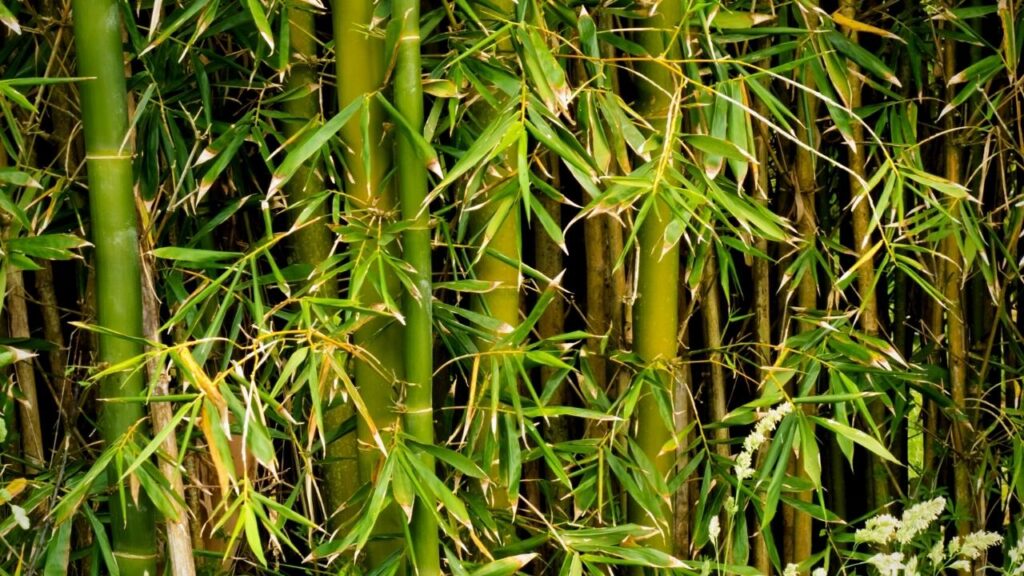 Creating a willow fedge requires some hard work and planning but it is worth all the effort. The best time of year to start planting your structure is winter or early spring.  You need to start by placing your willow whips or rods into the ground about 30cm deep. These are your stems that will create the structure. Do so at an angle of 45 degrees and 25cm apart. The fedge will grow and thicken with time. Try and create a woven structure periodically for extra support and use biodegradable twine to better protect the environment.
2) Create a willow arch to walk through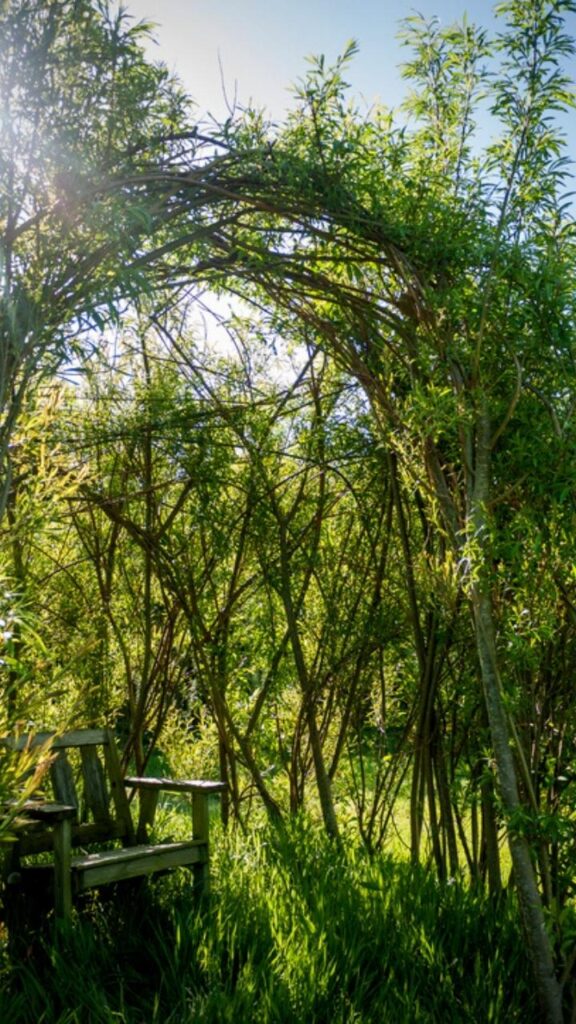 Willow fedges are probably the most complex option here because they take so long to develop and require a lot of maintenance. Willow arches aren't so time-consuming to set up and still offer a living structure that grows and evolves with time. You can grow your whips and train them into an arch, using the new stems as green growth that later becomes strong enough to weave into a thicker structure. These arches are perfect ways to lead guests into an area of a garden or down a new path. You can also use the structure as a natural climbing frame for roses. It is much nicer than any plastic alternative.
The growing popularity of these willow arches means that there are kits available that offer everything you need to get started. These kits will give you strong willow whips that you can root in the soil and leave to grow into strong supports. They will also have all the necessary tools to keep your structure stable and healthy. Look out for companies that offer extras like weed control systems, mulching fabric for better growth, and plastic-free supports, ties and pegs. A good customer service department also helps if you have any questions.
3) Create a willow arbour as a seating option
When you create this pathway beyond the willow arch, you might encourage visitors to take a trip to another part of the garden. Those that take this journey deserve a reward at the other end, something to capture their interest or maybe a place to rest. A willow arbour is a great choice, although it can be a bit trickier to create. It requires more careful crafting and planning to get the structure just right. You can do this with dry willow for that lattice effect and a nice clean look, or you can continue with the more natural vibe of the living willow.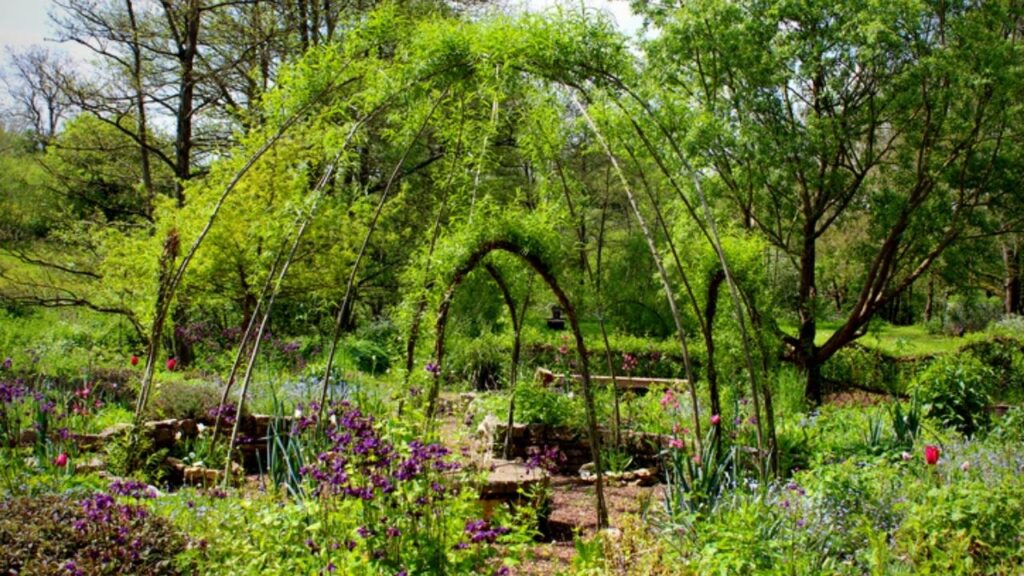 The finished structure can act as a great place for visitors to stop and sit for a while as they admire the garden. Place the arbour in a prime position around flower beds with deep fragrances, ponds where you can watch frogs and insects, or other places that call out for a mindfulness break. This area is also great for the rest of the family as an outdoor seating area. You can sit out here with a drink at the end of the day, let kids do their homework here away from the buzz of the household, and generally enjoy the space as an outdoor room.
4) Start growing plants on a willow wigwam
Moving onto another of the more practical solutions for using living or dried willow, we have the option of using a willow wigwam for plants. This is a great alternative to any dull plastic supports for plants like peas, beans and sweet pea flowers. You can start to make your own from living willow through cuttings or just buy a well crafted dried one.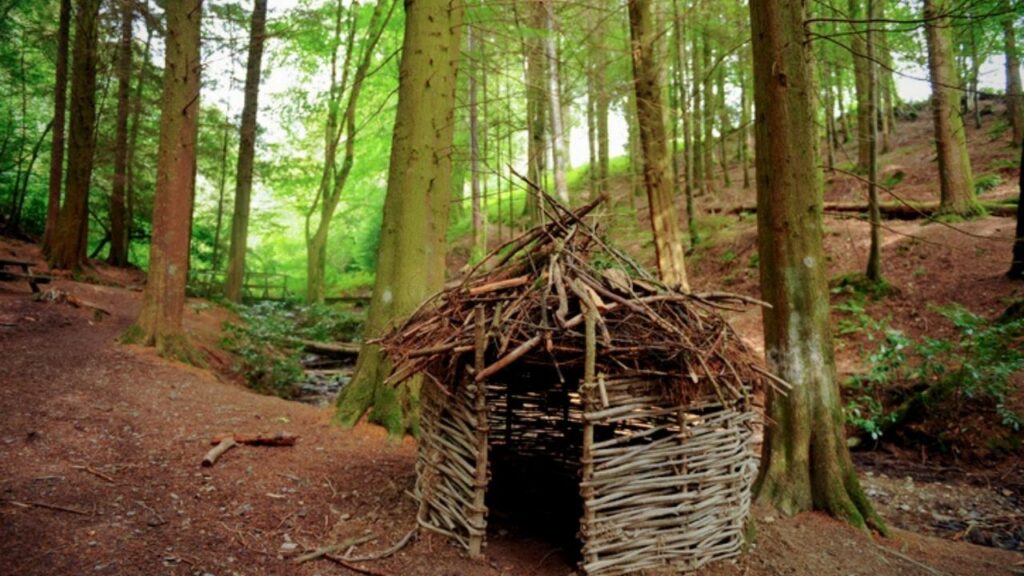 5) Willow planters offer another approach to planting
Alternatively, you can weave willow into planters. As with the willow wigwam, you get a nice natural look where the planters look like they came from the soil too. Although this evokes a more rustic look for a cottage garden, you can still enjoy a contemporary planting style. As long as you are careful when making them, or buy from a reliable source, you should find that they are sturdy and practical with adequate water drainage for the plants.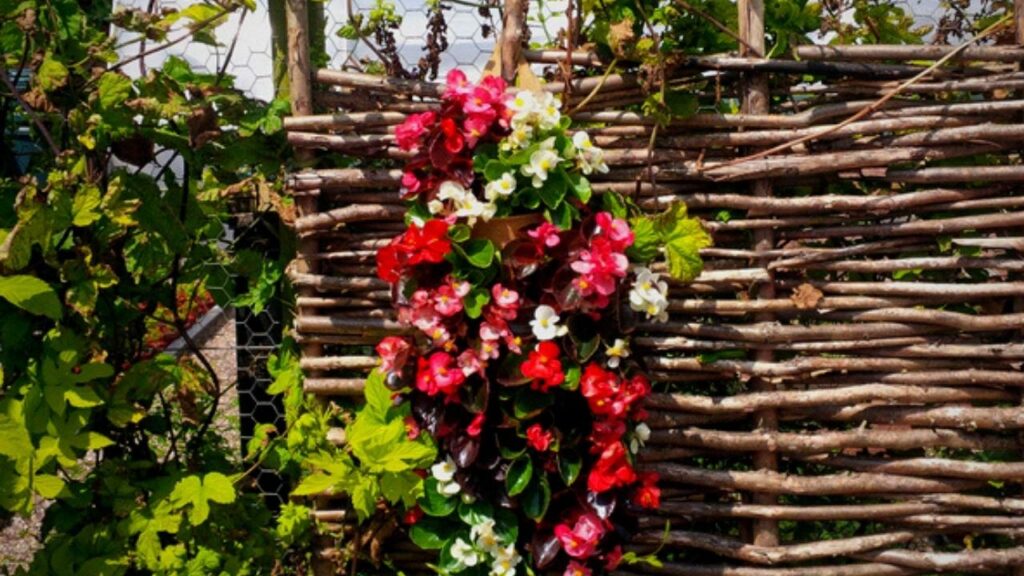 6) Build a fun retreat with a willow den or tunnel
Next, let's go back to that idea of providing somewhere fun for the children, either as a place to play, relax or do some homework. There are lots of different structures that you can create that give them a safe and cosy space. Willow domes and dens are some of the most popular. They are a fun alternative to any traditional playhouses or summerhouses for kids that prefer the great outdoors. The focus on willow structures also means that there is nothing plastic or unnatural in this design, other than any toys kids chose to take inside. Try building one at the bottom of the garden in a wilder corner away from the manicured lawns and flowerbeds.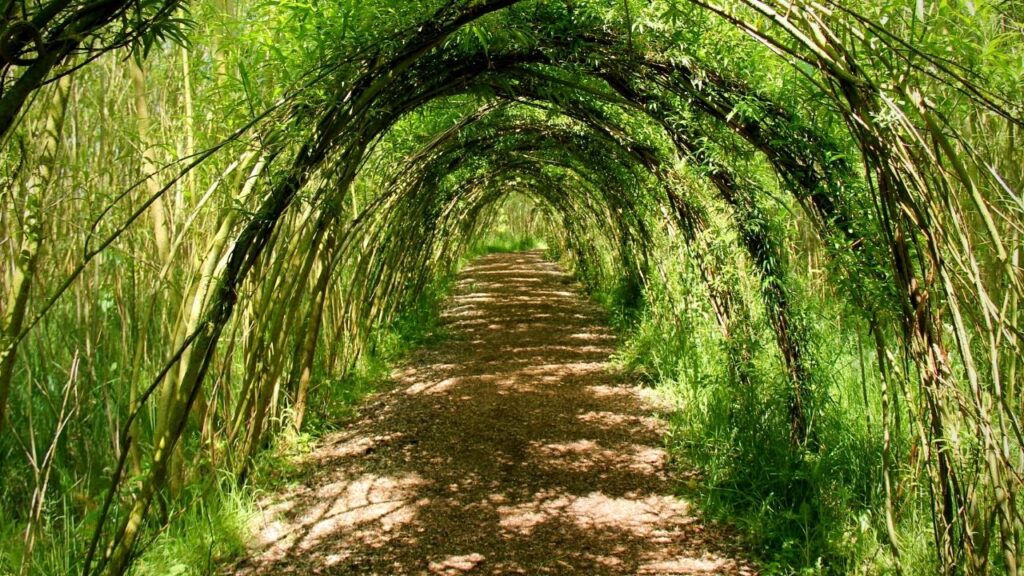 An interesting alternative to the willow den is the willow tunnel. Essentially, this is a cross between the arch and the den with a familiar arching structure on the entrance but plenty of depth where kids can hide and explore. There are plenty of companies offering kits right now that provide all the necessary rods, willow support and pegs to create a solid tunnel. Some also come with weed mats. With the right effort and maintenance, you can craft these living structures into something beautiful.  See the other post for more great ideas on creating a natural play area in the garden for children.
7) Use a willow obelisk for a little more height in the garden 
This last trio of items in this guide is here for more aesthetic purposes than anything structural or practical. An obelisk is a simple shape that isn't too difficult to find or to make yourself with dried willow. The weaved structure tapers up into a nice point with supportive rings or coils. With the right touches, they can look great as sculptural items in flowerbeds and borders, especially in gardens that lack a little height.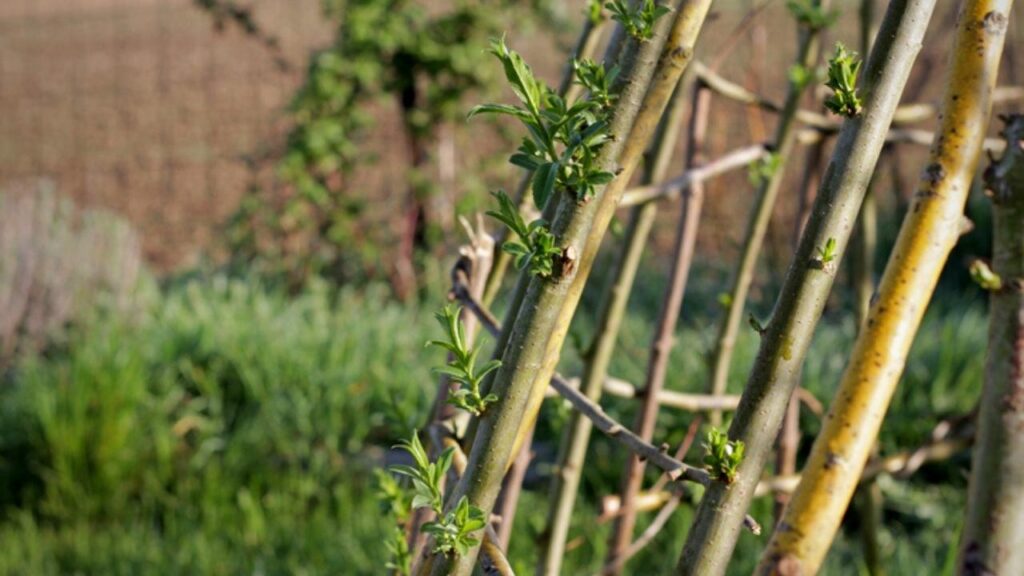 Of course, you can always use these tall supports as planters to help plants that need to climb. This is another way to add some height and interest to a border without relying entirely on tall flowers like lupins and delphiniums. A popular choice is to use the obelisk for sweet peas, which will fill it with colour and scent. Nasturtiums may also work well and are a good choice for families that like edible plants. Alternatively, you might want to put the obelisk in the vegetable garden for beans and peas.
8) A willow sculpture or statue will add some drama to the area
Eventually, you may find that your confidence and skill levels are such that you want to try your hand at creating willow sculptures. This will allow for a different effect in the garden and a more interesting conversation starter. A willow statue could mean anything from a tall willow man or woman to a depiction of a forest creature or an abstract form. It all comes down to the way you turn the bundles of the plant into a woven structure. It also depends on the space available and your imagination.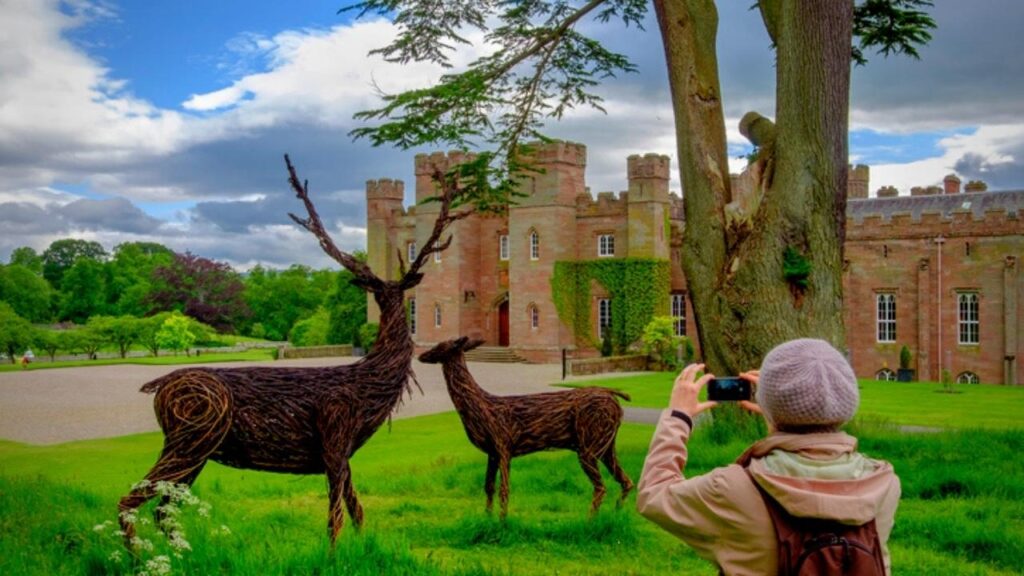 Naturally, it can be a little daunting to come up with any new ideas for statues and sculptures if you have never done this before. It takes some skill and practice to work the willow and get the right forms. Working with the plant rather than against it is key. A little freedom to go with the flow helps, but so does professional guidance from those that do this sort of thing for a living. That is where an online course can help.
Willowtwisters is a great starting point because it offers a brilliant insight into what it takes to craft this plant into something special. The site is the work of a mother and daughter team in Surrey that work with willow and carry out workshops in-person and online. Happy students love their workshops and the creatures made.
This link takes you to the Willowtwisters.com website for more information on their willow weaving courses.
Then there are the options at Craft Courses. This site has a much wider-ranging resource of courses that you can sign up for in all kinds of disciplines. This is a great choice because if you get the bug for sculpture and crafting, you might want to take on other courses at a later date. Prices vary depending on the subject. A quick search of the word willow shows a range of courses on different sculptures and baskets. Most are in-person courses so check the locations and dates.
This link takes you to the CraftCourses.com site to view the wide range of willow craft courses on offer.
9) Bring in some willow wall art
The final option that I want to discuss here is the use of willow as wall art. The sculpture feel and tactile nature of willow are great for pieces of striking art on the right wall. You can add something special to the exterior of your home as a bold conversation starter or maybe even bring the outdoors in a little with a piece in a kitchen. It is ideal for smaller cottage gardens too, where big freestanding willow structures aren't as practical.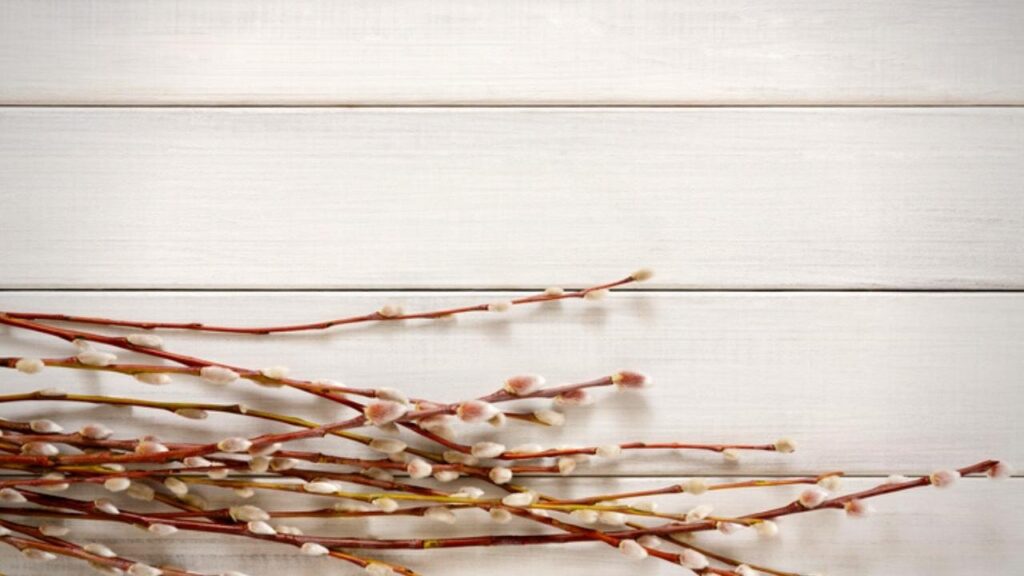 The link below is my affiliate link and will take you directly to the product on the Amazon website:
If you are happy to craft willow yourself into an interesting sculpture, you might appreciate the chance to create something personal instead of buying a piece of mass-produced art. There is a book on willow art
called "Willow craft: 10 simple projects volume 2'" by Jonathan Ridgeon that is highly recommendable as a resource. This book offers helpful guidance on a series of structures that you can use to add character to a space. There are plenty of natural designs, including flowers, fish and a cool dragonfly that would look great over a pond.
The joys and difficulties in using living willow
It is highly rewarding to work with living willow in many forms in your garden. Not only do you get the benefits of that flexible wood and the structure's impact on the growth of other plants, but you also have the fun and responsibility of a living plant to care for. With time and practice, and some of the courses above, you can learn to manipulate willow plants into wonderful practical and artistic structures. You also get to watch the evolution of the plant with all those green leaves in summer and new shoots to add to the structure. Those leaves have the added bonus of greater shade in those summer dens and food and shelter for insects.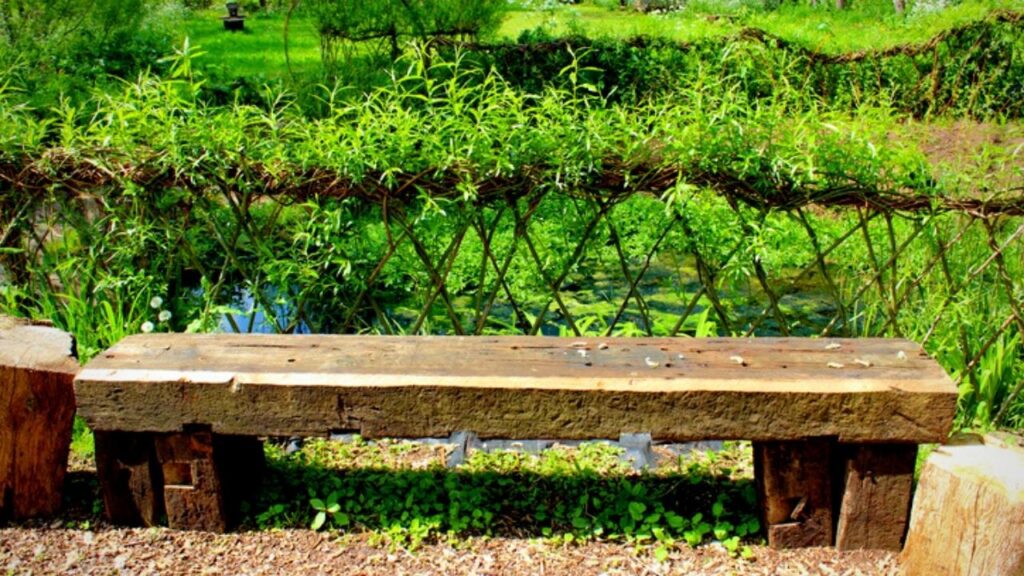 Choose the option that works best for your garden
There are pros and cons to bringing living willow into the garden rather than sticking with dried willow. In the end, your choice depends on your end goals. Maybe you could start with a simple dry willow planter or try and make a living obelisk. If these smaller projects work and you enjoy the process, you can then move on to designing complex sculptures, fedges, dens and other creations your family can enjoy for years to come.