Last Updated on 20 November 2023 by Alisea Mae
This post contains affiliate links and I may earn a small commission if you buy something after clicking on one.
Screening is a brilliant way to separate different areas of the garden. It allows for privacy and shelter, while also providing an attractive boundary. There are many options available, and the best all come from natural sources. There are some horrid, unnatural options available for a low price in many garden centres. Sheets of cheap, scratchy artificial conifer and ivy are a quick solution, but, they add nothing to the garden. The best approach for a truly natural garden is to invest in some natural screening – either through building or growing a more appealing structure. Natural materials enhance the space and can even offer a home for nature. Here are 10 different options that you can try for your garden:
1) Privacy hedges
The first approach in natural screening is to let the plants provide their own green boundary. One of the best ways to achieve this is through hedging. Some gardeners will prefer a traditional box, privet or conifer hedge. They provide a uniform look, as a green backdrop to areas of the garden, and are easy to maintain. The first problem here is that this isn't a quick fix unless you buy established plants, and that can get a little expensive. The other problem is that some "traditional" plants are non-native, and not so appealing to wildlife
2) A more traditional hedgerow
There aren't enough traditional hedges anymore. These natural boundary markers are made from a cluster of different native plants. Not only does this allow for a more natural look in a garden, but it also provides the right food and shelter for birds and insects. You can choose a mixture of hawthorn, roan, dog rose and other British species. While you rest in a sheltered patch in the bottom of the garden, a little blackbird or wren may be building a nest close by.
3) Trained fruit trees
There are also some gardeners who train their fruit trees to grow into a screen – manipulating the branches into a horizontal direction to make a different type of fruiting hedge. Apple and pear trees are the common options for a traditional English garden. However, you can experiment with whatever trees are happy in the garden. Lemon trees, for example, add a different vibe to the area.
4) Tall grasses
This is perhaps the easiest option of them all in terms of planting and effort. All you need to do is sow a long border of beautiful tall grasses and let them grow. They shouldn't take too long, require minimal attention and will self-seed. They offer a soft screen between areas of planting, while also allowing enough light to filter through. This is something that you can't achieve with big panels or artificial options. Again, you can try different grasses of different lengths and colours depending on the area and growing conditions. You can also plant ornamental grasses in large containers and this can provide a great feature around the patio or any seated areas in the garden.
5) Bamboo screening
Grasses are quick, but bamboo is quicker. This option removes that problem of slow-growing plants and long term solutions. Bamboo is one of the fastest-growing plants around. It is also a great looking plant for a dense screen. This means that it is very good for blocking out sound, while still using a natural plant material. It is also the perfect accompaniment to any oriental themed tranquillity area of the garden. There are two approaches here with bamboo. The first is live, growing bamboo in long beds or containers. The second is to use preconstructed screen panels from the garden centre from cut bamboo. If you decide on the first approach remember bamboo plants also come in many different colours and varieties and it is important to take the time to choose the right one for your location.
The link below is my affiliate link and will take you directly to the product on the Amazon website:
You can buy bamboo screening rolls
in 4-metre lengths and a choice of heights ranging from 1 metre to 2 metres. They are suitable for attaching to existing fencing and ideal if you want to create a small private section in the garden where you won't be overlooked by close neighbours.
6) Willow screening
Willow screening offers a similar approach to those cut bamboo screens. These densely packed, natural panels can be cut to size, with great flexibility in their placement. This means that they could screen each area of the garden to tie it all together. These screens are also pretty tough so should last for a while.
The links below are my affiliate links and will take you directly to the product on the Amazon website:
You can buy a roll of willow screening
in a choice of heights and widths. This is a quick solution to add some privacy or as a shelter from the wind. They add a touch of rustic style to your garden and as they are 100% natural, are also kind to the environment.
For something a little different – a wheelie bin screen
made from willow! This is a great idea for hiding unsightly bins if you don't have any room in the shed for them. You can also buy a triple-sized willow bin screen
. They are quite easy to assemble and come with wall hooks if you need to fix them down.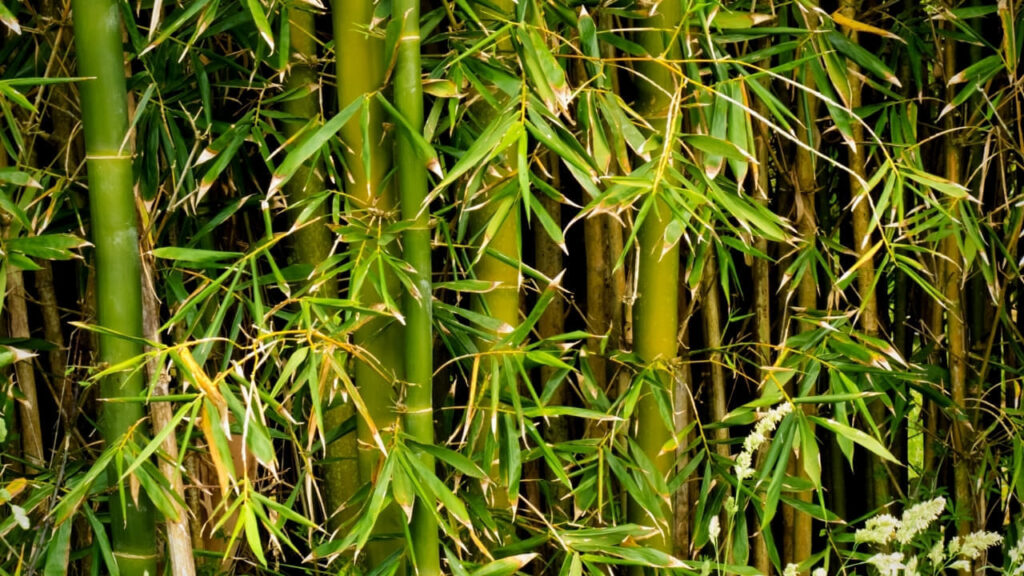 7) A more traditional willow or hazel screen
These willow screens are helpful, but they aren't that unique or interesting. Anyone can buy them and set them up. A different approach, for those that like to add a personal, DIY touch to the garden, is to make your own version of those old wooden screens. It takes some work to weave and wire together these old twigs and branches – and it helps to use something supple enough to bend. Still, the end result is worth the effort in a traditional, rustic area of the garden. You could also grow a willow fedge which is excellent for providing shelter to other plants growing inside it.
The link below is my affiliate link and will take you directly to the product on the Amazon website:
The nearest alternative is hazel hurdle fencing
panels which come in a width of 1.8 metres (6 feet) and range in height from 0.9 metres (3 feet) to 1.8 metres. They give a nice rustic appearance to your garden and can be built quite quickly.
8) A wooden fence
Then there are other ways to use wood for your natural screening solutions in the garden. There is no reason why you can't use a more traditional wooden fence in the right area. A good way to increase your eco-friendly credentials here is to find a sustainable source, with wood that is properly treated and 100% organic.
The two links below are my affiliate links and will take you directly to the product on the Amazon website:
If you don't have the time or skills for building a fence yourself from scratch. For a very stylish but natural effect you can buy wooden fence panels
6ft high and 3ft wide. There are also other widths available up to the widest option natural wood panels
which are 6ft high and 6ft wide and come in a pack of 3.
9) Screening with upcycled wood
An alternative here is to upcycle wood, like palettes, sleepers and old furniture. Take an old bookcase, turn it on its side and fill the gaps with stones, bamboo, clay bricks and other items. This creates a bug hotel wall on a grand scale. These wildlife walls are fun for the family to build, and provide a great chance to learn more about the important pollinators and insects of the garden.
The link below is my affiliate link and will take you directly to the product on the Amazon website:
For some inspiration see the paperback book
– 'Pallet wood projects for outdoor spaces' which shows how to make 35 different designs including a garden screen made from pallets.
10) Natural stone wall
These wildlife walls are also possible with natural stone walls and other constructions. Dry stone walls are another option that requires time and patience but offers great rewards for the effort. The best examples can look as though they were there for decades and enhance the feel of the garden. Those that allow for the right gaps and planting within will soon attract wildlife.
Find the option that best suits your space and wildlife. Don't go for the quick fixes.
There are lots of different ideas here. The best choice depends on the theme of the area that you are trying to screen, as well as the plants that will grow there. Planted boundaries are a great addition with the right plants and a little patience as you watch them grow. Wildlife walls are a great investment and project for the whole family. Both options provide more joy and benefits for the garden than any artificial, fake screen. Find the ideal solution for your garden and make the most of it for years to come.