Last Updated on 17 February 2022 by Alisea Mae
Flowering bulbs are a wonderful addition to the garden because they help us capture each season in vibrant colour. It is great fun to plant out a set of bulbs and see what appears the next season. Some gardeners will add tulips, daffodils and hyacinths at random through the beds and borders. Others will want to go a little further with their designs. Flower bulb designs can be as simple or as bold as you like. It all depends on the type of flowers you choose, the quantity and the space available.
For your borders:
Bulbs are a great way to add a little variety to a border and bring a touch of colour when other plants stop flowering. Many of us will add bulbs in the gaps with little thought. But, you can make bulbs more of a design feature in these areas.
1) Triangular wedges in a border
You can set aside an area of a border that is perhaps a little underused during the spring or summer. Triangular patches of bulbs like hyacinths, tulips and gladioli offer some drama as they fill the space with colour. Allow these wedges to taper at the front for a nicer look and pair them against complimentary plants.
2) Contrasting lines to guide visitors down the path
Paths and borders help us to guide visitors through the garden to other points of interest. This should be achieved through the planting as much as the shape. Alternating rows of bulbs draw the eye and guide guests with clean lines and bright colours. Try and use contrasting, complementary colours so each bulb can shine.
For open areas of grass:
When many of us think about spring bulbs we think of the massive lines of tulips that cover the fields of Holland and beyond. Bulbs can create spectacular displays on a grand scale, and there are design ideas that are great for larger spaces.
3) Daffodil spirals
This is one of the boldest ideas around right now and requires a large space. The planting process isn't too difficult if you mark out the spiral correctly and plant the bulbs at the right depth. This spiral is a fun way to brighten up an unused patch of ground in spring – especially when viewed from above.
4) Rainbows of tulips
If daffodils aren't your thing, you might prefer the idea of covering a space in a variety of bright tulips. There are so many species and hybrids out there that you can build all sorts of patterns. Clever, resourceful gardeners can try and mark out a rainbow shape and source all the right colours for some impressive tulip landscaping. Just make sure the varieties flower at the same time for the optimal effect.
5) Initials in bulbs
Many homeowners like to stamp their initials on a property or treasured possession via a monogram. There is no reason why we can't do the same in our garden with a little care and the right bulbs. Dig up a patch of ground in the right shape and plant it with bulbs in the colour and pattern of your choosing. Perhaps small crocuses and muscari in the centre and taller tulips around the edges.
6) Crocus rings around centrepieces
Those daffodils and tulips are a bit bold and do require more space than the average gardener can offer. A great alternative is to create a crocus ring on a lawn, perhaps around a tree or sundial in the centre. This adds bright spring colour without becoming overbearing. The more space you have, the more rings you can create.
For your containers:
Finally, there are plenty of design ideas for planting up containers and planters. Containers are great for bulbs because you can set aside a designated space that changes through the seasons. They are small enough for small gardens but stand out from the other borders and beds. You can create an explosion of colour and flowers of different heights with the lasagne approach to bulb planting. Or, you can try something more formal. The lasagne approach simply means layering the soil with bulbs at different depths. Shallow bulbs like muscari and fritillary stay on the top layer, then the hyacinths and crocus in the middle, then daffodils and alliums on the deeper layer.
7) Rings of colour
Pots are a great place to experiment with those concentric rings of colour. This is ideal for different varieties of the same type of bulbs – such as a blanket of crocus, hyacinth or other low lying bulbs. This puts all the emphasis on the colour rather than the form. Play with patterns and complementary colours for an interesting effect.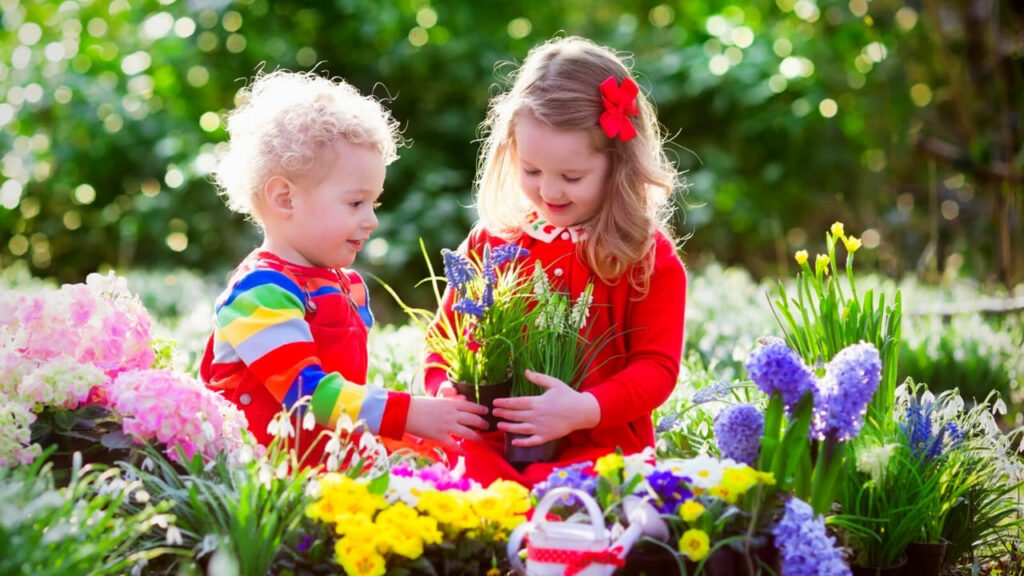 8) Cone/pyramid effects
Finally, you can also plant up containers to play with the idea of height. Start with shorter flowers around the edges and build up to a centrepiece in the middle. The idea here is to create a kind of structure from flowering bulbs that visitors want to walk around.
When to plant your bulbs
Different bulbs flower at different times of the year. You can't plant everything in late autumn and expect a massive display to spring into life in early spring. It is important to read the instructions on any packet of bulbs and plant them at the right time. The soil needs to be cool enough for spring bulbs like daffodils and tulips, so wait until October for the best results. Summer flowering bulbs are a little more sensitive to the cold and frost, so have to wait until the spring. Autumn flowering bulbs are the last to be planted.
Have fun with your flower bulb planting designs and enjoy the results.
As long as the weather doesn't take a turn, and you plant the bulbs at the right depth, you should be in with a chance of creating that perfect display. Bulbs are tougher than we think, but they are also living things that will only grow when they are happy. Enjoy the design and planting process and celebrate any successful design – from the smallest rings to the most daring tulip landscaping. If it doesn't work, look at your mistakes and try again next year.