Last Updated on 10 November 2022 by Alisea Mae
I recently wrote about why autumn is such as special time of year, with all the activities and occasions to enjoy. I believe that one of the best ways to celebrate this is by bringing the season into our homes. That is why I have created this additional guide on autumn home decor ideas.
I carefully research and consider each product before choosing the best and most useful ones.  If you click on a link and buy something, I may receive a commission at no additional cost to you. This does not influence my choices in any way.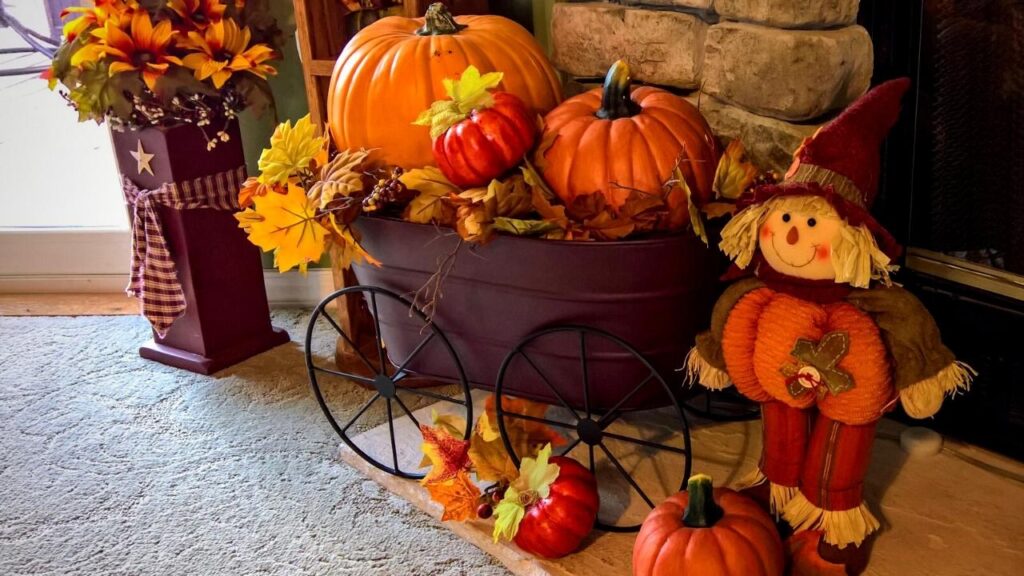 This is a subject dear to me because I love getting inspired with home decorating ideas and finding an excuse to freshen up a room. My love of the season, just makes autumn home renovations even more fun. Naturally, I have my own ideas and recommendations from my time working on my home and looking at books and magazines. But, I wanted to go further and see what other people were up to. So, I dedicated much of my day to reading up on clever ideas and watching videos. The suggestions below are a reflection of this.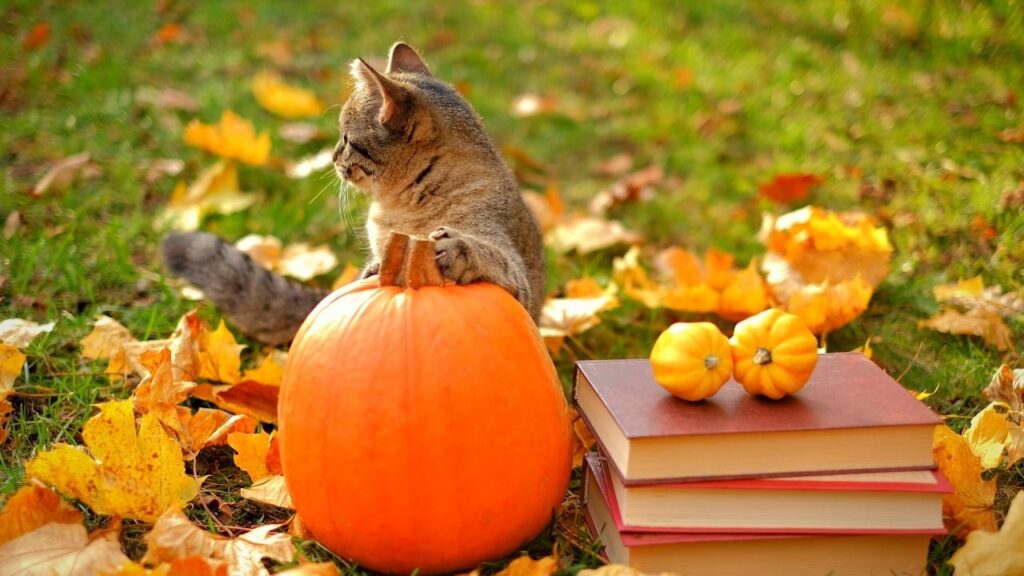 One thing that was clear from my findings is that natural materials are essential. This is something I am keen to use anyway, but it is nice to see so many other people working with what nature provides. This doesn't just mean things shed from trees or dried flowers. We can also make use of items from the harvest, such as fruit, pumpkins, and straw. Straw in particular can allow for major renovations to chairs and roofs.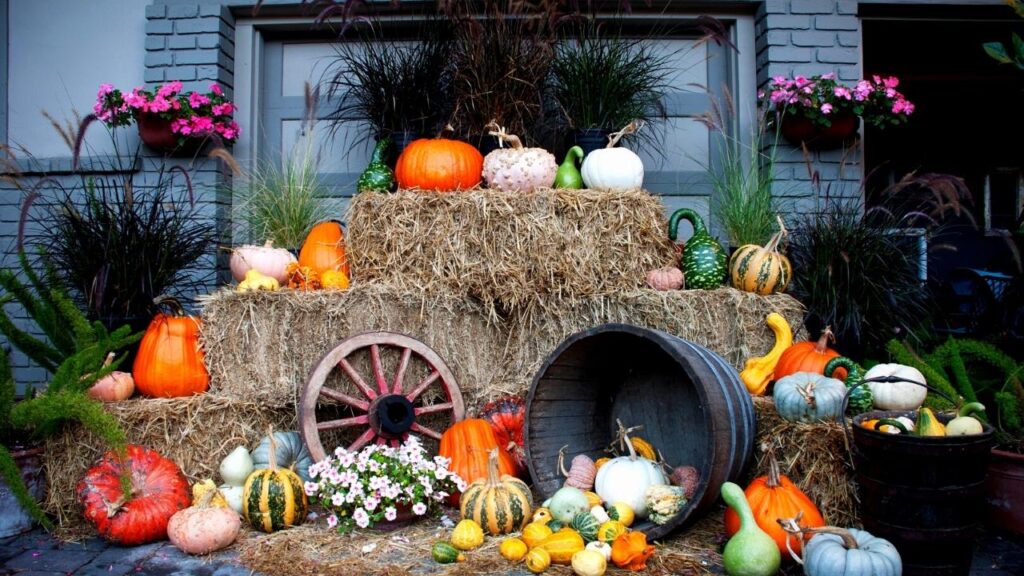 So, with all that said, let's look at some of the great ways you can upgrade your home decor to really celebrate this new season.
Put up a front door wreath
This is a great place to start because we are talking about the first thing visitors see when they come to your home, and what greets you on your return. Wreaths are often seen as winter decorations for Christmas and the Solstice. But, they can also be a great way of celebrating the foliage and natural objects in our gardens or local woodlands.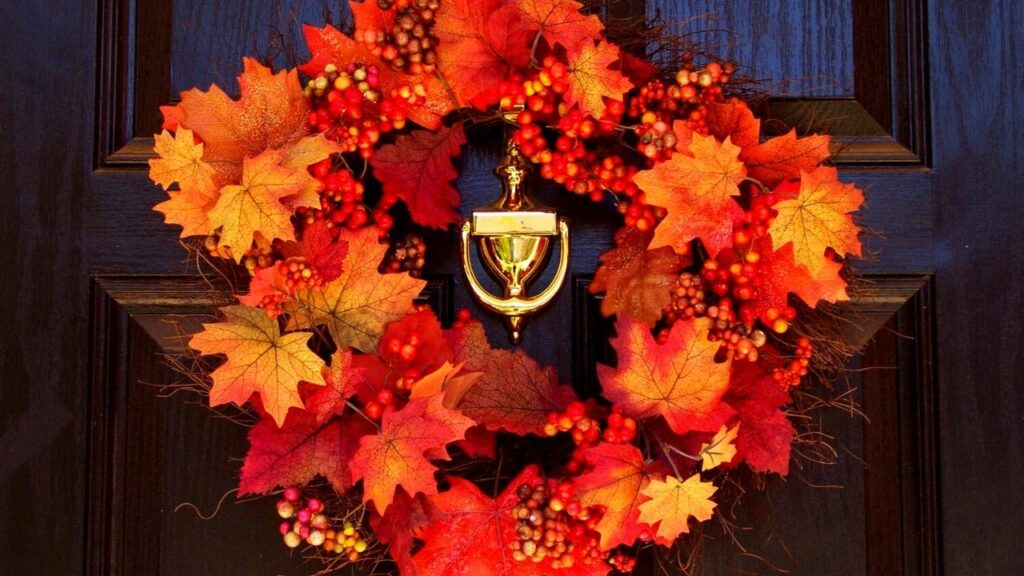 You can decorate with leaves, pinecones, conkers, and a whole lot more. If you prefer, you can also find some fun artificial ones that last the whole season and are more durable when the weather turns bad.
This stunning bestselling autumn wreath can be used indoors and outdoors and is equipped with 30 battery-powered LED lights.
Artificial flower arrangements indoors
If you don't have a front door that can take a natural wreath or a porch that isn't completely exposed, it might be better to bring floral elements into the home. You can create great decorations in vases and bottles throughout the home to celebrate the same colours and themes. Artificial options that don't require water or care allow for a greater range of designs and interesting approaches. For example, you can cut off the heads of fake flowers, get some faux nuts and gourds, and combine them with lights in mason jars and jam jars.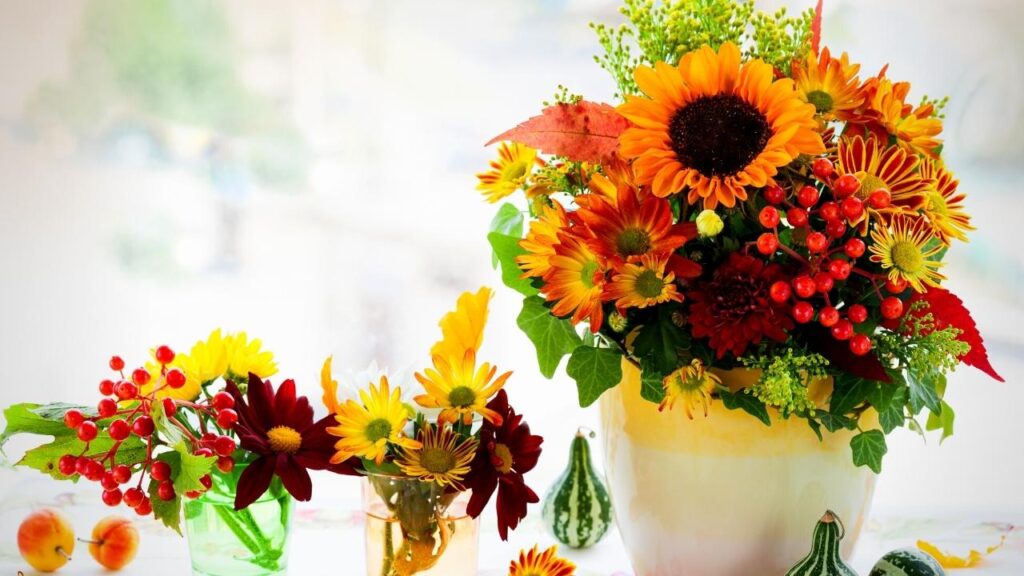 Artificial ones are, again, longer lasting and more durable. You can find some great flowers, grasses, and more in either natural muted tones or over-saturated colours to really make an impression. They also don't have to be plastic, if you are concerned about unnatural materials and sustainability. Fabric petals and sugar roses are fun alternatives.
These lovely fake silk autumn flower stems come in a pack of 6 and are ideal for your small vases and jars.
Natural decor throughout the home
If artificial arrangements aren't for you, you might enjoy taking the time across the season to collect natural materials and make a succession of decorations for the home. They may not look so great after a while, but this is just an excuse to head back into the countryside and find more.
You can come up with some great creative products with any natural items you collect. Pinecones are a great choice for their structure, and kids can paint them with glitter if they want to. You can also work with dried leaves, acorns, and more. As well as this you can play with straw sheaves and corn heads for that harvest vibe.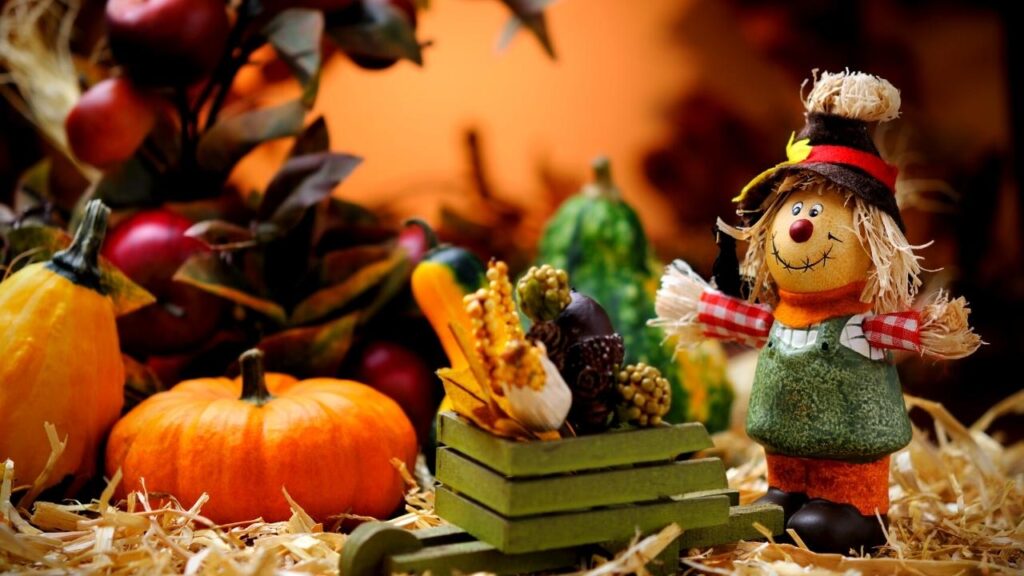 If you aren't confident about making these yourself, you can find companies and designers with great pre-made pieces.
For an easy project check out this natural straw wreath ready for adding your own choice of autumn decorations.
Go mad for pumpkins
Pumpkins are an essential part of this season, both as a decorative item for Halloween and as a vegetable for pies and soups. Their look means they are also a great image for home decor items, prints, and more. For a start, you can simply decorate your home with 3D pumpkins.
Real gourds and carved pumpkins are great, but you can also get lots of fun ones from homeware and craft stores that last longer. You can find them in everything from velvet to knitted materials, something foam or plush. You can also get them in resin, ceramic, or glass depending on their purpose.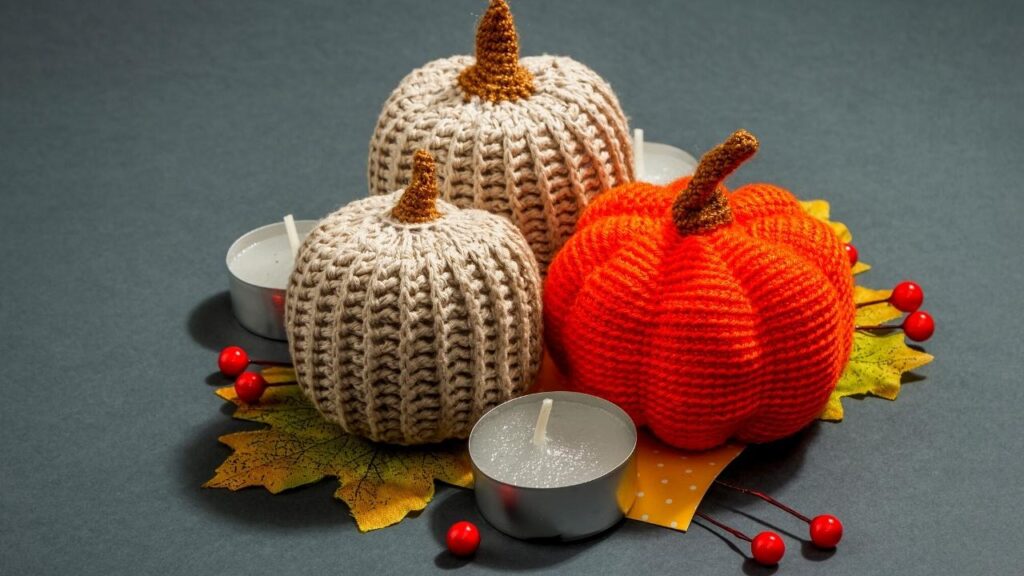 Another recommendation is this pumpkin-shaped mug I found at prettylittlehome.co.uk. There is surely no better vessel for a homemade pumpkin spice latte. Of course, if you prefer to go out for those, you could look for a travel mug with pumpkins on. Whether you go for realistic ones or Jack-o-lanterns, you are spoiled for choice.
Get creative with your table decorations
These pumpkins can make really nice decorative items for table centrepieces, either grouped in more of a cornucopia with other harvest items or a more minimal display. Table decorations and centrepieces are great if you want to make a family dinner more special, such as a Sunday roast. You can look for new placemats in natural materials, such as hessian, or with autumnal colours and themes. You can also think about some cute napkin rings.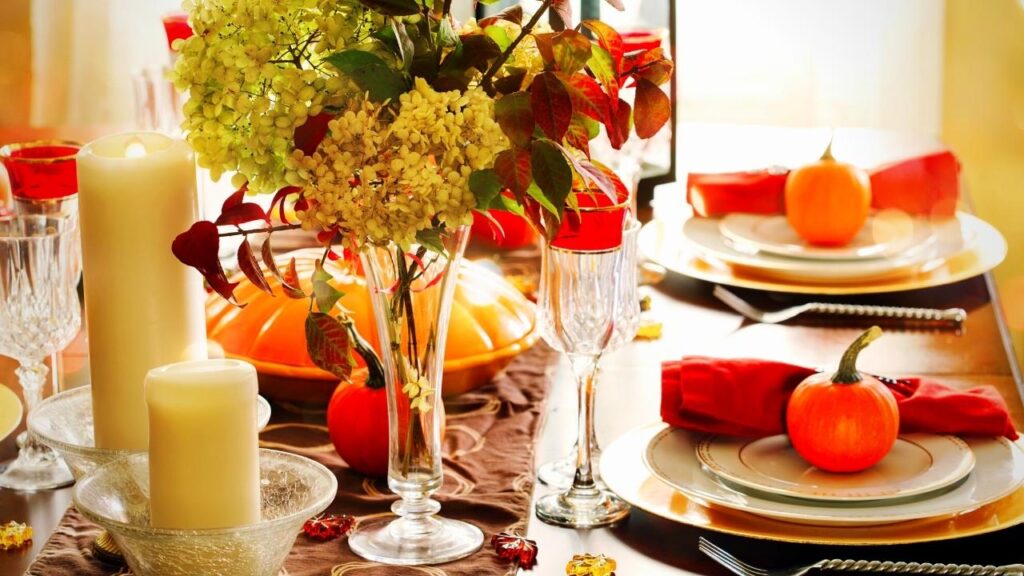 Don't forget about those floral arrangements mentioned before. Or, perhaps you'd prefer to put a nice candle in the middle of the table? I will talk more about candles and lighting later.
A popular trend right now is these lovely velvet pumpkins in a pack of 12, great for displaying on your autumn table or around the home.
Create garlands and bunting to bring in nature and colour
Garlands are a great choice for a few reasons. First of all, a garland has the potential for use in a range of spaces. You can string these up in any room in your home that could use a nice festive decoration. Some will droop nicely from the ceiling where you have dead space. Others can run along surfaces like shelves, mantlepieces, or beside the bannister on a staircase. Think about where they would go, and then you can think about what you can add – without them getting too heavy or intrusive.
The makeup of a garland really is up to you and your preferences. You can make them really natural in feel with leaves, pine cones, and other elements from the great outdoors. Or, you might want to go for something more synthetic and contemporary with interesting shapes and bolder autumn colours like deep reds and oranges.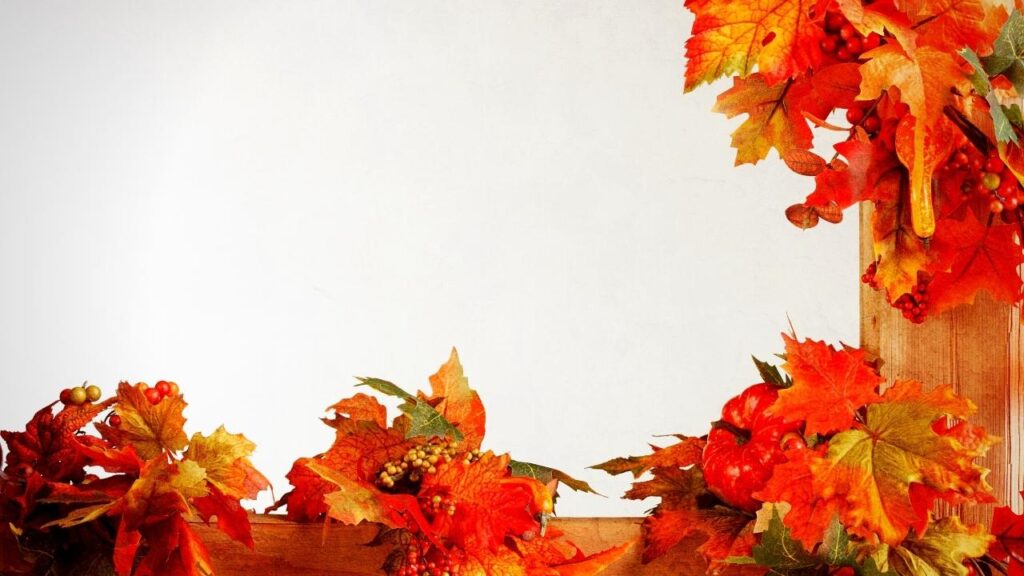 You could also add in some crafted items, such as little felted animals or crocheted leaves and acorns. This is where you can play to your strengths as a designer and see what your kids might want to add. From there, you get the joy of putting it all together in a collaborative effort.
Also, don't forget about the potential in a good string of bunting rather than a more full-on garland. Bunting is more subtle with the softer pieces of fabric. But, this can bring in colours and textures in line with your soft furnishings. You can either buy these pre-made or create your own with scraps of fabric.
For a truly natural-looking decoration, handmade to order check out this beautiful pumpkin garland perfect for hanging up at the fireplace.
Bring in some fun new home accessories
A change of season is always a good excuse to get some new items for the home, whether they end up being practical tools or just nice decorative pieces. On the decorative side, there are always going to be nice vases and ornaments around that can work with your floral arrangements or add some fun to a living room.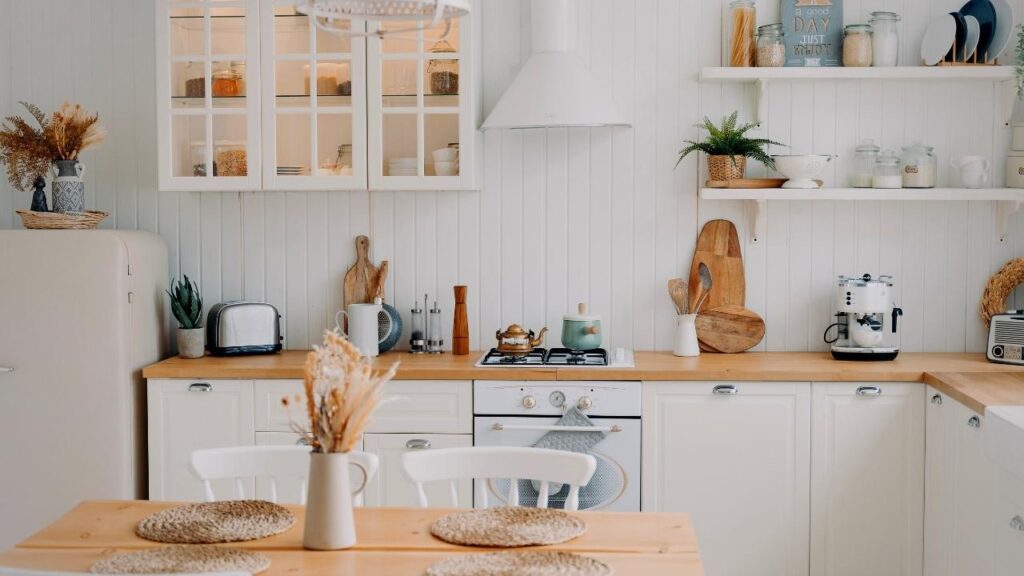 As for the practical pieces, I recommend looking into kitchen tools and utensils. It can be harder to decorate a kitchen for autumn, so bringing in some new dishes, cutting boards, or a fruit bowl can help. Fruit, pumpkins, and autumn leaf shapes are all possibilities. At the same time, look into some moulds and cookie cutters in these shapes too. Another great choice is to find items made from copper to bring out those seasonal tones.
I found these sturdy white ceramic vases made by the popular brand Teresa's Collections. Their rustic style makes them perfect for fresh and artificial flowers, including pampas grasses which go very well with the colours of these stylish pieces.
Make the place cosier with soft furnishings
Autumn is the perfect time of year to go a little overboard with the soft furnishings because you really can't have too many. The days are getting that chill in the air, the nights are darker, and we need somewhere to curl up on a rainy day. You can create quite an impressive little reading nook with plenty of cushions, chunky knitted blankets, and throws.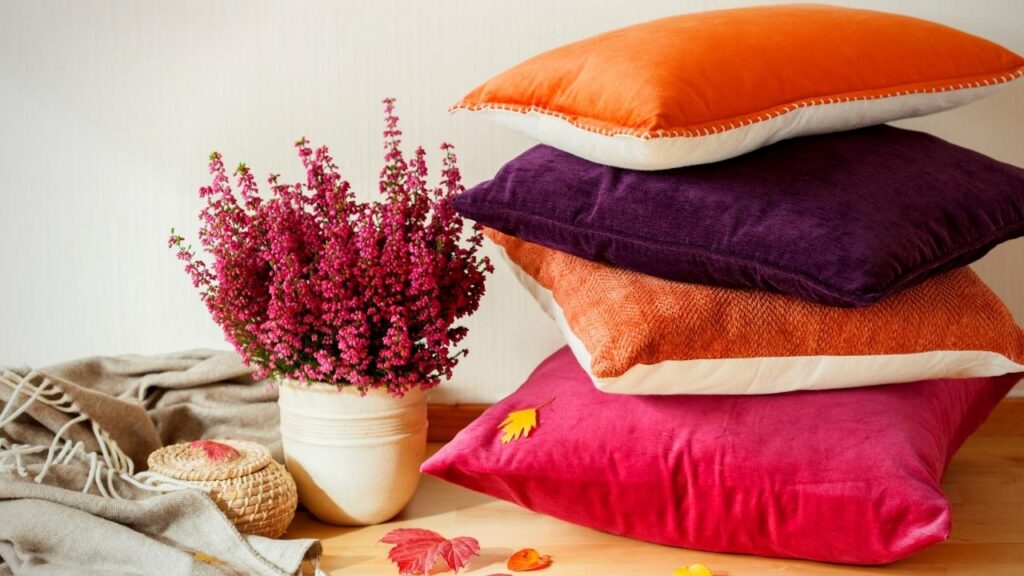 Consider getting a few different textures and materials to make it more interesting and don't be afraid to play with different patterns and colours. Autumnal tones are a must, but plaid patterns and prints of animals and leaves always work well too. Speaking of soft fabrics, I also recommend bringing in some orange towels for the bathroom. This will tie the rooms together a little more and help refresh this space too.
Bring some fun to your home with these best-selling fall decor cushion covers in 4 designs and 3 sizes.
For something different visit the Ethical Superstore to see this Fair Trade cushion cover with an embroidered design which will also suit your autumn theme perfectly.
Make the most of soft lighting
Before I mentioned the potential for bringing some candlelight to a dinner table during a nice family meal. These candles can bring just enough warmth and tie the theme together – especially those shaped like pumpkins or other food items. If you prefer a more straightforward look, you could just go for a pillar-shaped scented candle with the right aromas and tones. I also recommend finding candle pins with autumnal themes and have seen some with fun stag antler designs.
Another lighting option is to start bringing in fairy lights. Often, we overlook these under winter because we see them as Christmas lights. However, the right tone can bring light and warmth to a home on days when we struggle to get enough sunlight and maybe feel the effects of SAD. They don't have to be multicoloured bulbs and flashing patterns. A warm-toned string of lights in the shape of autumn leaves or wildlife can make a big difference. Maybe some seasonal squirrels?
New in this season at Lights4fun is a set of 5 gorgeous light-up pumpkin decorations. These are battery-powered and will certainly bring a warm glow to your home.
Welcome in some autumn gnomes or scarecrows
This is one of the more unusual suggestions because I know that gnomes are something people either love or hate. However, we don't always make the most of the diverse range of these magical creatures, nor the designers that bring them to life. Gnomes can come into the home to bring warmth and cheer long before the Christmas season. You can find figures to sit above fireplaces and on shelves to watch over the family and bring joy. I recommend checking out an Etsy store called Forevergnomes, as this is where I found my two new additions to the household.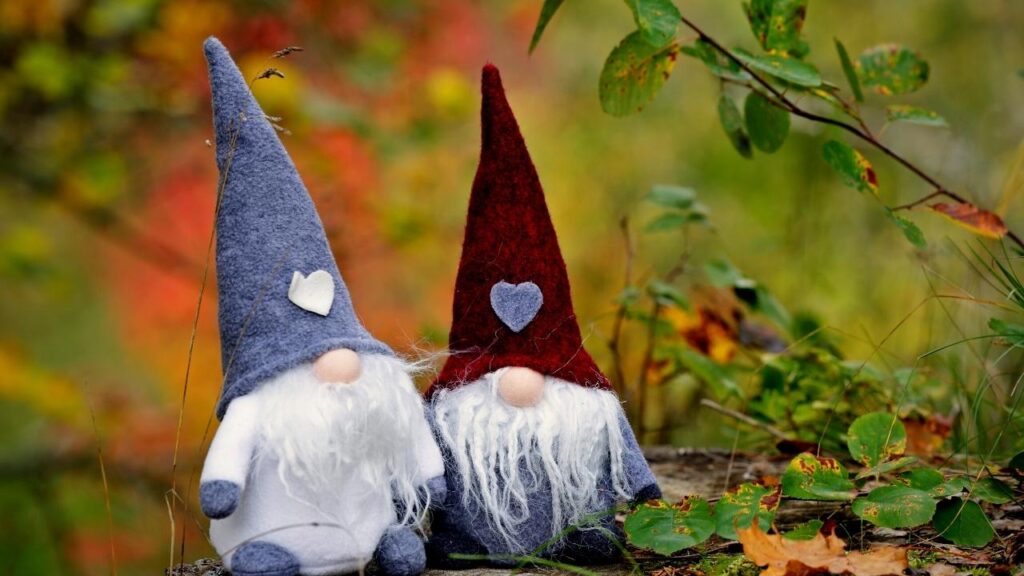 It doesn't just have to be gnomes making themselves at home in your bedroom or living room for the season. You can find all kinds of magical creatures and wildlife for sale as models, decorations, or plush toys. There is nothing wrong with letting any of these share a seat with you as you drink your cocoa under those new blankets.
Hang up some seasonal signs and pictures
Autumn is a great time for a nice motivational slogan or a message from the heart. So, why not put up some signs or wooden letters that spell out something meaningful for the season? There are lots of fun options for hanging signs and slogans in metalwork, framed embroidery pieces, or digital artwork. It can also be fun to bring in wooden blocks to spell things out on furniture or above a roaring fire.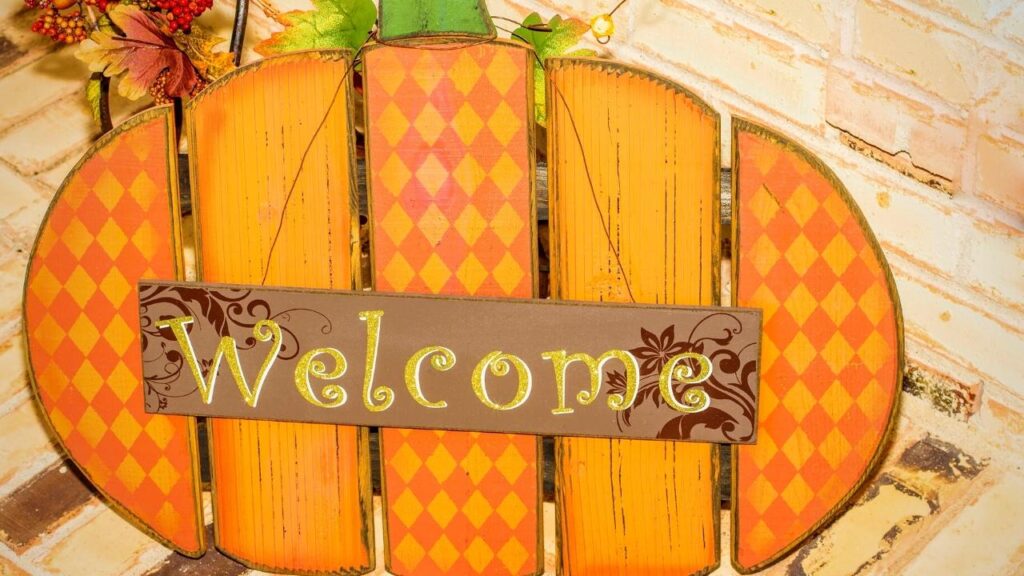 If you prefer something with pretty pictures rather than text, you can bring in new photos, artwork, and other beautiful designs that capture the feel and colours of the season. Swap out any seaside snaps or anything too sunny with these gentle images, and then maybe change what's in the frames again when preparing for winter.
The retro look is very popular and these autumn tin signs come in a choice of graphics so you will perhaps be spoiled for choice.
Bring the season indoors with style
There are lots of ways to embrace the colours and beauty of autumn via home decor, whether you want to search for fun products or work on homemade natural decorations. Have fun planning your themes and maybe consider adding some fragrance from my guide on autumn scents to enhance the mood.