Last Updated on 30 June 2023 by Alisea Mae
In previous guides, we've talked a lot about teabags and types of tea. Today I want to show you something a little more special. Loose-leaf tea is a great choice when you want to take your time making tea and be more mindful. You get a more sensory experience with so many amazing blends to try. So, let's take a closer look at some of the best brands today.
This post contains affiliate links and I may earn a small commission if you buy something after clicking on one.
What is great about the tea market right now is that loose-leaf tea is so accessible with so many options. I found myself spending two mornings diving into product lines and brand stories with so much out there. I managed to narrow down my options based on different criteria, with a focus on award-winners and ethical companies. I have also added some information about the types of tea and some FAQs to help you out.
So, let's get started with a classic black tea before we look at some of the more unusual blends and even a couple of package options.
---
There are lots of great black teas out there, but this brand is one of the best for quality and variety. Anyone that wants the classic taste should go with their standard blend. The leaves are Hand plucked in Kenya and Rwanda, in partnership with Fairtrade Tea and the Rainforest Alliance, before ending up in Belfast. Here they've grown to earn 2 stars in the Great Taste Awards 2022. A bonus recommendation here is their Coronation Pack, which includes Coronation Breakfast, Earl Grey Blue Flower, Crown of Darjeeling, and Victoria Sponge (a vanilla and raspberry blend) King Charles himself is known to have tried the brand, so there isn't much of a better endorsement.
---
If you are a lover of the classic Earl Grey taste, you can't go wrong with this blend. What makes this even better for consumers is it comes in a pouch or a larger caddy for gifting and decorative purposes. There is a combination of Chinese and Kenyan leaves with some extra blue cornflower petals to make it especially pretty. It finishes well with the citrus tones from the bergamot. It is also worth looking out for their extravagant version, with a white tea base and Madagascan vanilla. They also have a recipe for biscuits you can try making with this tea.
---
Earlier, I said that you couldn't get a better endorsement than King Charles. Well, that's debatable after seeing the following for Vahdam tea. There is a strong statement of support from Oprah Winfrey and plenty of posts from The VahdamTribe on Instagram. Here you will see many people showing off their beautiful packages of teas. One of those popular blends is this signature one. It contains 100% natural, black tea CTC, cardamom, cinnamon, black pepper, and clove. There are also alternative versions that emphasise various spices, should you want to lean a different way in the future.
---
Novelty teas are very popular at the moment as an alternative way to try new flavours and have a comfort break. Bird and Blend is a company I can get behind because of their ethics, they are a B-corp Certified company that has been Carbon Neutral since 2021 and use 100% recyclable and compostable packaging. On top of this, they also make some great blends. This chocolate digestive tea combines Sri Lankan Black Tea, Cocoa Shells, Fenugreek, Cocoa Nibs, Liquorice Root, and Natural Flavouring. The result is not too sweet, but very evocative and good with a splash of milk. This is a great comfort tea to give as a gift for someone needing a little care package.
---
There isn't too much to say about this one in terms of its blend and flavours because it is one of the more simplistic options on the list. The best herbal tea options tend to be those that don't mess around and offer 100% natural leaves, and that is the case here. It is just invigorating peppermint and nothing more. This US company makes sure to use only the highest quality peppermint leaves, which is why they got 3 stars in the Great Taste Awards 2021. A bonus here is that you can get different sizes for various needs and budgets, such as tasters, caddies, and bigger refill packs.
---
This is something a little more unusual for a couple of reasons. The first is that this is a fruit tea, so a very different infusion that works really well as an iced drink. The second is that this is primarily a coffee company. Despite this, they really seem to know what they are doing when creating blends and perhaps may be worth checking out for coffee in the future. This one is rich in flavour thanks to the combination of Hibiscus Petals, Apple Pieces, Rosehip Peel, Orange Peel, Orange Wedges with Peel, and Safflowers. This helped it earn 2 stars in the Great Taste Awards 2022.
---
One of the most important things to look for in a jasmine tea is high-quality ingredients from the best sources. In this case, there is Chinese green tea and real jasmine flowers from the Fuzhou Region, Fujian Province. This and the jasmine oil allow for a potent tea that really hits the spot and led to 2 stars at the Great Taste Awards in 2021. This family-run company use decades of experience from their time in the regions and growing up in Sri Lanka, and it shows in the tea.
---
I wanted to go back to Vahdam for this one because they are such a popular choice across the board. This makes sense as they are a 4th generation tea company with a lot of knowledge about India, its growing regions, and how to flavour their blends. It doesn't hurt that they also try to be as sustainable as possible in the process. With this blend, we get an intense oolong tea that hits all the right flavour notes. It is meant to be floral, and the hyacinth and lavender really play their part. The grapefruit finishes it off nicely.
---
By design white tea is more gentle and refreshing than a lot of the deeper black teas and floral oolongs. This one embraces that idea and focuses on those looking to rebalance during the day and find a moment of calm. They talk about the link between white tea and Buddhism, but anyone can give this a try during some meditation or before yoga. The blend combines Chinese Green Tea, Jasmine Silver Needle White Tea, Spearmint, Jasmine Blossom, and Orange Blossom for a fun and unique taste. This is one of those speciality teas you will want to keep at hand.
---
10) Teapro: Best loose leaf tea subscription
Subscription services are the ideal way to get something new delivered to your door each month, allowing you to try flavours and brands you might not have considered. This is perfect for tea lovers looking to broaden their horizons, and few do it better than Teapro. This service gives you 4 loose leaf teas a month with your education booklet and stickers for your sticker album. Starter kits also offer a tea flavour wheel and a free glass infuser. The boxes are perfect for the letter box with recyclable packaging and compostable tea pouches.
---
11) Teapigs 5-pack: Best Loose Leaf Tea Bundle
Finally, there is another way to try various types of tea without signing up for a full subscription service. These little bundles can help you get a taste of what you like and don't like. For example, if you have been curious to try Earl Grey but aren't sure about it, you still have other options in the pack. Teapigs is the perfect brand for this because they are so affordable, accessible, and have such a wide range. They are also 100% plastic free and work with Rainforest Alliance and Ethical Tea Partnership-certified tea estates. This pack has 5 blends in one set, including a green blend, chamomile, peppermint, Earl Grey, and English breakfast. It's a great beginner pack.
---
Loose leaf tea guide
As you can see, there are a lot of different types of loose-leaf tea out there, but which is best for you?
Black tea: Black tea is a common choice because of its rich dried leaves. These are fermented for a long time until they reach their colour. Different blends lead to different tastes and strengths.
Oolong Tea: Oolong isn't fermented for quite as long so it is a little lighter. You get a different flavour profile and it's worth exploring different varieties.
White Tea: This tea doesn't go through the fermentation drying process so doesn't have the depth of colour or intensity. It is baked from the top leaves alone, so is a lighter option that can be refreshing.
Green tea: green tea leaves are processed completely differently so they retain their green pigments and antioxidants. There are various forms depending on how they are rolled. Some are also ceremonial grade.
Scented Tea: Scented teas allow for a great sensory experience and are very popular as comfort teas. Earl Grey is perpetually top-selling for many brands because of its citrus tones.
Herbal Tea: Herbal teas aren't teas exactly because they don't come from the Camellia sinensis plant. Instead, they are tisanes that involve water-based infusions of other plants. This could be anything from chamomile and peppermint to more unique blends.
Fruit Tea: Fruit tea is also a tisane because of the infusion of plant materials and their origin. This time they come purely from fruit-based origins. The blood orange one here is just one example. There are also plenty from berries that are great as iced teas.
How to make loose-leaf tea
Making loose-leaf tea doesn't have to be difficult. With a nice teapot, tea strainer, and a gentle touch, you can make it with ease. Just make sure to read up on the best steeping times and temperatures for each type of tea. This can make a big difference to the flavour.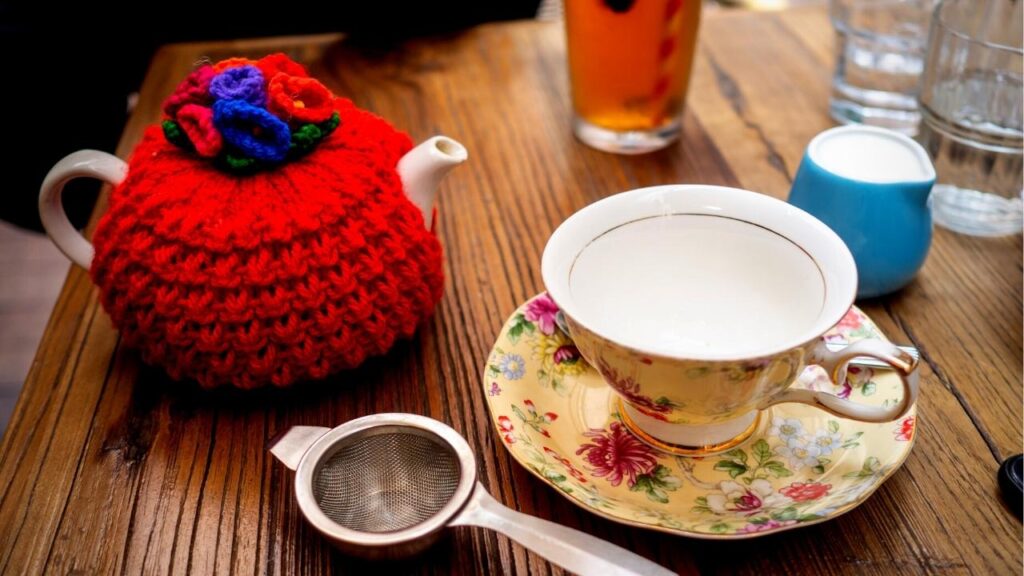 – Heat up the water without completely boiling it. Get it to no more than 100 degrees.
– Put your leaves in a pot with a ratio of about 2-3 grams per 180ml of water. It's fine to guestimate this.
– Let it steep for as long as needed in your teapot.
– Strain the leaves out of the tea.
– Pour into your favourite tea cup.
FAQs about loose-leaf tea
1) Do tea leaves expire?
Over time, tea leaves will begin to lose their flavour as the phytochemicals degrade. So, it is best to buy just enough rather than end up with tea past its best. It can last up to 2 years when stored well.
2) What is the best way to store loose-leaf tea?
All instructions for storing tea leaves say to keep them away from heat, water, light and air. This doesn't mean the refrigerator. Instead, get an opaque, airtight container like a tea caddy. It is a great excuse for something decorative on the kitchen counter.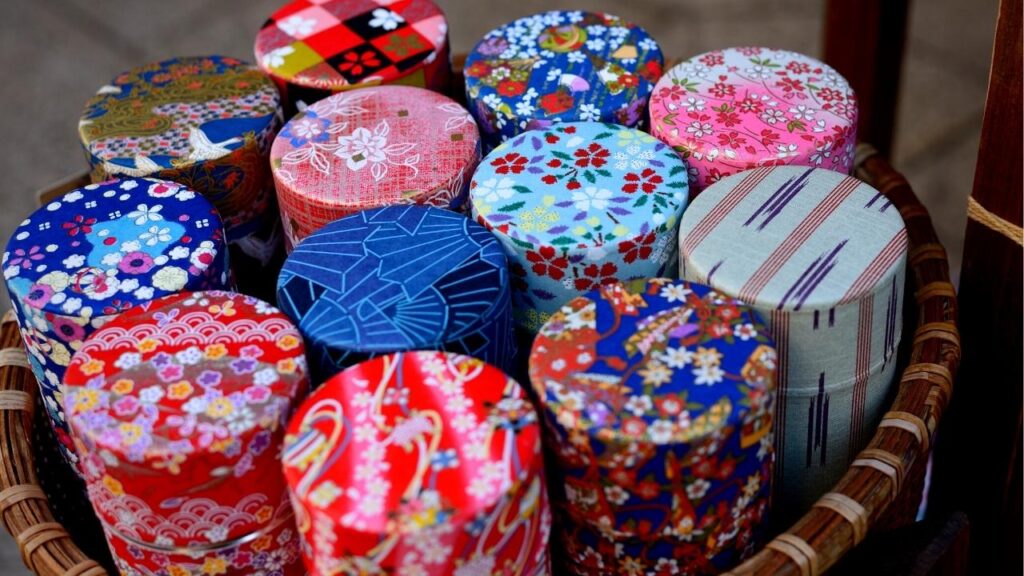 3) What are the flushes in tea?
This is a term you might see when reading up on different brands. The first flush is the first harvest in the spring, the second takes plants in the summertime, and then there is a third flush in autumn. It simply lets us know when the leaves were gathered.
4) What is the difference between Oolong tea and Darjeeling tea?
Oolong tea doesn't go through the same fermentation process as other black teas and can have a distinct flavour for it. Darjeeling isn't just a darker black tea, it has to be grown in the Darjeeling Province of India to get the name.
The bottom line
Before I finish up, I want to mention that there is a reason there's no red bush tea on this list. I have a whole other guide on that you can check out. This was a chance to explore some alternative options, and I think you will agree that the range is impressive. See what you like the sound of, follow the steps for tea brewing, and see if you become a convert.