Last Updated on 10 November 2022 by Alisea Mae
Do you have a winter duvet and a summer duvet? With such extreme shifts in temperature these days, it is a good idea to have something light for summer and something much thicker for winter, such as the soft Scooms responsible down duvet. With winter fast approaching, there is no better time to look at the best duvet filling options and duvet brands.
I carefully research and consider each product before choosing the best and most useful ones.  If you click on a link and buy something, I may receive a commission at no additional cost to you. This does not influence my choices in any way.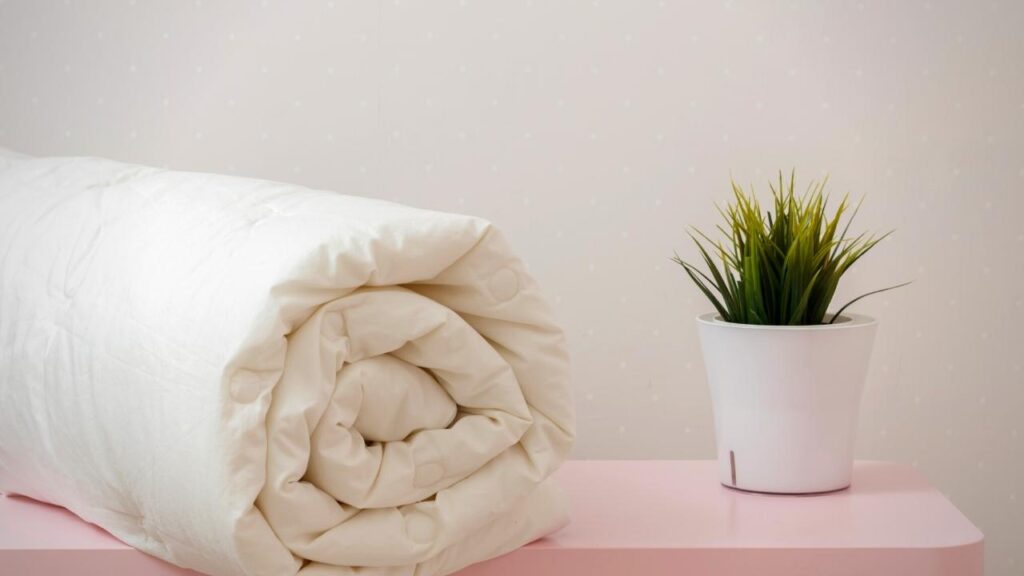 A new ethical winter duvet
Before we look at different styles and products, I want to talk about my research and the issue of ethics. This is something that I was very conscious about going into my research about these duvets and brands. I wanted to find the best possible options that reached that middle ground between animal welfare and environmental concerns, comfort for a good night's sleep, and overall quality. I appreciate that some options here aren't going to be suitable for everyone, and you may not agree with my top choice. That is why I have split this guide between vegan and non-vegan options.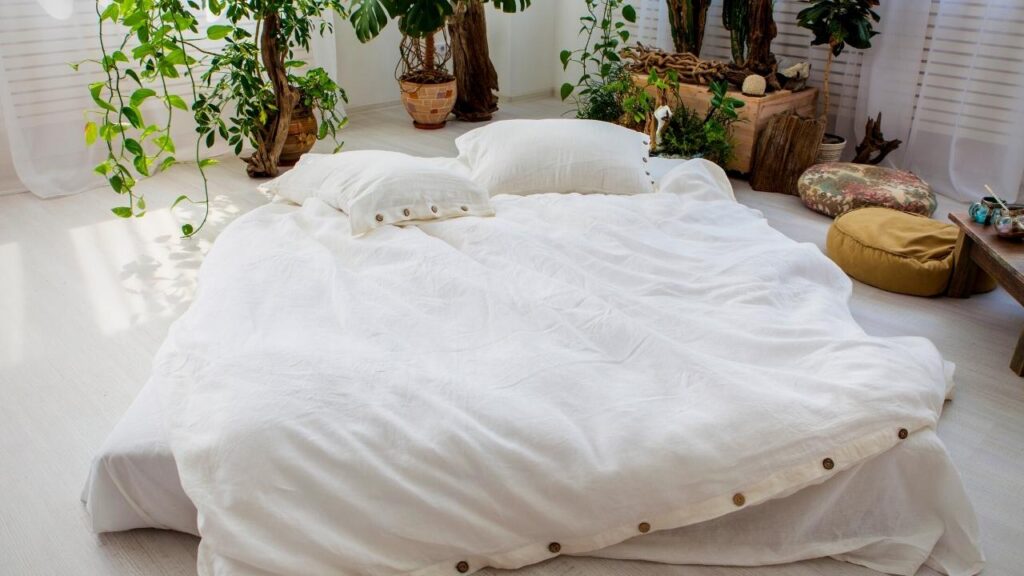 Personally, I feel that there are some great non-vegan brands with quality products and sustainable materials. During my research, I even made a point of looking into different types of accreditations and factors to make a more informed and ethical choice. Through all of this, I took the time to compare options on websites to make sure I was looking at the best version possible – as many brands will offer a varied range to suit a wider audience. I also took the time to read about the brands' methods and approaches to duvet creation to see what makes them stand out as the best options.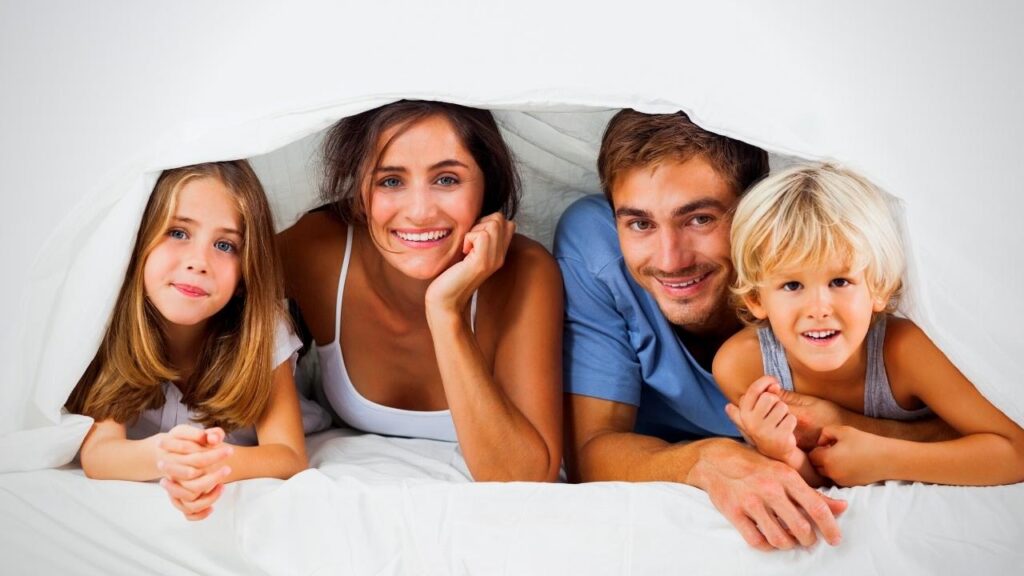 I ended up spending a couple of days on this subject, and that's not just because I wanted to find the best information for you. I was also doing this to find something for myself. You see, with winter on the way and temperatures dropping fast, I realised I needed a new duvet with the comfort and warmth to see me through the season. If I was going to do this, I needed to do this right. So, everything you see here is the result of my exploration into the world of natural duvet fillings and sustainable brands. You will find information on the one that ended up as my top choice, as well as plenty of alternatives for those that aren't comfortable with this style.
My top pick for natural duvets this winter
My top pick of all the duvet types I researched is the Scooms Hungarian goose-down duvet. My reason for this is that they tick a lot of boxes when it comes to responsible businesses that I want to support. They work hard to meet high standards for eco-friendly and sustainable materials, and the resulting goose down is very soft and of high quality. This family-run business wanted a hypo-allergenic product with lots of tog options, that lets everyone sleep under something that feels cloud-like. Normally this would be exaggerated sales talk, but the high customer satisfaction rating suggests that it is in fact true. The majority of their consumers are impressed, with a 95% 5-star rating.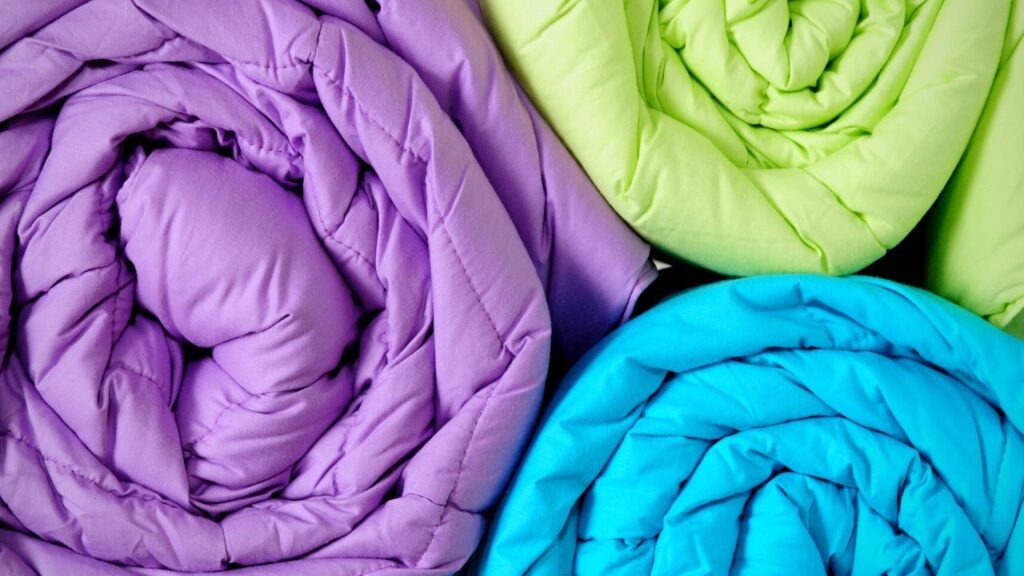 As I said before, there will be many consumers that disagree with my choice to include a duvet with feathers from farmed birds. Because of that, I also have reviews for other options that use wool, silk, microfibre, a bamboo/nano-microfibre blend, and recycled materials. I would also like to add that I made certain the natural down and feather duvets I recommend all have certifications from the Responsible Down Standard.
The best duvet by filling at a glance:
So, with all that said, let's take a closer look at some of those top duvet brands, before talking more about the best duvet-filling options and other considerations.
My first option is the goose down and feather duvet, and also my top choice overall. There is a lot to like about this brand if you are keen on sticking with traditional down materials, and I know this is the preference for many people over the winter. One reason I chose this duvet company is because of its accreditation. There is the OEKO-TEX confidence in textiles standard 100 and Responsible Down Standard, which ensures that the down is traceable and tested to meet the best standards. The birds come from the food industry and farms with the best possible practices that respect the welfare of the birds and are making good use of byproducts.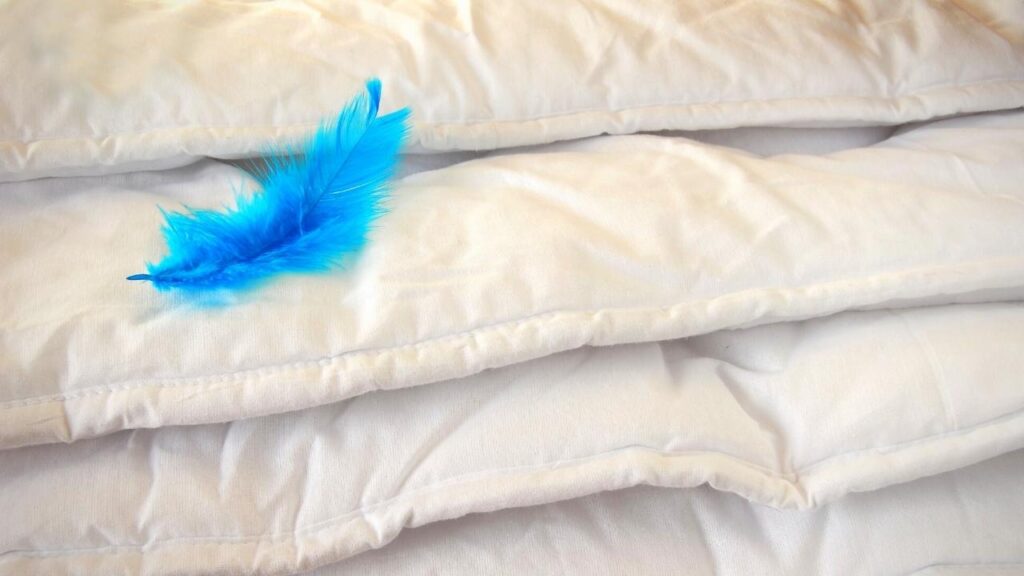 There is no doubt that goose down is a great insulator, which is why it is often used in mountaineering gear. It is also softer than duck down and can stay fluffier than synthetics for three times as long with the right care. What I also like about this brand is the choice. There are different togs for different seasons, including the thicker 13.5 winter model, with sizes from single to super king. Overall, users are very happy with the comfort and the quality provided.
Pros:
1) A really high-quality natural down from a good source.
2) A really thick winter model at 13.5 togs.
Cons:
1) Not the most ethical choice in this list due to the use of farmed birds.
An alternative natural material to down from geese is wool from sheep. We all know that wool is one of the warmest and cosiest materials around, so it makes sense to create a thick filling from wool for winter duvets. What I like about this brand is its commitment to sustainable materials. They claim that they care about your sleep and the sheep, so while this isn't a truly vegan option, there are few concerns about the welfare of the animals used. All materials used are free from chemicals for a more natural product, and the wool is traceable to British sheep for a lower carbon footprint.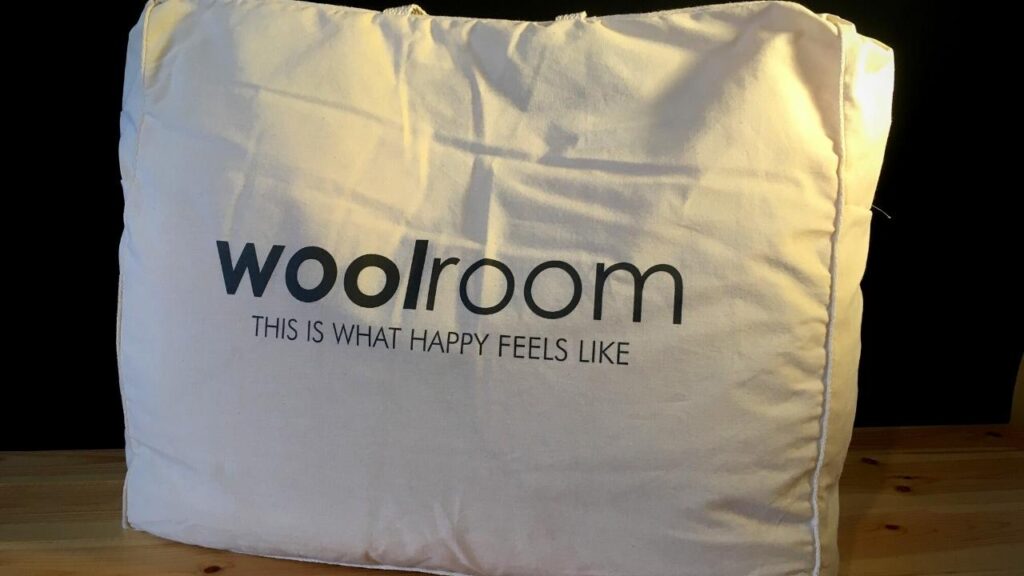 Because this is wool, you are assured of a hypoallergenic filling that insulates brilliantly and is really soft. In fact, it is Allergy UK-approved, and the only wool duvet product in the UK to have this. There are three models on offer at affordable prices for the quality that you get. There is a light, medium, and warm and they are available in single up to super king sizes. For winter, the warm is your best bet. This allows for an 11-14 tog rating in a 200count cotton case.
Pros:
1) The thick insulation from the natural wool.
2) The ethics of the company and its local approach.
Cons:
1) Other products are more consistent with the tog rating and have better cases.
This is an interesting choice for anyone that isn't keen on the more rugged option of wool or the use of down. Silk is another natural material that can allow for a very nice soft filling. Here, extra-long Mulberry silk fibres are woven by hand to create soft layers for a well-insulated material. You end up with a 100% silk filling for breathability and temperature regulation, and this is another one that is OEKO-TEX certified. There are a few different options on offer here. The lightest is 4.5 tog for the summer and the heaviest is 13.5 for the winter. This is a surprise for such a fine material.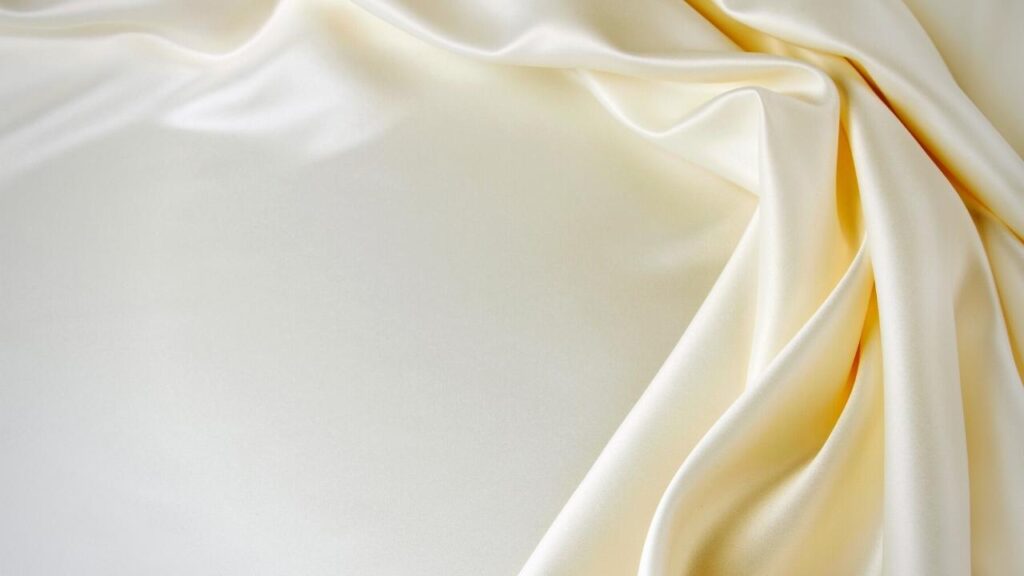 What I also like about this brand is its focus on luxury aspects. While the case on the wool model isn't that luxurious, this one has a high thread count of 300 in Eygptian cotton for a nicer feel. This and the piping can make a difference when making up your bed in winter with your best bed linens. Of course, this does mean a higher price to pay. But, I suggest you shop around as there are deals to be found if you don't buy direct.
Pros:
1) An interesting natural alternative that provides a surprising amount of warmth.
2) A more luxurious feel than some of the other models.
Cons:
1) A higher price for the quality offered if you buy direct.
Next, I want to move onto the vegan side of the products, where there are no animal-based materials at all. These mimic the feel of down to create the same level of warmth and comfort, but with plant or synthetic materials. In this case, there is a microfibre filling were a fine denier polyester is spun to form thin strands. This is then blended and shaped for a great insulating layer and lightweight duvet, which is really comfortable. Once you have the cover on you shouldn't know the difference. Many feel that this is just as soft as the real thing and appreciate the lower price for going synthetic. In fact, the company claims that the cost per sleep, based on materials and longevity, is 0.03p. This sounds like a bargain to me.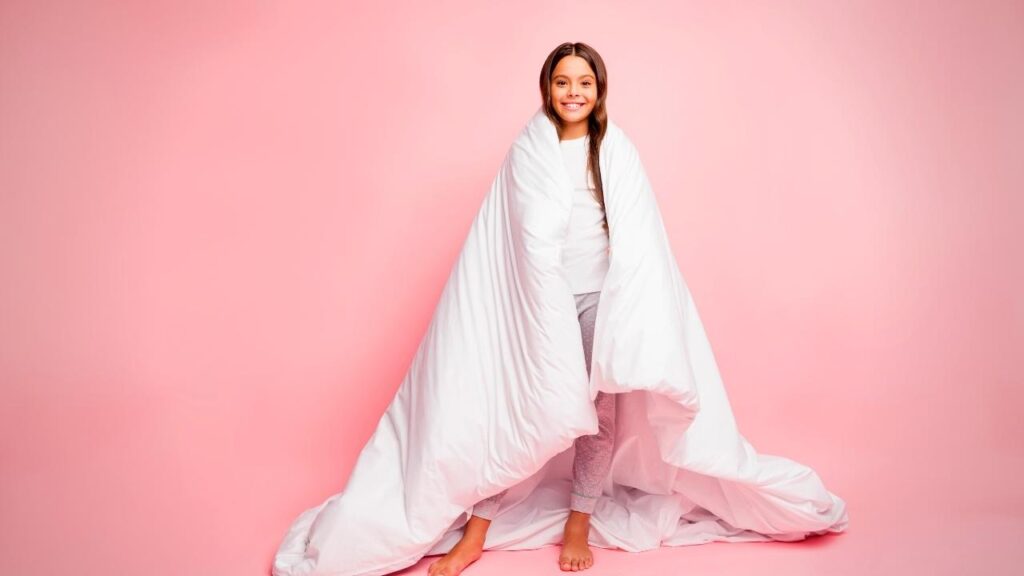 Another thing I love about this version is that it isn't any thinner or cooler for it. You can get some thin 3-tog models for the summer, but their thickest winter one goes all the way up to 18 tog. You also have the choice of sizes from single to super king and can get matching pillows if you want to.
Pros:
1) The synthetic material feels as warm and lofty as other down duvets.
2) This one has greater value for money over time.
Cons:
1) There will always be buyers who can tell the difference and feel let down.
This next option is another vegan one, but with a twist. This time, you have a blend of plant-based and synthetic materials with 50% bamboo and 50% nano-microfibre. The idea is that it offers the best of both worlds, with sustainable and antibacterial bamboo with the soft faux down of the man-made material. Personally, I would have liked them to go fully natural if they were so keen on using bamboo. Still, there are a lot of other green credentials here. That nano-microfibre is made from recycled water bottles and they use some nice environmental packaging.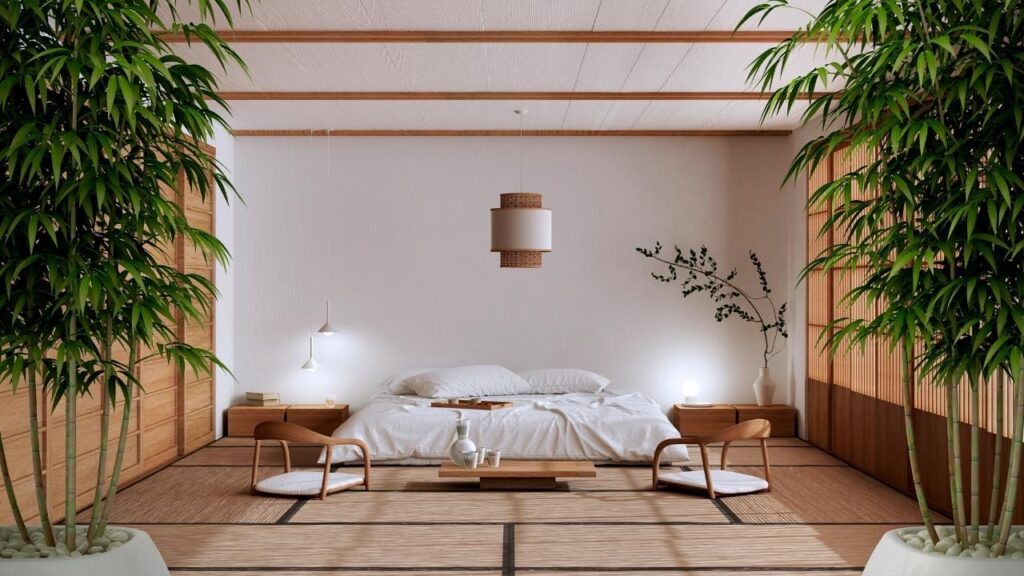 Just be aware that because this is one niche model in a wider range, there are fewer choices available. You still get to choose your size, from single up to super king, but the filling is just 10.5 tog. This makes it more of an autumn duvet than a winter one, but you could still use this with some nice winter blankets and throws to stay cosy. A final point in favour of this series is the design. Each pillow, duvet, and mattress has cute panda designs and black piping to make them stand out from other brands.
Pros:
1) An interesting blend of materials for comfort, insulation, and better hygiene.
2) A fun series of products where you can get a full bedding set.
Cons:
1) Not as warm for winter as other thicker duvets with a higher tog rating.
Finally, I wanted to mention this option from fine bedding where they try to tick as many environmental and green boxes as possible with one model. This is one single duvet in a wider range, and this does lead to some limitations. As with the bamboo one, this is a spring-autumn option at 10.5, where you would need extra layers in winter. If you want something thicker, they have a range of down duvets, but be aware that these are real down feathers from geese and don't appear to have the Responsible Down accreditation.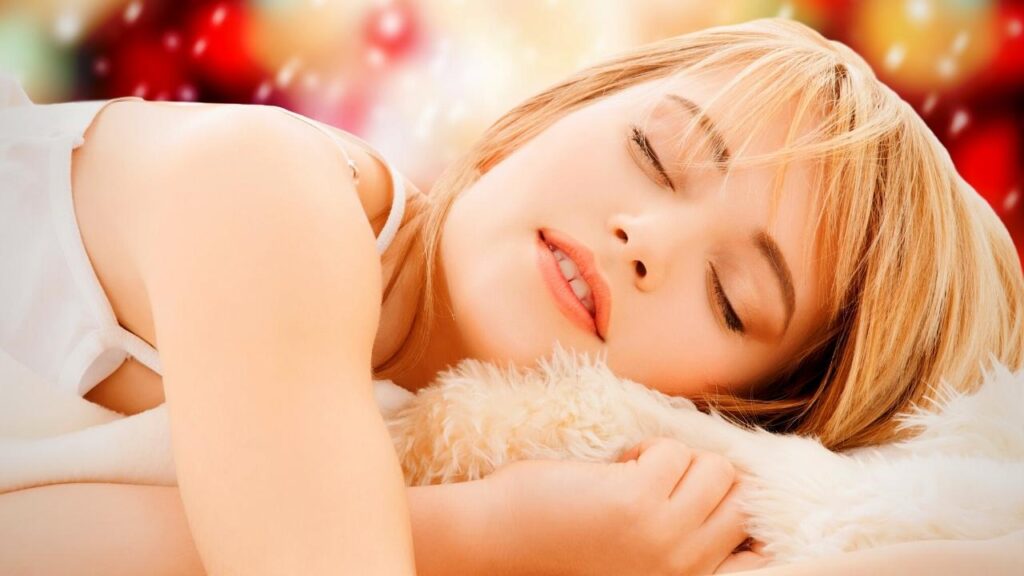 The material in their vegan alternative is completely different. This is a man-made option that uses faux down fibres spun from recycled plastic bottles. You wouldn't know that you were sleeping under old plastic, as there is the same softness and insulation as you get from the down. Overall, many are happy with the way that this maintains warmth and keeps its shape, making it a worthy alternative to down products.
Pros:
1) A sustainable vegan alternative to their well-loved goose-based products.
2) Surprisingly soft and light considering the origin of the material.
Cons:
1) Concerns that a plastic-based product could mean more chemicals or toxins.
Winter duvet buying guide
The 6 models above are all great examples of what you can get in terms of different materials, with plenty of warm and comfortable products around. But, there are some important factors you need to keep in mind before committing to a product.
Who is it for?
These thick winter duvets are a great idea for adults and couples over the season, but not so much for small children. You need to be careful that kids don't overheat and get ill, especially young babies at risk of SIDS. The NHS advice is that duvets and pillows should never be used for babies under a year old due to the risk of suffocation, especially as they cannot push the duvet away if it gets over their face. It is better to sleep cooler with sheets until they are old enough to move to a bed.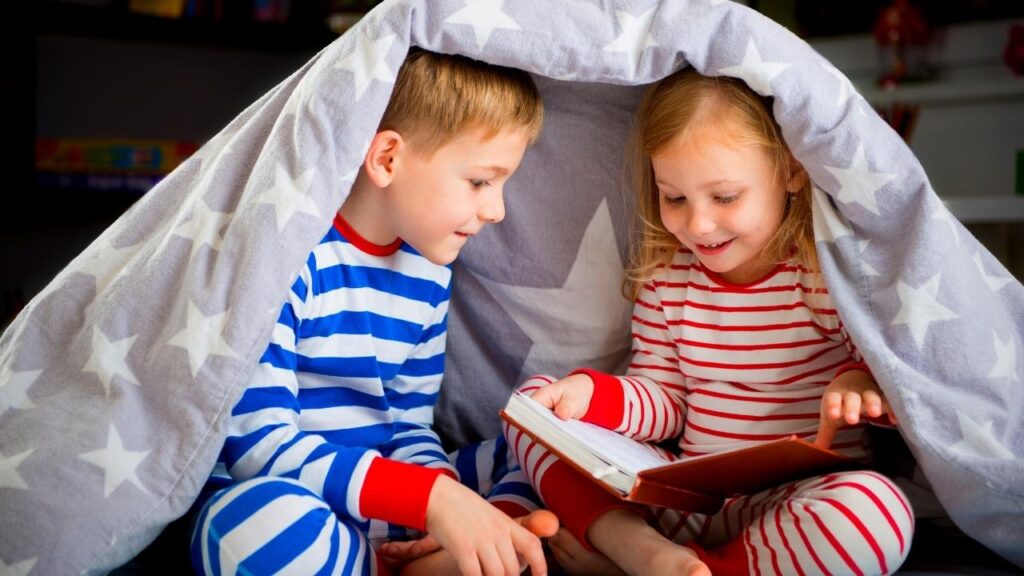 What tog rating do you need?
As you saw before, there are different tog ratings related to different seasons. A lot of the best winter ones were 13.5 togs, although some go higher than that. The only risk with thicker options is that you might get too hot. If you are concerned about that, you could go for a lighter option. Alternatively, you might want to stay cost-effective with a single all-season product.
What filling do you want?
The filling is important to ensure that you have the best comfort and insulation. This means choosing between a range of natural and synthetic options. Also, consider whether you want a cotton casing for breathability or a smoother silk one.
The different types of duvet filling
As you would expect from my site, I am keen to promote natural materials as much as possible. That is why I am such a fan of the feather, wool, and silk options. But, I know there are other considerations for parents, those with allergies, and those that don't want animal-based products. You can find a wide variety of options, ideally held together in a soft, breathable cotton casing. So, let's look at the difference between these natural and synthetic options to see which might be the best one for your needs.
Natural fillings are those that come from natural sources, such as purely plant-based or animal-based origin. These materials are collected or harvested from farms and processed to create a soft bundle that is comfortable and insulative. These materials include the following.
Down: Down remains one of the most popular options for natural duvet materials because of the soft feel of the material and the insulation generated. Down refers to the soft fluffy coating on a bird's body beneath its flight feathers. You often see it in waterfowl and chicks that need to stay warm.
Feathers: Feathers are similar to down in their structure and origin, with many coming from geese and ducks. However, their density and shape mean that they don't trap air quite the same way or allow for the same soft filling. They are still a good choice if you want a cheaper version.
Feathers and Down: Some brands may decide to offer a blend of feathers and down to cut costs and retain enough of the properties of down. This can be a good compromise if you can find it.
Wool: Sheep's wool is already a popular choice for blankets at night, so why not add it to duvet fillings for better insulation. Some with ethical concerns prefer this to down because there is a good chance it didn't come from the food industry.
Silk: People forget about silk as another soft animal-based material for fabrics and fillings. Manufacturers can spin this into soft layers with great insulating properties.
The alternative is to go for synthetic options. Some people may prefer this man-made approach to avoid potential allergens and question sources for materials. But, there are also issues with the environmental implications of creating these materials and the possibility of chemicals and nasty fillers. Here are some options for synthetic fillings.
Microfibre: Microfibre is a synthetic material that is created of thin strands of spun polyester. This might not sound that comfortable and appealing at first, but the best options still have a lot of loft and insulation.
Hollowfibre: Hollowfibre is different from microfibre in the way it is created. While microfibre is meant to be denser and silk-like for a plumper filling, hollowfibre focuses on the structure of each strand. The idea is that the hollow shape is better for trapping air, meaning a more insulating material.
Recycled hollowfibre: Often, you will see products classed as recycled hollowfibre or microfibre. This could mean that it is material reused from other products, or that the fibre was spun from recycled material. As seen in the guide above, recycled bottles are a popular source. You would have to read up on each brand to find out their methods.
Soft as down: The term soft as down is one that you will see a lot when shopping online for the best winter duvets. What this means is that you end up with a product that has a synthetic filling spun and plumped up to feel like down. They should be able to fool guests that stay over.
Frequently asked questions
1) What does anti-allergy mean?
An anti-allergy duvet should pose no risk to anyone with allergies to common duvet fillings. The hypoallergenic filling should be less inclined to develop mould or harbour mites that could trigger a response. Unfortunately, not all materials are anti-allergy, with wool being a risk factor for some people.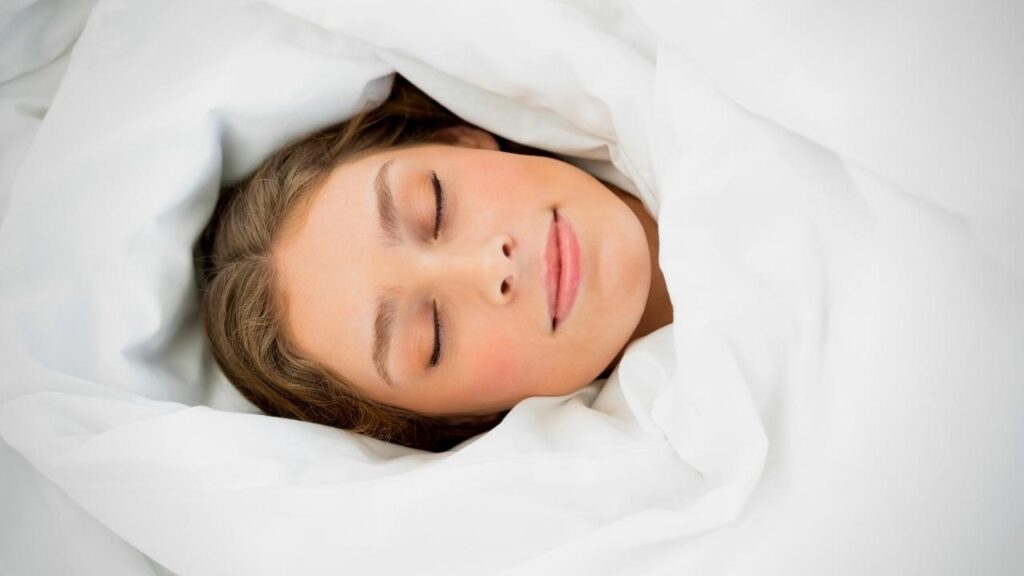 2) Should I upsize my duvet?
This is actually a really good idea! Upsizing means buying a size larger than your bed. This gives extra surface area and coverage for the bed, especially if you like to wrap yourself up in it and don't want to run the risk of cold feet. This is also a good idea for couples that have a tendency to fight over the duvet, especially in winter.
3) What is a comforter?
This is a confusing one. Some would say that it is just a matter of interchangeable names, with Americans using comforters rather than duvets. However, there is a notable difference. Comforters are more like a cross between a thick blanket and a duvet. You get the same plush filling, but the outside casing is more like a duvet cover. Therefore, you can put one on a bed without the hassle of covering it! This is great if you want a simple approach with a clean white hotel-style covering. But, duvets do allow for fun covers to swap over with each laundry cycle.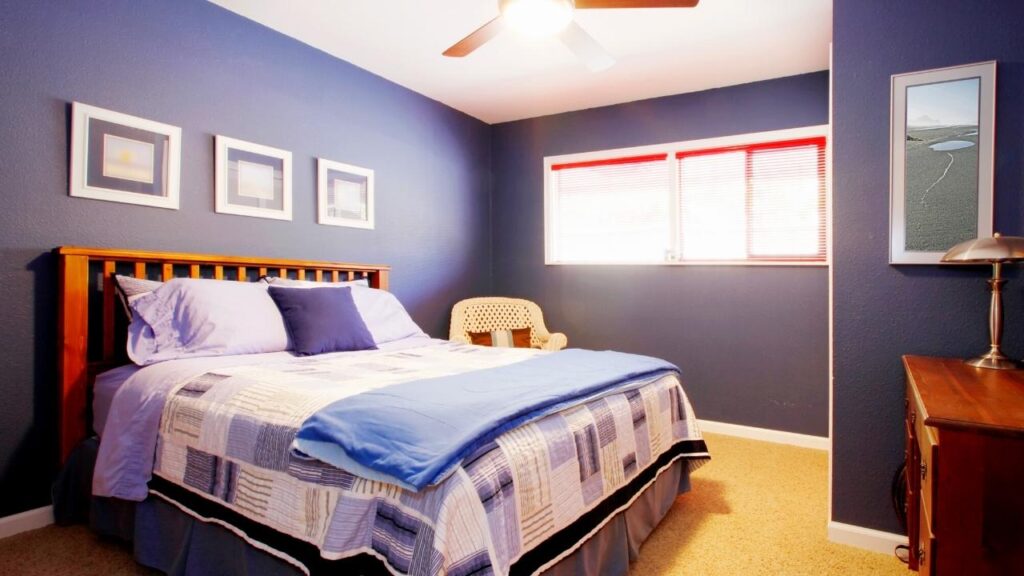 Find a duvet with the ability to offer a sound night's sleep
While I am really pleased with my choice of the Scooms goose down duvet as the best winter duvet this season, there are plenty of great contenders. Hopefully one of these will meet your needs in terms of the style of filling, the green credentials, and overall comfort and quality.