Last Updated on 17 February 2023 by Alisea Mae
Aromatherapy has many wonderful benefits and can provide a boost to your wellbeing in lots of different ways. It's known for aiding a good night's sleep, relieving anxiety and boosting concentration, just to name a few.
This article gives you everything you need to know about the best essential oil diffusers available on the market, with my top pick being the Asakuki 500ml essential oil diffuser. With a high number of 5-star reviews singing its praises, this diffuser is eye-catching with a natural looking wood grain base while still being affordable. It can also be used for lots of different functions too which makes it a versatile, attractive option.
I carefully research and consider each product before choosing the best and most useful ones. If you click on a link and buy something, I may receive a commission at no additional cost to you. This does not influence my choices in any way.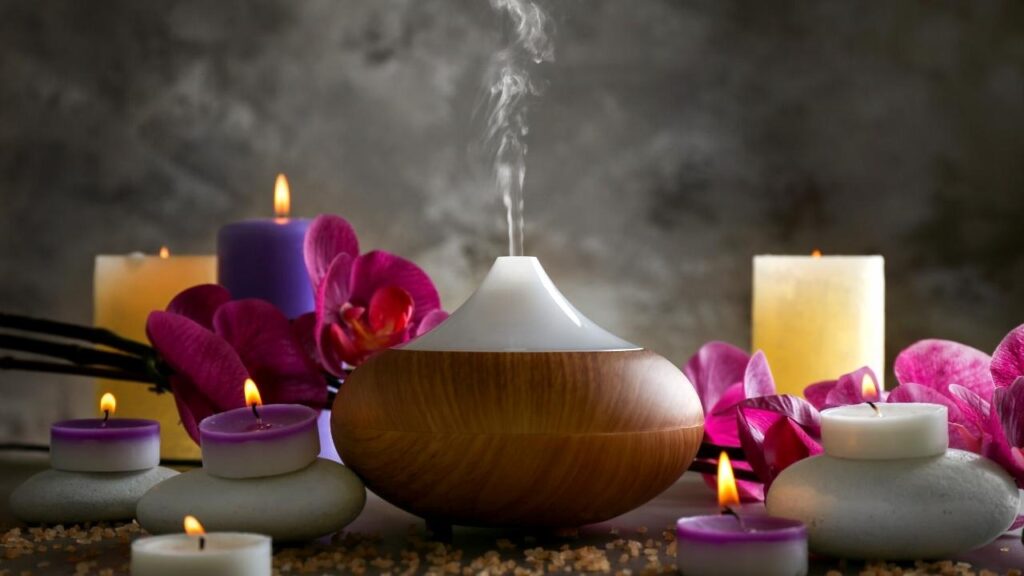 When I started looking into essential oil diffusers, I soon realised there was a lot more to it than I initially thought. I took the time to research the subject in detail, learning as much as possible about oil diffusers and what to look out for. I sought out diffusers that were popular and positively reviewed but still of good quality and with interesting features that people would find useful.
This guide is made up of 10 different oil diffuser reviews, all for different needs and tastes and which outline the pros and cons of each one. Below the reviews, you'll find information on the benefits of aromatherapy and some frequently asked questions to help you get started and put your oil diffuser to good use.
So let's look at my pick and other recommendations to see which one is best for you.
Best all-rounder: Asakuki 500ml essential oil diffuser
Best for yoga studio: Asakuki essential oil diffuser cool mist
Best for bedroom: Diffuserlove 550ml essential oil diffuser
Best for small spaces: Neom organics wellbeing pod mini diffuser
Best for large spaces: Neom organics wellbeing pod luxe
Best essential oil mist diffuser: The White Company electronic diffuser
Best glass diffuser: Bobolyn essential oil diffuser
Best portable diffuser: Ckeyin small essential oil diffusers
Best with intermittent setting: Hathaspace marble essential oil aroma diffuser
Best reed diffuser: Neom Organics London happiness reed diffuser

---
The Asakuki device wins best all-rounder and is my top pick overall as it gives you everything you could want from an oil diffuser at an affordable price to suit all budgets. The adjustable settings are useful because you can adapt your aromatherapy experience to suit your mood, or the time of day – set a timer, have a softer mist and dim the brightness of the light, which rotates between 7 colours, to create the right atmosphere. This makes it really versatile for busy households while getting the full benefit of the air-purifying effect of the mist.
It's got a nice, simple design which actually serves to make the most of the coloured lights and the capacity of it. When you switch it on, the whole thing lights up with colour which makes for a lovely mood light. Being able to dim the brightness would also make it ideal as a nightlight for kids, especially with a few drops of soothing lavender or sweet orange oil. It has 3 different timer options, but it also shuts off automatically if the water runs out which is another handy feature for me as you can just comfortably leave it running while you clean, cook, relax or get some much-needed sleep!
---
While the white, flower petal design of this diffuser would look lovely in your yoga studio, it's the size and the timer settings which make it ideal for this space. It holds 400ml of water and fills a large room with fragrance quickly. The one-hour timer is perfect for the duration of a yoga class, allowing you to make use of different essential oils that match the time of day, style of yoga or the effect you want to create. You can also choose 3 or 6-hour timers or leave it on continuously which would give you 12 hours of run time, ideal for busy days.
The only thing to watch out for with this diffuser is the power cable plugs in underneath, so you need to make sure it's placed carefully on a flat surface. Having it safely in the corner of the room will prevent any accidental spillages. Overall though, this diffuser has a visually pleasing effect that would compliment the zen of a yoga studio.
---
What makes the Diffuserlove model best for the bedroom has to be the remote-control function. It's ideal in so many ways – you can set up your diffuser and then relax in bed, turn the light on or off, or choose to have it on a fixed colour depending on your mood. You can also switch it off when you're ready to go to sleep without having to move a muscle – bliss! Alternatively, you could fill it the night before so that you can wake up to the benefits of aromatherapy. If you do fall asleep with it switched on, it will shut off automatically when it runs out of water, which makes it much safer than scented candles!
One of the great things about having a diffuser in the bedroom is that it also works as a humidifier and purifies the air, which is a great way to ease dry air, especially during the winter months when the central heating is on. This one also comes with 8 bottles of essential oil. However, this is quite a low price to pay for essential oils which might indicate that they're not the highest quality.
---
I had never thought of making use of aromatherapy in my car, but now I've seen the Neom mini diffuser I can't wait to try it! It's small enough to fit in your drinks holder so you can add your favourite essential oil, or perhaps pick one that will soothe stress during busy commutes, or act as a pick me up after a long day. It's the perfect antidote for dealing with busy traffic or a long drive and you can adjust the intensity to make sure it doesn't get overpowering.
This one is battery-powered with USB charging and another useful aspect is that you don't add water to it, all you need is the essential oil to diffuse. This makes it extra portable as there's no risk of mess, meaning you can also easily pack it in your luggage to take on your travels. While it's designed for a space of around 60 square metres, lots of customers have also used it around the house with great results.
You'll need to make sure you keep the diffuser charged to be able to get the use out of it though. While the battery will last about 50 hours, it uses up power even while you're not actively using it, which is probably the only downside to this diffuser.
---
The Neom Luxe diffuser has various features that make it great for a large space. Firstly, it's specifically designed to cover 100 square metres and can run continuously for 12 hours. I think it's this, coupled with the beautiful design that would really complement an open-plan living space. What caught my eye about it was the natural materials it's made from as the wooden base is created from recycled Malaysian, Indonesian & Thai sourced trees, so you're getting something that's both natural and environmentally friendly.
What makes this diffuser unique though is the 'breathing mode' light. It's meant to mimic the action of breathing, slowly lighting up and then dimming again which is a calming technique engineered by Neom. You can use this as a tool for meditation, or to help destress in the moment. Aside from this, you can also set it to alternate between diffusing for 30-second intervals and adjust the intensity of both the mist and light from the remote control.
In comparison to the others, this one is quite expensive. However, it is a good quality, trusted brand with many 5-star reviews to back it up.
---
If you're after a simpler device to diffuse essential oils without the extra sensory stimulation of coloured lights, then you can't get much better than the White Company electric diffuser. One of the reasons I was drawn to this is simply the sleek, classy design. It would make a beautiful addition to your living space, stylish as well as functional. And while pricier than a lot of the other models, it would be a timeless long-lasting investment.
While it doesn't have the extra features you see with many of the other diffusers, this would be a benefit in itself as you can enjoy the wellbeing boost of the aromatherapy without distraction – just a calming white light. This might actually be preferable for people who get overwhelmed with too much stimulation or perhaps suffer from migraines. It does have a timer function with three different settings, or you can leave it on to continuously mist. The volume of excellent 5-star reviews is a good indication that this model lives up to the quality you'd expect from the White Company.
---
I loved this diffuser because it has an incredible visual impact. The light creates a fireworks effect, and switches between an array of 7 different colours. For kids, I think this would be very appealing but soothing enough to make a lovely nightlight, especially paired with a relaxing essential oil like lavender.
It has 4 different time settings, the shortest being half an hour which is a good option if you're sensitive to, or just getting used to the essential oils as the fragrance can become overwhelming. Again, this makes it ideal for use in your children's room. This model has a much shorter running time as it holds less water and the main downside to it is that it looks very plain without the light switched on. But maybe that makes the light display all the more exciting – what a transformation!
---
The Ckeyin diffuser is a nice, lightweight and compact size. It's ideal for a smaller room, or if you have limited space. I can vouch for this as I've got one sitting on my bedside cabinet! As it holds a smaller amount of water (120ml) it only needs a few drops of essential oil for the fragrance to fill the room, which is handy as essential oils can be expensive and this means you won't use them up too quickly.
One of the things I like about this diffuser is the fact it's so lightweight, which makes it easy to move from room to room depending on what I'm doing. Plus, if you have a smaller living space, the mist reaches further than you'd expect. It doesn't have the different timer settings that you see on some of the other models, but it does have the multi-coloured light which you can set on a specific colour or switch off and just have the mist. Overall, it's easy to use and good value for money. I'd say the only downside is that its mains operated only, but you can unplug the charger from the device which would be useful if you were packing it to take it with you on a trip, or even to set up at work.
---
The Hathaspace diffuser caught my eye, partly because of its striking design, but more importantly, it offers an alternative setting I hadn't seen in any of the other products I had looked at: the intermittent mist mode. This works by diffusing on and off every 5 minutes which makes your water and essential oils stretch for much longer. If left on continually, this model can run for up to 18 hours. Overall, this means you would get more use out of your essential oils as you'd be using them more economically, saving money in the long run.
This diffuser is also beautifully designed and one that you'd want to display for people to see with the stylish marble look. While it is mostly made from plastic, it is a BPA- free material and the coating is an Italian white marble, so it does not have a cheap, plasticky look or feel. The light has 7 different coloured options too which is a pleasing effect with the design, and you can adjust the brightness, switch to mist only and set a timer for 1, 3 or 6 hours to mist continuously.
One drawback to the diffuser is that when the timer reaches an end, it gives off a short beeping noise which isn't ideal if you set it to send you off to sleep. In that case, it might be better to leave it on continuous mode or make use of the intermittent setting for less intensity.
---
Reed diffusers are a convenient option as they continuously release fragrance into the room over a longer period of time. It's not as potent as the mist from an electric diffuser but it makes for a lovely option to keep a nice fragrance in your home and it's perfect for the bathroom.
The Neom happiness reed diffuser offers its own unique blend of 7 organic essential oils to boost your mood, and which also smells heavenly. What's important about this blend is that it's made from pure, high quality natural essential oils. Cheaper reed diffusers often contain other chemicals and toxins, whereas with Neom you're getting something completely natural which allows you to reap the benefits of aromatherapy without being exposed to any nasties.
What's great about the reed diffuser is that it's a lower maintenance option. All you have to do is rotate the reeds regularly and you'll have a consistent fragrance for up to 12 weeks, which is certainly more convenient than cleaning, topping up and changing the oil in a standard diffuser. While it's an expensive option, it's convenient for busy lifestyles and for trying out aromatherapy without committing to purchasing a diffuser and the accompanying essential oils.
---
The benefits of using an essential oil diffuser
There are numerous ways to benefit from using an essential oil diffuser. It provides a positive effect on your wellbeing by reducing stress and anxiety, lifting your mood and aiding sleep and relaxation. It's also beneficial for improving your focus and concentration and providing an energy boost. Diffusing essential oils in your home purifies the air, removing toxins and promoting an overall healthier environment that's free from any chemical output (which you might find in candles, air fresheners and cleaning products). If you have a cold, or suffer from allergies, the right essential oil can also help to clear your sinuses and breathe more comfortably.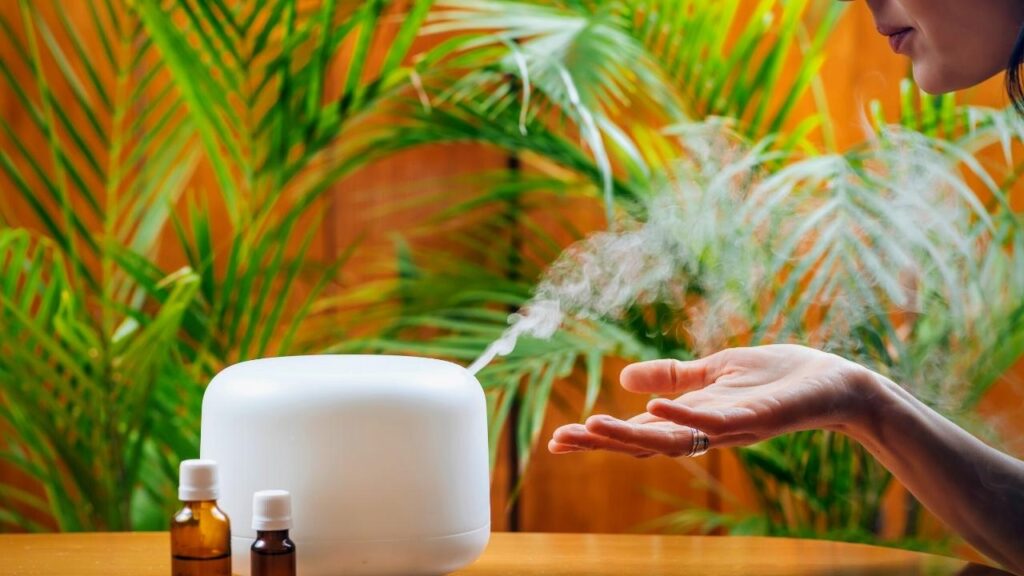 Precautions to watch out for when using essential oils
Always check the instructions before using a particular essential oil. These oils are very potent and each one will have a different effect, with some being unsuitable for certain groups of people. Wash your hands after handling essential oils and make sure to keep them in a safe place, out of reach of children and pets.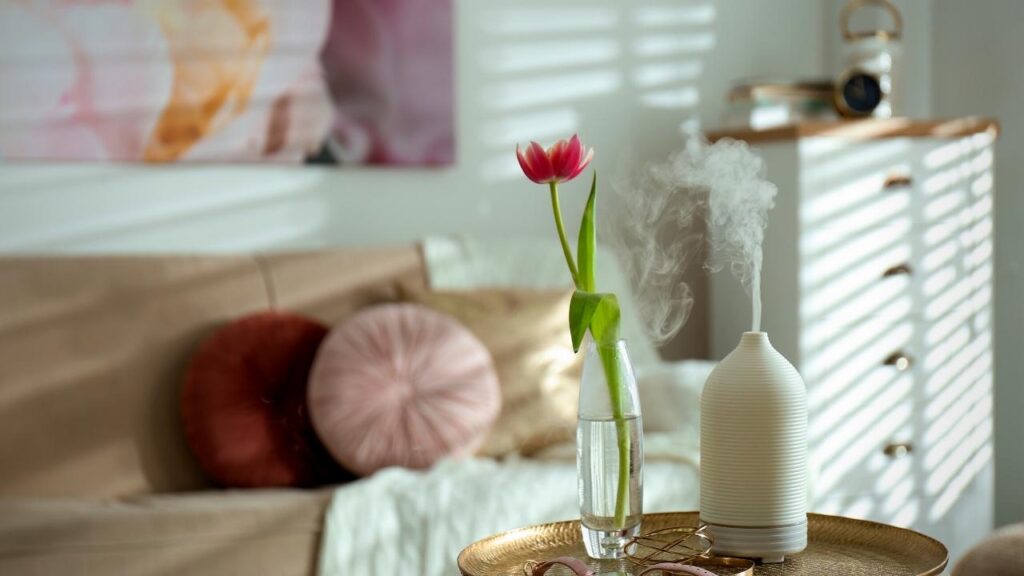 As a general rule, use the oils sparingly as a little goes a long way and children in particular are likely to be more sensitive to the scents. If you have pets, check before diffusing a certain oil whether it's safe to use around them. Remember, dogs have very sensitive noses and certain scents, like citrus, can be very uncomfortable for them, and may even cause harm.
The different types of oil diffusers
The main types of essential oil diffusers that are available on the market are:
Nebulising diffusers – these devices don't use heat or water, just essential oil and a stream of air to create a fine mist. They are plastic-free and provide a potent burst of fragrance, useful for stimulating mental wellbeing when you need it most.
Ultrasonic diffusers – these are the diffusers to which you add water, diluting the essential oil to release a mist using ultrasonic vibrations. They're probably the most common ones and tend to suit a lot of different needs.
Evaporative diffusers – this type of diffuser works by using a small fan to release the essential oils into the air, causing it to change from liquid to gas. This does cause the oil to evaporate quickly, meaning you might get less benefit from the essential oils.
Heat diffusers – a heat-based diffuser also causes the oils to evaporate, using heat instead of a fan. While effective for creating a home fragrance, it does change the composition of the oils meaning you'll miss out on benefitting fully from them.
Reed diffusers – a reed diffuser is a small bottle containing essential oils with wooden sticks that soak up the liquid and gradually release the scent into the air. It's not as potent as using the other types of diffusers, but it is long-lasting and popular for creating a consistent home fragrance.
Frequently asked questions
Are electric diffusers good for you?
Electric diffusers are perfectly safe to use as they release the aroma from the essential oil gradually and also cleanse the air in the room. Make sure to follow the instructions and fill with the correct amount of water.
Are diffusers safer than candles?
Yes, oil diffusers are safer than candles because you don't have the risks of an open flame. This means you can safely fall asleep or leave them on when you go out to reap the benefits of the fragrance.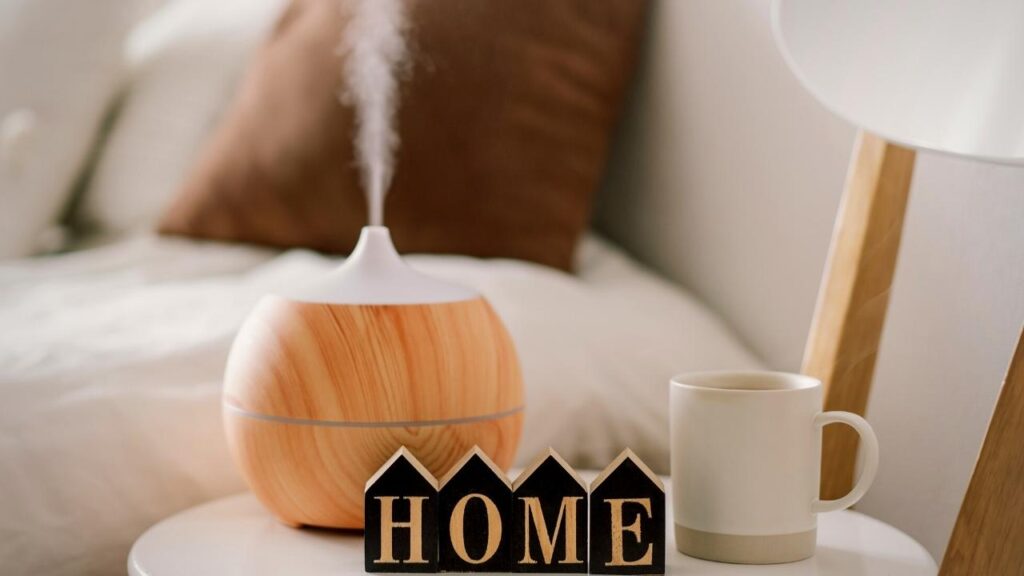 Is it okay to use your diffuser every day?
It's perfectly fine to use your diffuser every day but be mindful of how long you're using it for. It's recommended to diffuse for 30-60 minutes at a time to get the maximum benefit without overdoing it or risking becoming sensitive to the essential oil.
How many drops of essential oil do you put in a diffuser?
For every 100ml of water use 3-5 drops of essential oil. For example, if your diffuser takes 200ml of water, use 6-10 drops. Also, consider the size of the room you're diffusing in. A smaller space might benefit from slightly less, while a big room or open space could do with slightly more.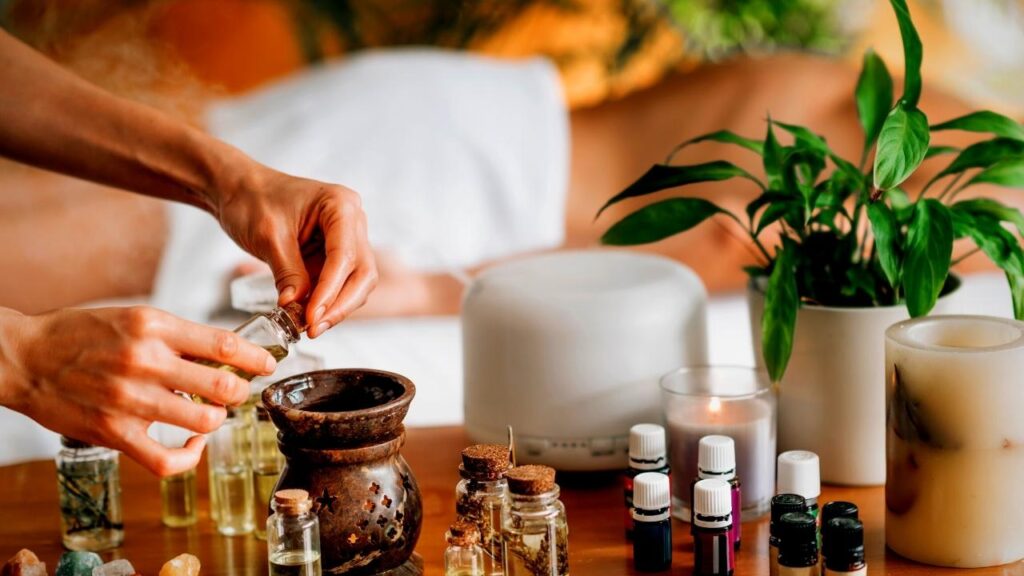 Do diffusers use a lot of electricity?
Diffusers don't use a lot of electricity; the average power rating is around 12W. This will vary between different models and how energy efficient the individual device is.
Conclusion
With 10 options to choose from, there's something for everyone in this guide for all kinds of different spaces and uses. While there are so many great products here, my top pick for the best all-rounder is still the Asakuki 500ml essential oil diffuser. It provides everything you could want from a diffuser without breaking the bank, and the design makes lovely use of the coloured light.
It's important to choose the right kind of diffuser for your needs and remember to take care around children and pets! With so many wonderful benefits to using an essential oil diffuser, I hope you're feeling inspired to add one to your self-care routine and create a wonderful boost to your own, and your family's, wellbeing. I for one, am looking forward to my usual night-time routine of adding a few drops of lavender oil to my diffuser and enjoying restful sleep.