Last Updated on 6 July 2022 by Alisea Mae
It doesn't matter if you are the type to let hedges grow wild for nature or someone that prefers something manicured. Eventually, you will need one of the best cordless hedge trimmers in the UK.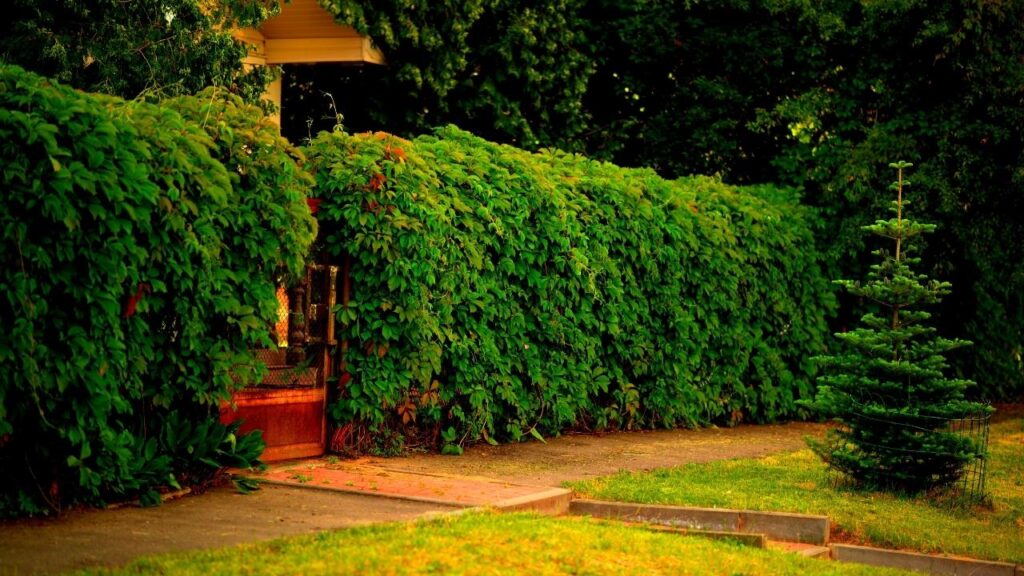 Personally, I feel that the Bosch home and garden AHS 50-20 is the perfect all-rounder, but there are lots of other alternatives. It all depends on what you grow, the size of your garden, and your capabilities. In this guide, you will learn more about the different styles of hedge trimmers and what to look out for. There are also short reviews of some of the best contenders right now.
Why it was so important for me to find the perfect hedge trimmer
The list of different electric hedge trimmers below is the result of a lot of careful research. I took my time to not only look at the different features of these products but to also consider the feedback from real users. After all, just because the brand says they have the quietest and most effective tool ever, there may be users that struggle with it in some way. The reviews are, therefore, as objective as possible with these testimonials in mind. However, I also have my personal recommendation from my own experience.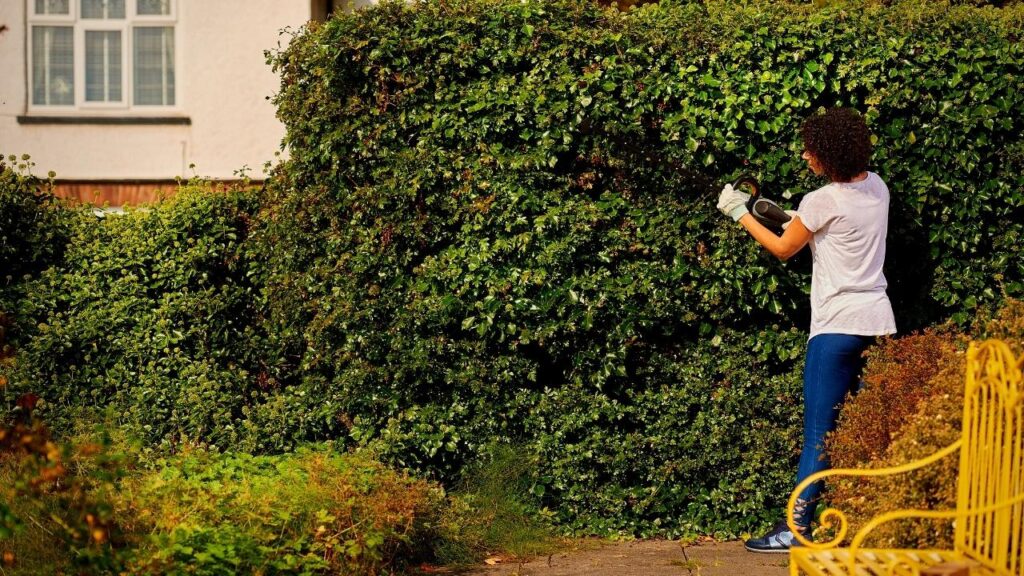 I know how important it is to find something that works well and isn't difficult to use. Hedge cutting should be an easy job, not a chore, but that isn't always the case. This is why I have also included some tips on other tools later in this guide. I feel that it is also important to find something as non-invasive as possible for minimal disturbance in the garden.
A big concern of mine, as someone that gardens for nature, is that I will disturb wildlife making use of the hedge. There has to be that compromise between giving them the space and keeping the hedge maintained and healthy. The first step is to wait until after the breeding season of your local birds. You need to be sure that the fledglings are away and you won't scare parents away from a brood. Ideally, you want to carry out your formative prune of hedges in late winter, away from the growing season, for the best results. Maintenance trims can then wait until the summer. But, it is always a good idea to check the recommendations based on the type of hedge you have.
My top pick for the best hedge trimmer
Before we look at the different models that I have reviewed for you, and the categories involved, I want to talk about my top pick. This is the model I feel is the best choice as an all-rounder and that will work for the largest number of gardeners. The Bosch home and garden AHS 50-20 is very popular, with 94% of customers giving it a 4 or 5-star rating on Amazon. This is partly because it is so easy to use with its light weight, great cutting tools, and anti-blocking safety features. You can trust Bosch with power tools of all kinds, and the 18V battery pack here is interchangeable with others in the 18V range for added convenience. With the added benefit of minimal maintenance, it is hard to fault.
There are different styles of hedge trimmer to suit different needs
The top electric hedge clippers highlighted in this guide fall under a series of categories to help you narrow down your choices. They are as follows:
1) The Bosch home and garden cordless hedge trimmer AHS 50-20: The best all-rounder
2) The Terratek 20V cordless electric hedge trimmer: The best budget model
3) The Worx WG252E 18V (20V max) cordless pole hedge trimmer: The best long-reach model
4) The Makita DUH751Z 18V li-Ion LXT 75cm brushless hedge trimmer: The best heavy-duty model
5) The Bosch cordless edging shear set isio: The best handheld model
6) The Mcculloch HT 5622 petrol hedge trimmer 22ccv: The best clipper for large gardens
You might feel that one of these categories immediately speaks to you as something that you need, especially if you have a large hedge or are concerned about getting something too extreme. Or, you might find that the all-rounder is the way to go. Here are my quick reviews with the pros and cons of all six to help you decide.
6 of the best hedge trimmers around
1) The best all-rounder hedge cutter: The Bosch home and garden cordless hedge trimmer AHS 50-20
Let's start by talking about that top pick all-rounder model in a bit more detail. An all-rounder has to be able to deal with different hedges and needs without coming up short or getting too heavy-duty. This one is ideal because it is so effective with a great list of features, but also very user-friendly.
This is a good tool for medium hedges with a 50cm blade and 25mm tooth gap. As I mentioned before, there are some nice user-friendly features that most buyers seem to appreciate. This includes the light weight, the transparent hand guard, and the anti-blocking feature for continuous performance. Another interesting feature here is the Syneon Chip, which is designed for "effectively controlled energy for every project". Essentially, you should see this last a little longer and handle tougher plants with ease job by job. Overall, the performance is effective and there are some great results for this relatively low price.
Unfortunately, there are some complaints about this model from those that have had it for a while. Even though most users find that the cutting power and battery life are fine at first, some feel it does diminish. This means that the cuts aren't as sharp after a year or so. There is also one user that says their battery now cuts out after 30 minutes. Thankfully, this seems to be the worst of the problems and most are satisfied.
2) The best budget hedge cutter. The Terratek 20V cordless electric hedge trimmer
If you want to go for something more affordable, especially if you have a small hedge or are new to all this, you will have to go for something less powerful. However, there are lots of benefits to this 20V model where many buyers see the value in what they get.
Let's start with the basic features and benefits. The cutter has a pretty average 51cm blade for use on a reasonable size hedge, but nothing too big. While the battery is low-end at 20V, there is the bonus of a second battery in the box. Therefore, you can set one up to charge while using the other, and ideally not have to stop for long in the middle of a job. From there, there is praise for the ergonomic and safety features on offer. You get an integrated hand safety guard, a light weight of 2.4kg, and the machine stops when you let go of the trigger.
Naturally, when you go for a budget model like this, you are going to end up with something that can't compete with the other products in this guide. It isn't going to be able to handle tougher hedging plants and larger areas, so you are stuck to working on your basic privets and box hedges over small sessions. One possible annoyance here is that there are only 1100 cuts per minute, compared to the 4400 of the more heavy-duty model. So, this is going to feel slow if you are more experienced with these tools.
3) The best telescopic/long reach hedge cutter: The Worx WG252E 18V (20V max) cordless pole hedge trimmer
The best option if you have a tall hedge and don't want to be climbing ladders is to get something with a telescopic pole. This won't suit everyone as the pole can sometimes make tools a little unbalanced and difficult to work with. But, that doesn't seem to be the case here. This cordless model is a great option that doesn't lean too heavily on this feature and is still a powerful and reliable choice.
The blade on this cutting tool seems to be fine as it is with a 45cm blade and 26mm tooth gap and a reliable cutting motion. Most users seem to be happy with the performance and results. But, the selling point here is, of course, that telescoping handle. This extends the tool up to 2.8 meters to make it effective on taller hedges as needed. From there, you also get the advantage of the multi-directional features to really get the best angle for dealing with problem areas. The heads have multiple angles and you can also rotate the handle. Overall, it should be pretty easy to use.
There are some pros and cons here when it comes to the battery on offer. Like the budget model above, it is just a 20V battery, making it weaker than some of the more reliable machines. There is the added benefit of the battery status indicator so you shouldn't get caught out. However, it may not last as long as hoped for. An upside here is that the battery pack is interchangeable with other products in the Worx line, giving this model a little more value for money.
4) The best heavy-duty hedge cutter: The Makita DUH751Z 18V Li-Ion LXT 75cm brushless hedge trimmer
You might not think that a battery-powered hedge trimmer would be the best heavy-duty option, but there are lots of happy customers here. At the time of writing, 90% had given this 5 stars for its performance and the specification is impressive.
A big selling point here is the long blade at 75cm, at the top end of the range. This has a 23.5 tooth gap. The effective cutter is the fastest here as well as the most heavy-duty with a rate of 4400 cuts per minute. The performance is enhanced by the brushless motor and variable speed control via the trigger. Other advantageous features include the electric brake, multi-position handle for ease of use, reverse button, and battery protection. On that note, people are getting the whole job done on large hedges on one charge.
The main issue here regards value for money. You need to watch out because there are lots of models for sale that are the body only without the battery or charger. It could start getting expensive to get them separately. But, it may also be fair considering the cost and features provided compared to other options here. It is also worth noting that this is 7.2kg, so a little heavier than some others here but not too bad.
5) The best handheld hedge trimmer: The Bosch cordless edging shear set isio
For the lighter, more user-friendly handheld model, I had to go back to our reliable friends at Bosch. This smaller model has the right shape and specification to deal with smaller jobs and not intimidate new users. It is kind of cute by comparison and looks like something that anyone could use if they wanted to. It is also affordable and was a contender for the budget option because of the value for money.
This is the smallest tool on the list. You get just a 12cm blade with an 8mm spacing between the teeth. Therefore, it is not going to handle tough cases but should be good for touch-ups. For example, if you have a tiny ornamental box hedge that you want to tidy regularly, this could be perfect. The light 550g weight means you can take this around the garden without tiring. On top of this, there is a multi-click grass sheering blade in the box, for double the cutting power for the garden. Also, it is made to be quiet for minimal disturbance and quick to charge in 3.5 hours. There is an indicator on the side so you can see how much is left.
The biggest issue here is that this lacks power compared to other options on this list. That isn't a surprise considering it is such a short blade and so close to the user. But, it can struggle with anything that gets too tough. Some users also feel the blade could be sharper, especially on the grass feature. They say that it seems to be ripping grass more than cutting it, which may not create the nice neat edges you are looking for.
6) The best hedge trimmer for large gardens: The Mcculloch HT 5622 petrol hedge trimmer 22ccv
Finally, while I know some users won't be keen on petrol hedge trimmers because of the noise and environmental impact, I had to include one as an alternative option. This sort of hedge cutter has its benefits when there is no power for a corded model and a cordless won't last long enough.
Here you get a good 56cm cutting blade with a 22mm gap. This dual-action blade seems to be effective enough for regular work and medium hedges. Users can benefit from the soft start system for a more reliable start the first time. There are also more user-friendly features than expected with the anti-vibration system, an adjustable rear handle to make it easier to use in different positions, and the visible fuel tank so you can see when it is about to get empty. Many also find this easy to take care of, with the tool-free air filter helping there.
Many of the bigger issues with this machine come from the fuel and its impact on the experience and performance. In addition to the sensory problems, you could also find you are starving the trimmer of fuel too easily when cutting vertically. This could then limit the functionality. From there, there are reports of some faults with the handles and trigger mechanism issues out of the box. This is rare but worth keeping in mind. Also, be aware that there is an Ergolite version of this if you need something with a 60cm blade and faster speed. That one has 4050 rather than the 2365 cuts per minute on this model. That one is also a little lighter for it.
Other tools you will need
Your brand new hedge trimmer is just the start when it comes to finding all the tools you need to deal with hedge cutting and clipping. Safety is essential here, and while there shouldn't be any kids or pets running around anyway, you still need to think about your own wellbeing. On top of that, there are additional tools that will make the job a lot easier.
A good pair of safety goggles will protect your eyes from flying debris, especially when cutting above your head. Little bits of bark or dead leaves can be pretty painful if they get in your eyes.
Gloves are a good idea for protection from sharp twigs and branches, but also from the hedge cutter. It is better to be safe than sorry if you drop or mishandle the tool in some way and your fingers get too close to the blade.
The right footwear is also important here as it can offer a solid footing with protection on the toe caps and full coverage up to the ankle. This will not only lessen the risk of injury but help when using the next tool.
Far too many people will reach up as far as they can into tall hedges and risk overbalancing. While those telescoping cutters are great, you don't want to push them too far. It is much better to get a sturdy footing, in those sensible shoes, on a good ladder at an appropriate height. It also helps to have someone at the bottom to hold it.
There will be times when a cordless or other heavy-duty hedge trimmer is overkill for the problem at hand. Simple Handheld shears are perfect for little touch-ups here and there to tidy hedges and topiary.
At the end of the job, there are sure to be plenty of fallen twigs and leaves on the ground to deal with. A good rake with a long handle means less back strain as you collect it all up into one neat pile.
Finally, it helps to have a trusty wheelbarrow on hand in which to put all this waste material. You can then wheel it straight to the compost bin in one trip.
Which sort of power supply is best for you?
The range of electric hedge cutters above highlights an important question for consumers. Which is the best power supply? Here are some quick pros and cons of all three options.
1) Cordless. There are some clear benefits to going cordless because there is no concern about finding a power outlet. This is great for larger gardens. But, there are downsides to the life of the battery.
2) Corded. Models that plug into the power supply aren't so portable, but they might be more reliable and powerful over a larger job. It all depends on how accessible that power outlet is.
3) Petrol. Petrol hedge cutters aren't the best option for a nature-friendly garden because you are using fossil fuels with emissions and creating more noise disturbance. They may be effective, but at what cost?
If you do choose a corded model, you need to look at the battery life and charge time. The battery life will tell you how long you have to finish the job, and this may not be enough for one session with cheaper models. The charge time is as important. Is it ready to go again in a couple of hours, or do you have to wait until the next day?
Other important considerations
Safety and overall ease of use
Safety doesn't just come from the tools you use with the machine and protective gear. The best trimmers should have comfortable grips with an ergonomic shape so you don't get tired or risk an injury. You should also look for a product with safeguarding to block the blade and reduce the likelihood of accidents. The ease of use for a safer session with the trimmer also relies on a well-balanced tool that isn't too light or heavy and that cuts with ease.
The cutting power for an efficient performance
Of course, that effective cutting performance also means that you should be able to get the job done much faster. You need a tool that is powerful enough to handle the hedge without jamming or causing strain. The right motor, effective power supply, and blade dimensions all help here.
Finding the right size tool for the job
The performance of your hedge trimmer will have a lot to do with the dimensions of the tool and the blade. You should try and match the best specification to your hedge dependent on its height. Hedges are either small, medium or large, but still vary greatly depending on the plants and their density. Ideally, you want the blade to be bigger as the hedge gets bigger to make life easier and to handle thicker, older growth. It also helps if the tooth gap is wider for these established taller hedges.
| | | |
| --- | --- | --- |
| Size of Hedge | Blade Length | Tooth gap |
| Small – 0.4m to 1.2m | 40-45 cm | 12-16mm |
| Medium – 1.2m to 2m | 45-60cm | 20-25mm |
| Large – 2m tall and higher | 60-75cm | 26-36mm |
Is it easy to maintain?
Finally, there is the issue of maintenance. The best power tools will last longer and give you their best performance if you take good care of them. This partly means storing them properly away from dirt and water and being careful when charging the batteries. But, there is also the issue of maintenance. Those blades need to stay in prime condition to cut at the right speed and with good efficiency. This may require regular oil and lubrication. You could also check for faults in other parts of the body and pole.
Choosing the best hedge trimmer for your garden
While my top pick is the Bosch home and garden AHS 50-20, I can see the appeal in the other options here. The important thing is that you get something that works with the size and hedge type you have – where you are going to get an efficient performance with less effort. Check the power supply, cutting performance, and all the helpful tools on offer. The right model should prove to be a worthwhile time-saver for years to come.