Last Updated on 19 January 2023 by Alisea Mae
It can be difficult to find natural hairsprays that last, so today I'm going to show you some of the best natural and organic hairsprays UK brands have to offer.
Natural hairsprays are a great choice not just because of their clean botanical oils and fibres, but because they can be better for the environment. You can find minimal formulas free from additives that are also cruelty-free and vegan. You still get a great hold without the weight and stench of chemical sprays.
I carefully research and consider each product before choosing the best and most useful ones. If you click on a link and buy something, I may receive a commission at no additional cost to you. This does not influence my choices in any way.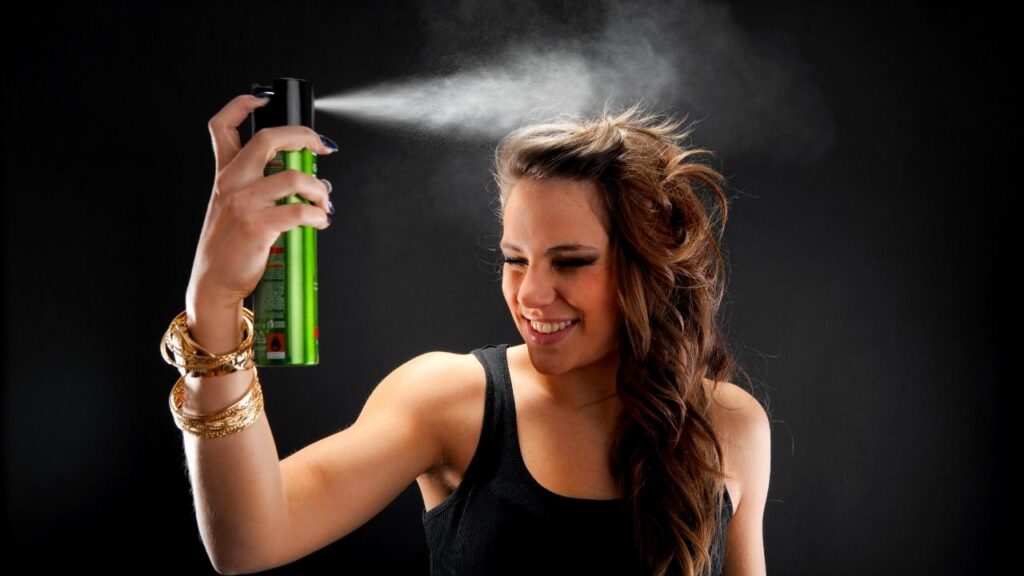 The following products are the final picks from my extensive research. I wanted to find you the best options that not only had interesting ingredients and properties but where satisfied buyers came back for more.
My top pick is Moroccanoil Luminous for its scent, reliability, and day-to-day wearability. However, there are lots of other brilliant specialist sprays, so you will find picks for different hair types and needs. You will also find a buying guide after these reviews with more helpful tips.

So, let's take a closer look at my top pick and some of the other great natural hairsprays that you might benefit from.
---
First up, I want to talk about my top pick for general use. This is something I feel that many people will be able to use with ease, giving it greater mass appeal. The main ingredient here is argan oil to give hair a nice scent and some nourishment, rather than your usual chemical hold. There are lots of users that appreciate the level of hold on the medium version, saying it is great for day-to-day wear and windy days without being too intense. As a result, you don't have anything with too much weight or crunch either.
One thing I will say, however, is that this is an aerosol can for a wide fine spray, which isn't ideal environmentally. There are also questions about whether the formula is vegan and/or cruelty-free. If you can get past that, there isn't much to lose.
Pros
A really nice fragrance from the natural ingredient and argan oil.
Just enough hold for general use without getting crunchy or heavy.
Cons
Might not be the greenest option because of a lack of information
---
Because there are so many benefits to the Moroccan oil spray, I wanted to take a moment to mention an alternative product in their range. This is their extra strong spray for more important functions. This time, the intense spray has the power to hold hair in more dramatic styles for much longer than the medium one. Although it is more intense, it is still natural and smells just as good.
An added benefit here is that you can get this as a portable can in a smaller size, making it perfect for fixing hair last minute on a night out. The downside is that it is still that pressurized aerosol can and is not necessarily vegan.
Pros
A more secure and long-lasting hold than the medium version for special events.
It comes in a smaller portable can too for greater convenience.
Cons
The same concerns as with the medium version.
---
Curly hair deserves the same level of care and support to give us confidence on a night out. We want something that will enhance the shape while remaining strong, which is why I recommend this product from Imbue Curl. This spray has an interesting blend of Coconut, Cupuacu, and Camellia, which allows for a great feel and scent.
As this is a leave-in product for conditioning, it acts as a great refresher between washes. The downside to this is that it is more about the quality of the curls than holding any shape in a hairstyle. But, with this natural vegan formula and recycled plastic, there's a lot to love.
Pros
A really quick and simple refresher to give curls ongoing bounce.
Vegan and made from 100% recycled plastic.
Cons
Other options may be more intense for a better hold.
---
Fine hair can be very difficult to tame and hold in a dramatic style sometimes. So, if you struggle with this issue and tend to avoid thick and sticky chemical sprays, I recommend this option from Maui Moisture. This is sold as a product to repair hair that isn't looking its best, which gives it appeal for those with damaged hair too. But, the properties and ingredients are also great for fine hair in need of a bit more strength. This comes from the blend of bamboo fibres, castor oil, and neem oil.
There is a lot of praise for the impact of this spray, with many people turning to it after each blow-dry to maintain the strength and hold on their hair. Because of this, you might go through one of these small bottles very quickly. But, people are keen to buy a second because of the reliability and the long-lasting scent.
Pros
A great restorative product that users turn to after each blow dry.
A long-lasting scent from natural ingredients.
Cons
The bottle could be bigger for the frequency of its use.
---
Another concern for many of us is that our already dry hair will suffer from regular use of hairspray. You don't want to end up with brittle hair when other products can nourish it instead. I recommend this Giovanni Cosmetics product because it does so much to protect and style hair, all without getting too heavy or greasy. It can nourish dry hair without smothering it and is also protective against heat. Understandably, the combination of avocado and olive oil plays a big role here.
There isn't much to say against this one because so many users love the results and scent. But, there are a couple that found it difficult to use due to the weaker pump system. This might not be your experience.
Pros
Lighter than people expected but in a good way.
Lots of properties to restore and protect your hair.
Cons
Some users struggled with full coverage from the weaker spray bottle.
---
Again, frizz is a common problem and some traditional hairspray products don't always make the situation any better. There are natural alternatives that can tame the frizz and allow for just enough hold, and this Shea Moisture spray is a good example as it calms frizz with ease while also working on other issues. The company promises this will be good for your scalp and curls too.
There is a lot to like about this oily and buttery option, with its cruelty-free formula. There are just a few users that find the scent overpowering as the coconut can swamp the hibiscus.
Pros
A nice natural solution with a lot of shea and oil.
The potential to help with scalp issues too.
Cons
Scent can be overly coconutty for some people.
---
Another concern when trying to get the very best finish on our hair is that it will end up looking dull under all that product. This doesn't have to be the case when you pick a natural spray that allows for a glossy shine. This Andalou hairspray is a great choice because it has a really nice mix of ingredients to give that conditioned look. Many of these come from fruit stem cells, and there is the assurance that these are non-GMO fruits.
While users are praising this for its shine and scent, and appreciate its suitability for all hair types, not all are convinced. Some feel it is closer to a light hold than a medium one.
Pros
An interesting use of citrus fruits to restore hair.
Suitable for multiple hair types.
Cons
Some say this is more of a light hold than a medium hold.
---
Alcohol hairspray products are problematic when trying to be as nice to our hair as possible. This Yarok spray is a great alternative with no alcohol at all and a great series of botanical extracts, vitamins, and more. One of the most interesting of these was rosemary, which apparently helps to protect natural hair colour.
A bonus here is that you can use this with ease which styling to offer better protection and hold. However, some users find it to be much stickier than they expected.
Pros
Suitable for use with hairdryers and curling irons.
Some interesting natural ingredients to help look after your hair.
Cons
Some found it stickier than expected.
---
Another issue we often have to watch out for when styling our hair is the danger of high heat. Frequent use of curling tongs and straighteners isn't always good for our hair, especially if we accidentally put them on too high a setting. This OGX spray can help because it is suitable for use with devices up to 230 degrees. Therefore, you can use this convenient spray bottle with one hand and your tongs in the other and really take care of your hair. The scent of the argan through all this helps too.
The only downside is that this is a one-trick pony. Some people expected it to condition and hold their hair more than it does. You will need extra products for that.
Pros
The trigger spray bottle is a nice touch.
The smell of the argan is just strong enough.
Cons
A single-purpose product that isn't as beneficial as some expected.
---
What about those of us with really long hair that gets into a knotted mess all the time? Detangling sprays are a great tool for easing out those tangles and getting our hair back to its best. This Noughty spray is a brilliant option with a 97% natural and Sulphate Free formula. It also happens to be vegan.
Many users find that this Leave In Hair De-Tangler is a great choice for keeping their hair in better condition after showering or swimming. Just watch out for the pump as it helps to shake the bottle before each use.
Pros
A great natural solution that is vegan and cruelty-free.
Easy to use after showering and swimming.
Cons
The pump isn't the most user-friendly.
---
It isn't just our own hair that suffers from tangles. Kids with long fine hair can end up in a mess if they play outside and don't brush their hair. Thankfully, there are companies like Child's Farm with kid-friendly detangling sprays. One thing that immediately stands out here is the design of the bottle. I expect a lot of young girls to be drawn to this over the more sophisticated bottles.
As far as parents are concerned, this is a helpful and cruelty-free product that should be fine on sensitive skin. You might want to buy a few bottles though as it doesn't go far.
Pros
Suitable for Dry, Sensitive & Eczema-prone Skin.
A cute design that kids will want to use.
Cons
Doesn't last too long because of the small bottle and thick solution.
---
Finally, I want to mention a product targeting men. Do men need a different type of spray than everyone else? Probably not. Still, it is nice to see brands considering this need. This is a subtle product that doesn't go in for feminine fragrance. Instead, you get a simple blend of sea salt, vitamin E, and hydrolyzed proteins for gentle styling.
This product is suitable for any hair type but isn't designed for any extreme styles. Instead, the branding talks about beach-hair. This is where that sea salt offers a more authentic feel for all those that want to permanently look as though they've just been surfing.
Pros
A more masculine-looking product if that's what you are looking for.
Some great natural ingredients for a low-key formula.
Cons
Designed for subtle beach hair holds rather than anything more intense.
---
What to consider when choosing the best natural hairspray
Because there are so many different products out there, and the choice can get a bit overwhelming sometimes, I want to offer this quick guide. Hopefully, when you add your answer from point 1 to point 2, you should narrow down your choices.
What is my hair type?
– Curly. Curly hair can regain shape and shine with a leave-in spray as well as a medium-hold hairspray.
– Dry. If you have dry hair, you will benefit from something that has extra conditioning oils.
– Fine. Fine hair can benefit from sprays that provide added structure and repair. One such option above does this with bamboo fibres.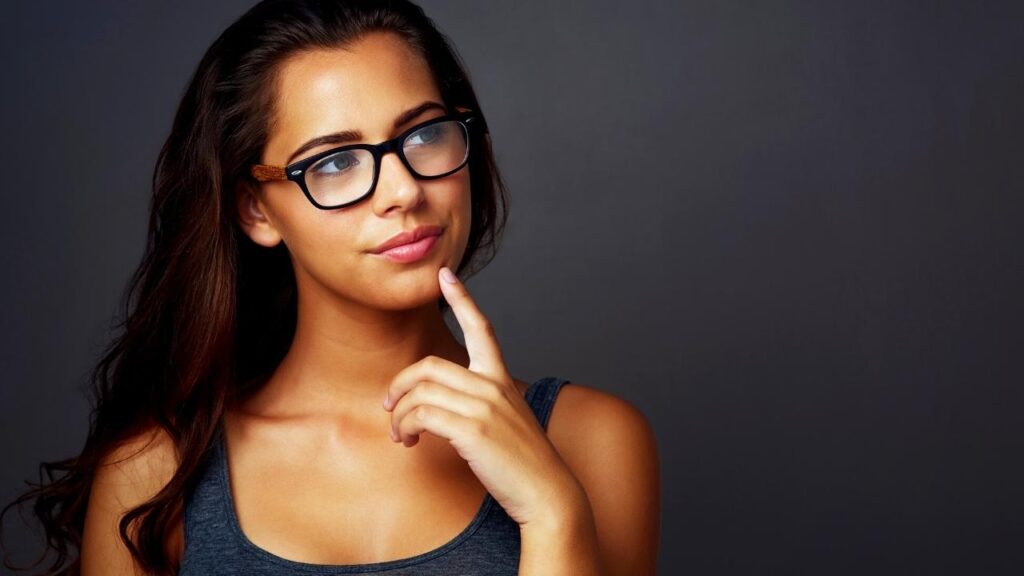 – Oily. There are sprays for oily hair that can ensure that there isn't too thick or greasy a texture after spraying. Beware of anything with lots of natural oils.
– Normal. I dislike the term normal. It basically means those that don't fit one of the categories above. You don't need anything too intense in case it pushes your hair or scalp into a different territory.
What does the hold level in hairspray mean?
– Light. This is the lowest level for general wear and windy days. It is very flexible and easy to brush out.
– Medium. Medium provides a stronger, longer-lasting hold while remaining lightweight and flexible.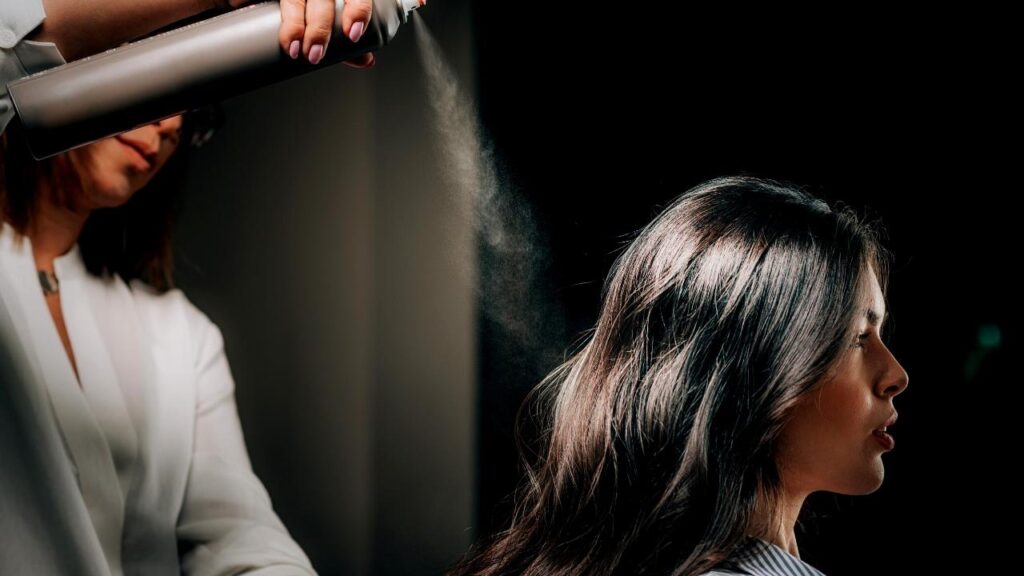 – Strong. This is for when you need something more robust and structured for long-term wear.
– Extra Strong. There is an extra-strong in this guide, and this is when you want a heavier extreme hold and can give up some lightness and flexibility.
How to spray for the best results
The best thing to do is to hold the can about a foot away from your hair when spraying for lighter even coverage, rather than any sticky clumps. Aim for about 6 seconds in each area, but keep the can moving all the time. Also, remember you only want to target the top layer to avoid the scalp. Give it about 15-30 seconds to fully dry.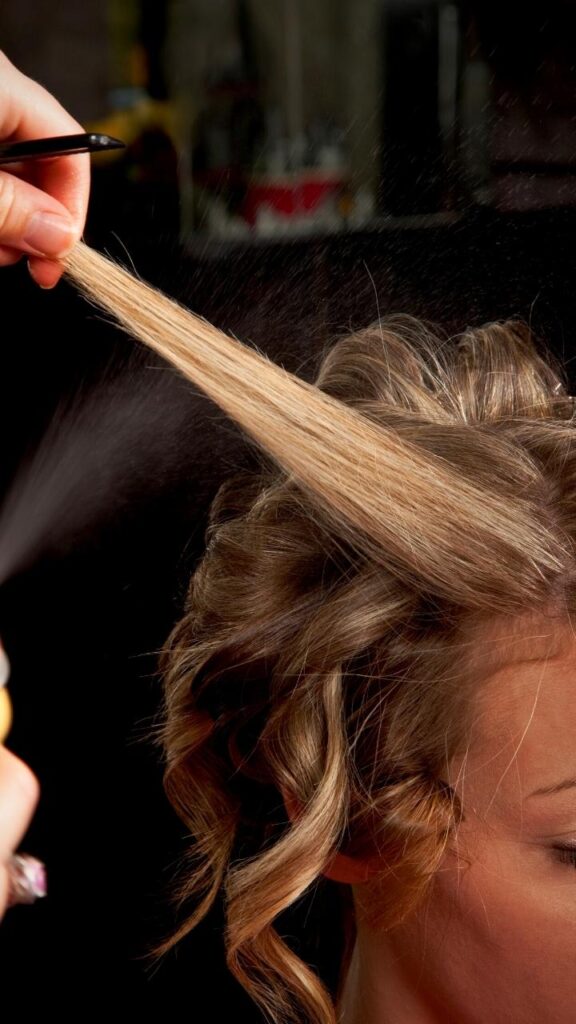 Natural Hairspray FAQs
1) What is the difference between holding spray and finishing spray?
Finishing spray helps to finish off the look of a hairstyle, such as by providing more shine. It isn't going to offer the same hold as hairspray.
2) What is the best hair spray for a sensitive scalp?
The best thing to do is find a formula free from irritants. This means no parabens and sulphates, but also no artificial fragrance. Pay attention to any reactions to experience.
3) How do you make homemade hairspray?
One of the preferred methods is to dissolve sugar in boiling water, let it cool, and then add some essential oil and jojoba. Some people like to use sea salt too. Play around and see what works and smells best.
There are lots of great natural hairspray products
While I have recommended Moroccanoil's medium spray as my top pick for general use, there are lots of other options we can benefit from. If you need something better suited to a specific hair type, with some extra hold, or with other helpful properties, these companies have you covered. Natural hairspray can be just as beneficial and reliable while using better ingredients. So, why not give one or more a try?