Last Updated on 23 August 2023 by Alisea Mae
Many store-bought shampoo products are cheap and relatively effective, but can we be sure that they are good for us, or the planet? There are lots of brilliant companies working to produce the best natural shampoo in the UK – which means a safer formula with better ingredients from brilliant small businesses much closer to home. For me, you can't go wrong with someone like Neals Yard Remedies as an all-rounder. But, which is the best UK-based shampoo company for you?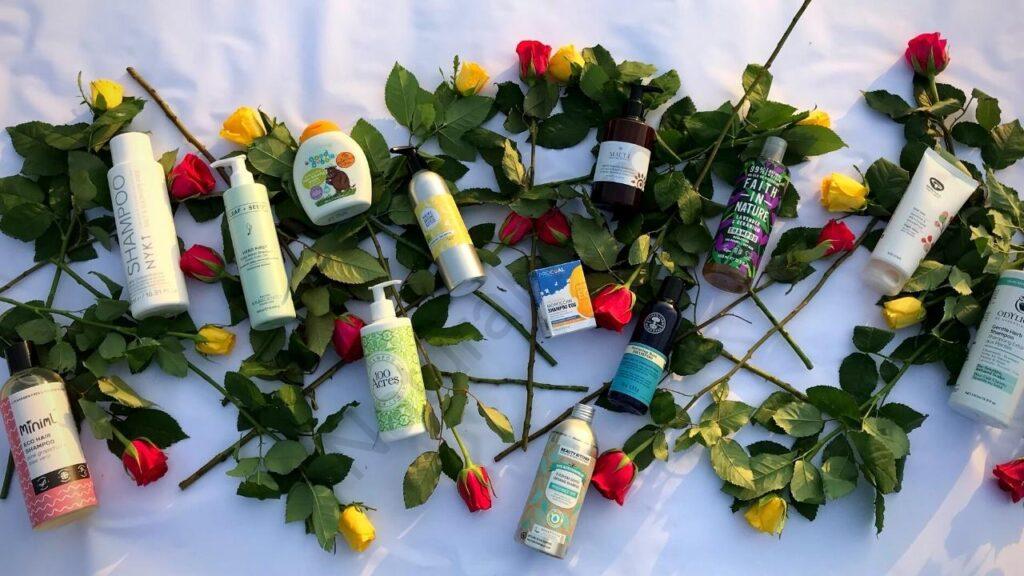 Better quality nourishing products from companies you can trust
With so many companies across the UK working to create impressive natural beauty lines, it makes sense to see what smaller companies can offer in the way of shampoo. There are plenty of big-name brands with effective ingredients. But, it may be kinder to our hair and planet to see what a small-scale UK business can offer in natural formulas. You can find specialist products with interesting approaches without chemicals and preservatives. You will also find plenty of companies with a strong ethos that you will feel good building a relationship with.
I have to admit that I fell down a bit of a rabbit hole researching this subject. I knew there had to be plenty of options out there but was amazed by not just the range but the message and values of some of these companies. I wanted to make sure to go directly to the source to learn more about these great brands and what they had available. This is where I learnt that there is such diversity in natural shampoo products and something for pretty much anyone. This led to my final list of recommendations by category. Creating that shortlist was difficult because there were so many contenders. But, what you will see are those with great stories about the brand, high customer satisfaction ratings, and the interesting and effective products to back it up.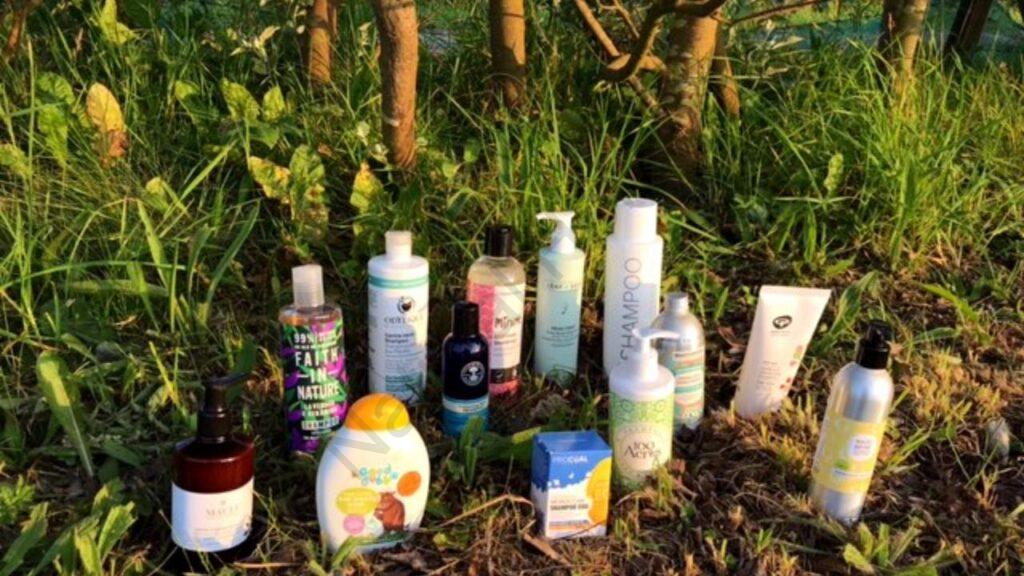 As always, I do this with a completely honest view on what I would recommend based on those key factors and not with any bias. No company here is paying for an endorsement and I aim to be as fair as possible. There is a top pick, and I may use others at some point, but I want you to come away from this with a clear idea of what will work for you.
My top pick for Natural Shampoos from UK companies
Neals Yard Remedies may not be sponsoring me in any way, but I still want to take a moment to highlight them as my top brand. I go into more detail about one of their products below. But, this brand stood out to me because they tick so many boxes. For a start, you are assured of some of the ingredients in their high-percentage organic products. Furthermore, this is a family company that works hard to not only create the products but also grow some of the ingredients to minimise their impact on the environment. It is easy to get behind them, especially when the products aren't that expensive or specialist.
Picking the best Natural Shampoo products From UK brands
Not all shampoos are made alike, and the same goes for the many UK-based companies that make them. A good shampoo has the potential to bring life to our hair in the way we need it most, but to also help us feel like we are doing our bit for ethical and sustainable businesses. That is why I have compiled a list of the best UK shampoo products based on a range of categories. You will find examples of brands that can cater to specific care needs, like sensitive skin and coloured hair, and those that make a point of using natural and sustainable ingredients. There are also brands with clear focuses on zero waste, children's products, and homemade shampoo.
There is a lot to consider when choosing the best possible product for your needs. So, here are 13 brilliant examples from some of the best producers across the country.
1) The best all-round natural shampoo brand: Neals Yard Remedies nurturing rose shampoo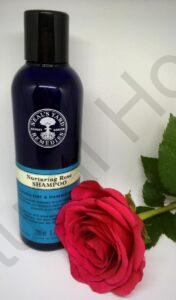 This first company started out in Covent Garden and has gone from strength to strength. What I love about Neals Yard Remedies is their ability to cater to so many people that want better quality natural products. There is often a reluctance to try organic and small companies because of higher costs. But, there are discounts for students and lots of affordable options. Their nurturing rose shampoo is a great example of an all-rounder that brings us helpful natural rosehip and buckthorn oils to help with damaged, dry, and even coloured hair. However, I do recommend reading the ingredients in full as they are extensive and only 73% organic.
What makes this brand even more interesting is that as well as providing a wide range of products, they also offer courses in natural health and well-being. As a result, this family-owned company builds more trust with their consumers for better relationships in the long run. I believe this is a company you can rely on for haircare and more.
2) The best shampoo brand for sensitive skin: Odylique gentle herb shampoo
We don't often think about the need for a specialist shampoo when we have sensitive skin, as we can forget the risks of the product coming into contact with our skin. Unfortunately, this means that some companies aren't a lot of help here either. This was a problem for Margaret Weeds, who suffers from sensitivities. The best solution was to start up a company and create specialist products that could help.
The gentle herb options are well received, including an award at the 2019 Veggie Awards, and have a nice blend of herbs, nettles and coconut oil. There are no common allergens, sulphates, or other dangerous elements. Furthermore, there are some great environmental credentials here. It is vegan, cruelty-free, and certified organic by the Soil Association. It isn't the cheapest ever, but not ridiculously expensive either.
3) The best natural shampoo bar brand: Procoal London Moroccan shampoo egg
Shampoo bars are much more common than they were a couple of years ago, and this is great for all those that worry about using and throwing out plastic containers. The problem is that as the market expands, we get some inferior products and copycats. That is where this little handheld egg is so helpful. This little bar means no plastic but the same great natural formula you need. Their best seller is a fairly straightforward argan oil vegan bar that will help to improve the look and texture of most hair types. But, I recommend looking at other options on the website as there are other scents with helpful ingredients.
The attention to detail with this egg is great with the paper packaging and you should get around 60 washes or more. Also, it seems to lather up pretty well for a bar. The downside is having somewhere safe to place it between washes compared to a bottle you cheap natural shampoo brand: Faith in Nature lavender and geranium shampoo
To be honest, there are plenty of products in this guide that offer value and are cheaper than you might assume. However, Faith In Nature is on a par with a lot of other "standard" brands. You can get a big 400ml bottle for less than some other 200ml ones, so this should last much longer. This lavender and geranium option smells great and has potent natural fragrance and oils. It is also vegan and cruelty-free. It should be great for most hair types too.
If you aren't keen on plastic bottles, you can either make use of refill stations near you or get a bar version instead. The choices are impressive with this woman-owned brand and are sure to increase. The founder moved to the UK and started this company in 1974, and has grown from a pioneer to a leader in a world catching up with her ideals.
5) The best zero waste shampoo brand: Miniml pink grapefruit and aloe vera shampoo
There are lots of great companies looking to reduce waste and plastic – and the egg and Faith in Nature refills are a great example – but Miniml is impressive. This is a clean vegan formula that makes good use of cleansing pink grapefruit and nourishing aloe vera to help get your hair back to its best. The fragrance is described as subtle, which won't be for everyone, but it enhances the natural vibe.
The zero-waste element comes from a range of bottle types with the chance to refill the shampoo from a larger container or at a refill station. It isn't the most convenient option for the average consumer, as opposed to a hospitality brand that may refill bottles in hotel rooms. But, there are high hopes that this young couple will continue to grow this Yorkshire-based company. They started in a garage and the sky's the limit here.
6) The best baby and kids shampoo brand: Good bubble Gruffalo hair and body wash with prickly pear extract
Our kids need their hair washed too and there is no reason why they can't have natural shampoo products as well. Good bubble is a great option because of its dedication to formulas that are vegan, cruelty-free, and full of great ingredients. They are created by a family-based company in Manchester and you may have seen them on Dragons Den. This prickly pear option contains an impressive 98% naturally derived ingredients and remains hypoallergenic and tear-free. It should be more than suitable for those with sensitive skin and for newborns.
Just as importantly, you can get a good 250ml bottle – which is 50% recycled plastic – for a very low price. The added selling point here is the Gruffalo on the bottle to appeal to young kids. If the Gruffalo is happy to use this for its fur, then why not his fans?
7) The best brand for coloured hair: NYK1 salt and sulphate-free shampoo and conditioner set
To be honest, there isn't a lot here to make me go wow in terms of the ingredients or fragrances used. There are plenty of other brands that can do that with interesting botanicals and other ingredients for a better clean. The stand-out factor here is the deliberate attempt to create something a little more simple and clean where there are no sulphates or any other dangerous chemicals that you might find in other products for treated hair. So, it is at least a step up from other options.
What makes this brand a little more appealing is that you can get an option based on your needs, rather than just a basic shampoo. This product is a more affordable set that gives you the shampoo and conditioner for more all-around hair treatment. It is also possible to get ones with purple tones for dealing with blonde hair. They were a winner in the Natural Health International Beauty Awards in 2019 and it isn't hard to see why.
8) The best scalp relief shampoo brand: Wild Science Lab head first scalp relief shampoo
This is an interesting one because of the more specialist focus on scalp care. The concept came from a woman who struggled with hair loss and poor scalp condition after pregnancy. After failing to find suitable shampoo, she worked on her own. The brand became a 2021 Natural Health Magazine winner in vegan game-changers.
What elevates this product further is that you get a formula with CBD oil. This is growing in popularity in the healthcare industry but is not yet common in shampoo brands. The 120mg dosage and the hemp seed oil and aloe vera combine to make something highly effective with a formula that is 91.6% naturally derived. It is a little costly compared to some of the others in this guide, but it can be effective and worth the effort.
9) The best small beauty brand: 100 Acres sage and lemon shampoo
There is not much to say about the company as their mission statement is a little more corporate and vague than the other start-ups here. But, it is certainly one to watch out for as it has great reviews and is an award winner. They were highly commended in the Natural Health beauty awards for the best small beauty brand.
This product shows that the classics and a simple formula can go a long way. It all starts with the soothing sage, which is an antimicrobial element and continues with the tangy lemon to deal with oil. All ingredients are completely natural and the products are all made in the British countryside.
10) Best handmade shampoo brand: Hairy Jayne
This is as small-scale and interesting a start-up as you can get. Jane started out as a hairdresser and then took on an old bakery in Bristol to start making her own products with argan oil. The business has grown and there is now a great range of options available. You get a coconut and Aloe Vera base with a touch of either floral, citrus or musk scent. There is also a regular or jumbo size.
The green credentials continue with the fact that there is a tree planted for every one sold, biodegradable pouch options, and an aluminium bottle with a pump rather than plastic.
11) The best green shampoo brand: Beauty Kitchen everyday gentle organic shampoo
This shampoo is a fragrance-free simple option with mostly just aloe vera and coconut oil. That might be the deal-breaker here for a lot of people. I know that scent can be as important for that invigorating moment of cleansing in the shower and to set you up for the day. But, it also means no nasty artificial fragrances. I also want to mention that if you like this shampoo, there is a conditioner that you can get in a bundle.
I didn't pick this for the actual shampoo as much as the company that makes it. They have a great commitment to the planet with zero plastic, a return, refill, repeat, scheme and sustainable ingredients. Furthermore, they won the 'Responsible Beauty Award' for their Seashore Plankton anti ageing skin range in the CEW Beauty Awards for 2021. There is also one mangrove tree planted for every order over £10 and one bar of soap to the Eco-soap bank.
12) The best organic shampoo brand: Green People quinoa and artichoke shampoo
To be fair, the combination of quinoa and artichoke in an organic shampoo sounds like something someone would make up as a joke. They are high-end food items with great health properties, but not something we would necessarily expect to see in our beauty products. Yet, Green People blend this with neroli, marshmallow, and orange for an 82% organic formula that has a great scent and should help improve the condition of your hair.
A plus side of this slightly more expensive option is the plant-based plastic tube and the knowledge that you are dealing with an industry revolutionary. Owner Charlotte worked with the Soil Association to improve standards for the labelling of natural products.
13) The best Wellbeing shampoo Brand: Mauli grow strong shampoo
Finally, I want to mention something with a stronger focus on well-being than just cleaning our hair. The Mauli brand is an interesting starting point if you have any interest in learning more about Ayurvedic practices and getting products that can help with certain conditions. It is all about building new rituals, and that is something I can get behind with better hair health.
The grow strong shampoo is designed to help bring new life to damaged hair and use Indian ingredients in a UK production for authentic products. The formula is extensive, with argan and aloe vera as nourishing standouts, as well as basil, cedarwood, and even frankincense. The downside here is that this is not cheap. A bottle of this is four times that of others in this guide. But, if it works then it might be worth it.
Finding the best natural shampoo
Before we end with my final recommendations and thoughts, there are some important factors to keep in mind when choosing between these different products. Obviously, price, scents, and brand ethos all play their part. But, you also need to be sure that you understand what it means to be a natural shampoo, what to watch out for, and what your own hair type needs.
What is my hair type?
Hair type is important when choosing the best shampoo for your needs. Normal hair can still get a bit dry or oily at times depending on conditions but isn't as frequently so as dry or oily hair. Dry hair can benefit from more nourishing formulas with better oil contents and aloe vera, while oily hair may need fewer oils but more cleansers and citrus elements to strip that oil back. There may be some trial and error here, but this is a good starting point.
What is A natural shampoo?
Natural shampoo is made from predominantly natural materials sourced from real botanical sources. This means herbal extracts and oils with strong properties for healthier hair. The formulas do vary and it is important to look on company websites to see just how much of a formula is natural. They aren't likely to be 100% but should be as close as possible. Watch out for companies that use green-washing with natural images and claims about a single ingredient when there are still far too many negative ingredients hidden on the listing.
What ingredients to avoid
The best natural shampoos shouldn't have any unnecessary chemicals in them, such as parabens and SLS. They should also be free from synthetics regarding colour and fragrance. The fragrance is better from botanical extracts anyway.
What Ingredients Are Good?
You need natural ingredients with cleansing agents like citrus and herbs with antibacterial properties. Also, they should help nourish and strengthen hair with the best oils, commonly argan and coconut. Other essential oils then offer their own helpful properties. Look for formulas with high natural derivation and organic options when affordable.
The transition to natural and organic shampoos
Our bodies often have negative reactions when it comes to new beauty regimes. They will freak out and our skin will purge or produce more oil. This can be the case when switching to natural shampoos, especially bars. But, it is worth battling through this with some additional oil-busting cleanses or maybe going half-and-half with your treatments for a couple of weeks. Don't think you can beat the oil with more of your new product. It will be a waste.
Why Use Natural Shampoo
There are so many good reasons to switch to a natural shampoo from a typical one. For a start, there are fewer nasty ingredients in your hair, on your scalp, and in the water supply after washing. You can find products kinder to your family and the planet with great scents and properties to clean and nourish hair. Most of the best natural brands also have other initiatives with the environment in mind so you can make an even bigger impact with the right company.
Bars vs liquid shampoo
There are pros and cons to both options here. A good bar shampoo will reduce waste and mean that you aren't dealing with plastics. But, they can be difficult to store unless you have a secure caddy for soaps. They should lather up like soap, which you can then run through your hair. But, it isn't the same experience as a liquid. If you prefer a natural liquid, look out for brands with a non-plastic bottle or refill options.
When to use dry shampoo
A dry shampoo is a great tool for touch-ups rather than a full hair wash as it can handle excess oils that accumulate and provide a better look when you can't wash your hair. The product should absorb the oils without affecting hair too badly. Some use it after working out and others before bed as an extra treatment as it is only necessary for small areas. See what works best for you.
Can you make shampoo at home?
There are lots of recipes online for making natural shampoo. However, you do need to be careful where you find them as some recipes contain ingredients which can cause irritations to the scalp or damage the hair. The best place to find a safe, effective natural shampoo recipe is the 'School of Natural Skincare' which have a recipe book for natural hair care products which you can download for free.
There is a natural shampoo for anyone
My top pick of all the brands mentioned here is the Neals Yard Remedies I'm sure that so many people will find them a good starting point for transitioning to natural shampoos. Furthermore, their company policies make them a joy to do business with. But, with so many other brands working in niche areas and with great natural formulas, it is hard to go wrong.
Clearly, there is a lot to consider when looking for the best possible natural shampoos for your needs. We all have our own preferences and requirements with shampoos and it can take some time to find something that is perfect for us. Thankfully, with so many different brands and formulas emerging in the UK with natural products, the trial and error process can be a lot of fun to navigate. If you struggle here and still need the perfect formula, don't forget to look at my guide to the best biotin shampoos for further inspiration.
The UK may not be the first place you think of when it comes to invigorating haircare brands with a strong focus on green issues, but it should be. The list above shows that not only are more brands emerging with great products to try, but they are also really thinking about how they can create something that gives back to the planet.